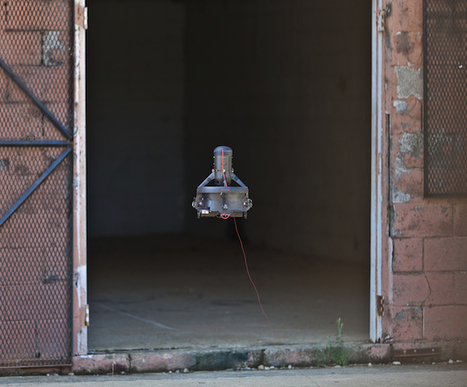 Three years after it was founded, Danvers-based CyPhy Works is finally showing off what has been working on this week, unveiling two hovering drones designed for indoor and outdoor operations.



Three years ago Helen Greiner, co-founder and then-Chairman of the Board of iRobot, resigned from her duties at iRobot to found CyPhy Works. Since then the company has operated in stealth mode, leading to much speculation about their focus.


As it turns out, CyPhy Work's focus is on surveillance and inspection tasks, including searching buildings or inspecting infrastructure like bridges. Interestingly, it does so using hovering vehicles that are provisioned by a microfilament tether for providing power and sending back communications data to a hand-held control unit on the ground.


For more information, see the article at www.boston.com or watch the (lengthy) clip below to see their Extreme Access System for Entry (EASE) vehicle in action, or have a look at the nice overview on the CyPhy Works website.




Even more coverage:
Wired
IEEE Spectrum
Xconomy