Robots Podcast #117: Digital cultures, with Chris Chesher
In today's episode we speak with Chris Chesher about how he views the emergence of robotics. He brings a new and interesting perspective as his approach mixes science and technology studies, media studies and ethnography in an effort to understand robotic technologies and everyday-life.
Chris Chesher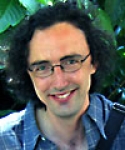 Dr Chris Chesher is Senior Lecturer in Digital Cultures working with cultures of contemporary robotics, in association with the Center for Social Robotics at the Australian Center for Field Robotics, University of Sydney Australia.  He also writes a blog called FollowingRobots.