ep110
Field robotics, with Salah Sukkarieh
In this episode, we talk to Salah Sukkarieh, Director of Research and Innovation at the Australian Centre for Field Robotics (ACFR). He gives us an overview of the centre's past and present projects, many addressing the special conditions robotics faces in Australia.
Salah Sukkarieh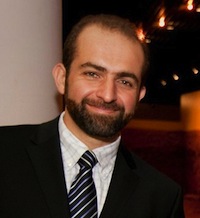 Salah Sukkarieh is the Director of Research and Innovation of the Australian Centre for Field Robotics (ACFR) and the Professor of Robotics and Intelligent Systems at the University of Sydney in the School of Aerospace. He received his Honours in BE Mechatronics Engineering in 1997 and his PhD in 2000 at the University of Sydney.
Field robotics focuses on systems that work in outdoor environments. Having been the principal research and development lead on many of the autonomous systems projects, Sukkarieh tells us about work done at the ACFR in aerospace, aviation, agriculture, mining and autonomous transport. Given the ripeness of the field, he also tells us about remaining future work and the potential for collaborations with industry.
For more information, visit the centre's youtube channel.
Links:
follow Robohub Podcast:
about Robohub Podcast:
Robots Podcast is a non-profit robotics podcast where we interview experts in robotics, including researchers, entrepreneurs, policy makers, and venture capitalists. Our interviewers are researchers, entrepreneurs, and engineers involved in robotics. Our interviews are technical and, often, get into the details of what we are discussing, but we make an effort to have our interviews understandable to a general audience.
read more