ep154
Schunk Manipulators, with Henrik A. Schunk
In this episode Per Sjoborg speaks with Henrik Schunk about his company's work in gripping technology, modular robotics and dexterous manipulation. They then look at service robotics, which was the focus of the SCHUNK Expert Days in Hausen, Germany.
Henrik A. Schunk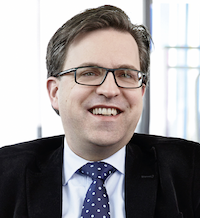 After his studies at the Technical Universities in Kaiserslautern and Dresden, Henrik A. Schunk joined the company SCHUNK GmbH & Co. As Managing Partner since 2001, he was initially responsible for the German Sales area, and then became the Head of the Business Developments worldwide.
Today, he is responsible in the management for the business area gripping systems, auto-mated solutions, and mobile gripping systems. Since July 2010, he is also the chairman of the European Robotics Association EUnited Robotics.
Links:
follow Robohub Podcast:
about Robohub Podcast:
Robots Podcast is a non-profit robotics podcast where we interview experts in robotics, including researchers, entrepreneurs, policy makers, and venture capitalists. Our interviewers are researchers, entrepreneurs, and engineers involved in robotics. Our interviews are technical and, often, get into the details of what we are discussing, but we make an effort to have our interviews understandable to a general audience.
read more