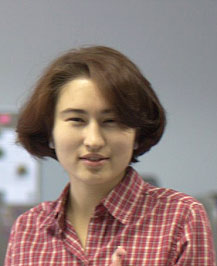 Follow @Valery_Ka
Valery Komissarova is Business Development Director at Grishin Robotics, the first-ever investment company exclusively focused on consumer hardware, and she has been with the company since the moment of its inception. Prior to that, she oversaw the internal and external relations at the internet company Mail.Ru Group, which is the biggest player in Eastern Europe, for 4 years, navigating the company's communication policy through numerous M&As and IPOs as well as fast growth from 300 employees to 3,000. She has an extensive technological background, including MCSD.NET certification in software engineering and MCP in systems administration, and she is also the author of a book about writing drivers for Windows-based operating systems.

At the same time, as a passionate enthusiast of cutting-edge technologies, Valery has written more than a hundred articles for numerous outlets, mainly covering topics of operating systems' architecture as well as information security. She started her career working in a couple of internet startups soon after the dotcom bubble, including media and search engine companies. Valery studied international business and management at Bournemouth University, and she also has a diploma from the Chartered Institute of Public Relations and Certificate in IR of the Investor Relations Society (all in the UK).


As part of Robohub's Big Deals series, startup expert Andra Keay asks Valery Komissarova, Grishin Robotics' Director of Business Development, about what all the recent robotics acquisitions mean to the startup community.