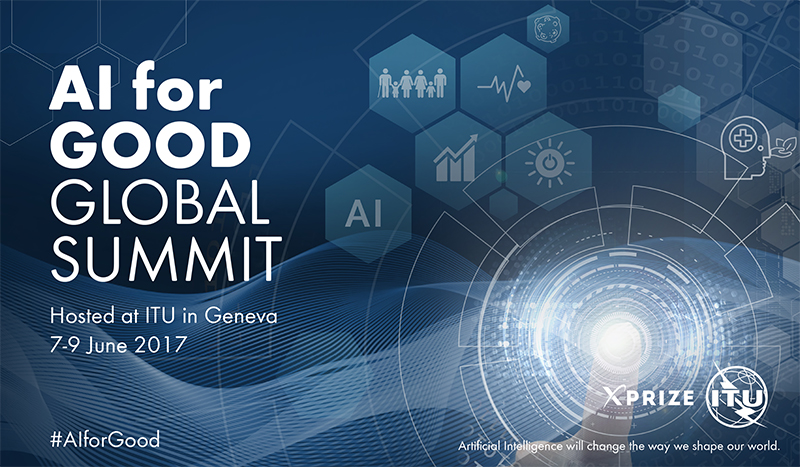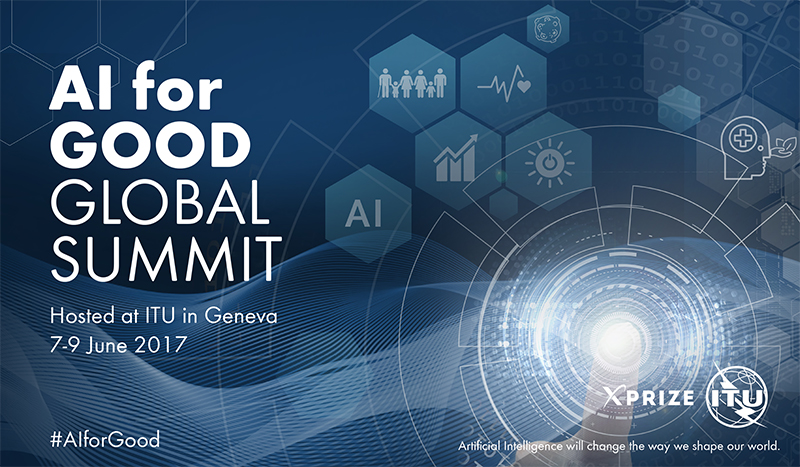 The world's brightest minds in Artificial Intelligence (AI) and humanitarian action will meet with industry leaders and academia at the AI for Good Global Summit, 7-9 June 2017, to discuss how AI will assist global efforts to address poverty, hunger, education, healthcare and the protection of our environment. The event will in parallel explore means to ensure the safe, ethical development of AI, protecting against unintended consequences of advances in AI.
View the live webcast at: http://bit.ly/AI-for-Good-Webcast.

The event is co-organized by ITU and the XPRIZE Foundation, in partnership with 20 other United Nations (UN) agencies, and with the participation of more than 70 leading companies and academic and research institutes.
"Artificial Intelligence has the potential to accelerate progress towards a dignified life, in peace and prosperity, for all people," said UN Secretary-General António Guterres. "The time has arrived for all of us – governments, industry and civil society – to consider how AI will affect our future. The AI for Good Global Summit represents the beginnings of our efforts to ensure that AI charts a course that will benefit all of humanity."
The AI for Good Global Summit will emphasize AI's potential to contribute to the pursuit of the UN Sustainable Development Goals.
Opening sessions will share expert insight into the state of play in AI, with leading minds in AI giving voice to their greatest ambitions in driving AI towards social good. 'Breakthrough' sessions will propose strategies for the development of AI applications and systems able to promote sustainable living, reduce poverty and deliver citizen-centric public services.
"Today, we've gathered here to discuss how far AI can go, how much it will improve our lives, and how we can all work together to make it a force for good," said ITU Secretary-General Houlin Zhao. "This event will assist us in determining how the UN, ITU and other UN Agencies can work together with industry and the academic community to promote AI innovation and create a good environment for the development of artificial intelligence."
"The AI for Good Global Summit has assembled an impressive, diverse ecosystem of thought leaders who recognize the opportunity to use AI to solve some of the world's grandest challenges," said Marcus Shingles, CEO of the XPRIZE Foundation. "We look forward to this Summit providing a unique opportunity for international dialogue and collaboration that will ideally start to pave the path forward for a new future of problem solvers working with XPRIZE and beyond."
The AI for Good Global Summit will be broadcast globally as well as captioned to ensure accessibility.
You can view the live webcast at: http://bit.ly/AI-for-Good-Webcast.
For more information about this event, please visit: AI for Good Global Summit web page.
tags:
#AIforGood
,
A.I.
,
AI
,
AI for good global summit
,
artificial intelligence global summit
,
c-Politics-Law-Society
--- Robohub Editors