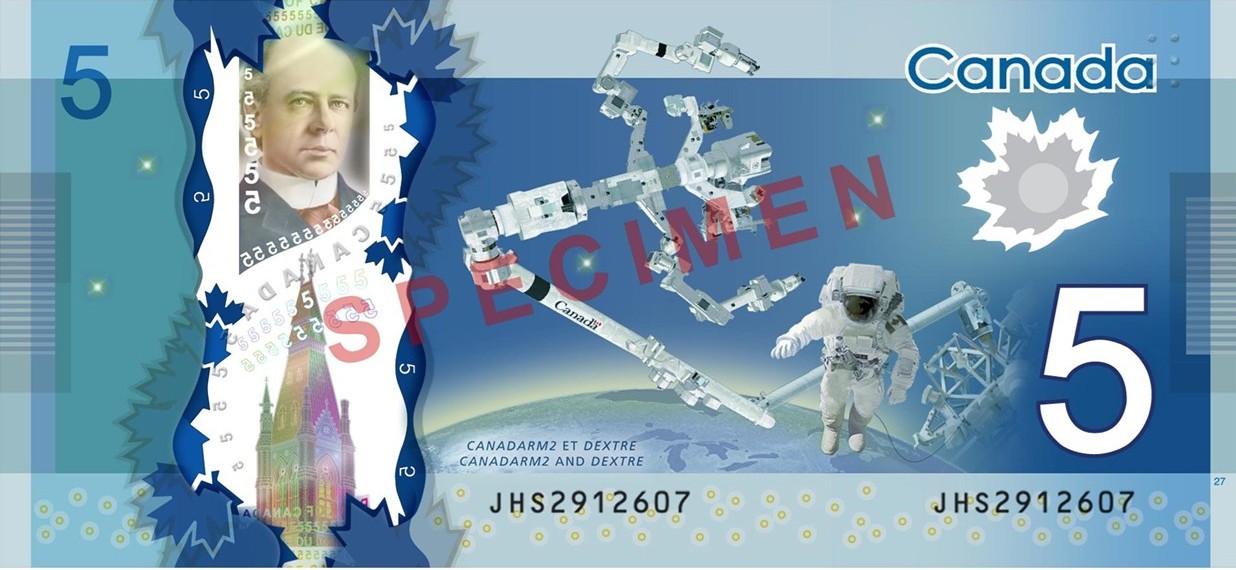 Earlier this month CSA Astronaut Chris Hadfield revealed the new Canadian $5 bank note in a live videostream from the International Space Station to the Bank of Canada's Ottawa head office. Why all the extraterrestrial fanfare? The new polymer bill proudly sports Canadian space robotics achievements Canadarm2 and Dextre.
The 17.2 meter-long Canadarm2 was launched in April 2001 and is the robotic arm that assembled the International Space Station (ISS) while in space. Dextre was launched in March 2008 to help ISS crew by taking care of routine maintenance jobs outside the station, and its duties include moving cargo transport containers, replacing failed electrical parts, and unpacking visiting spacecraft. Dextre was also the first robot to refuel a mock satellite in space.
"It really marks Canada's contribution to the space station program and especially our longterm area of expertise in robotics," said Hadfield, who also stated that he was proud to see Canada's achievements in space highlighted on the bill.
Hadfield, who regularly tweets and videoblogs from outerspace, has become something of an icon and mentor among young Canadians. On Monday, he conducted the last of his live video downlinks from the ISS by co-performing the song ISS (Is Somebody Singing) — a song he co-wrote with Ed Robertson of the Barenaked Ladies — in a live simulcast with thousands of school kids from across the country.
Hadfield returns to earth on Monday, May 13.
tags:
Canadarm2
,
Canadian Space Agency
,
Chris Hadfield
,
Dextre
---
Hallie Siegel
robotics editor-at-large
Hallie Siegel robotics editor-at-large