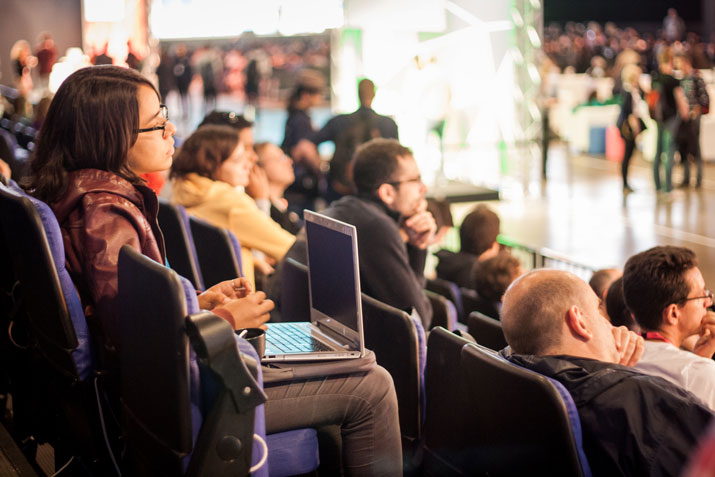 Campus Party events pride themselves in bringing together bright and like-minded people from all over the world, offering them an opportunity to hear from some of the greats in the worlds of the gaming, technology and enterprise. The events run for several days and cover a wide range of themes and topics, including robotics. This year's EU Campus Party took place between the 2ndand 6th of September at the O2 arena in London. It was an event packed with stimulating talks, fascinating workshops, networking, gaming opportunities, and hackathons. On Friday, Robohub joined in the fun to see what kind of robotics content Campus Party had to offer. Here's what we found …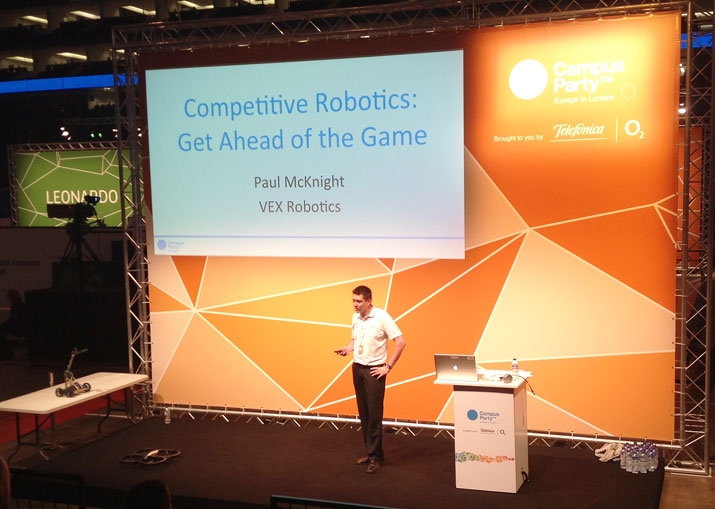 Paul McKnight. Photo credit: Jana Witt.
During the morning session, Paul McKnight from VEX robotics gave a presentation about competitive robotics in education. He emphasized the benefits robots and a bit of friendly competition can bring to the classroom.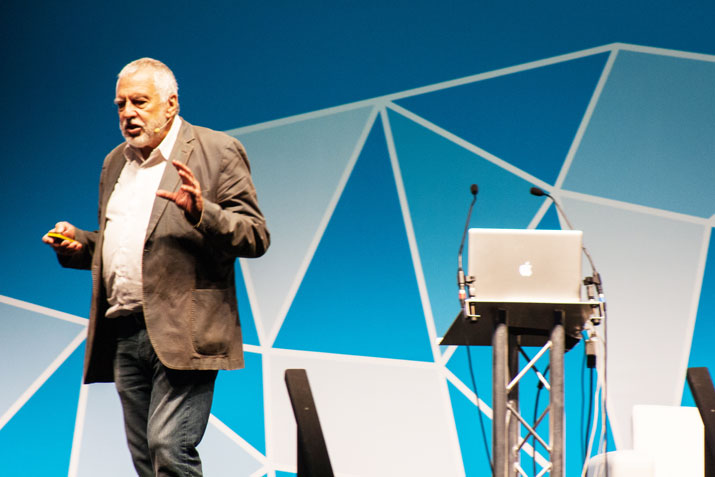 Nolan Bushnell. Photo credit: Aaron Boardley.
Friday's lunchtime keynote was presented by Nolan Bushnell, founding father of gaming giant Atari. He spoke about how the gaming world started, expanded and became what it is today, before giving the audience a glimpse of his dreams for the future of gaming, which include games for health and memory as well as gaming in schools.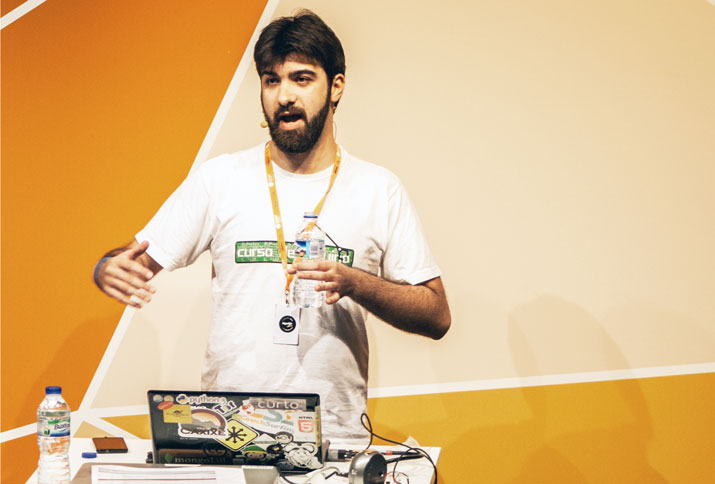 Alvaro Justen. Photo credit: Aaron Boardley.
One of the afternoon lectures on offer was given by Alvaro Justen, a Brazilian free software developer. This session focused on robot and platform programming with Arduino and Python. Alvaro demonstrated how to write source code for Arduino platforms and how to use Python with Arduino for more complex tasks.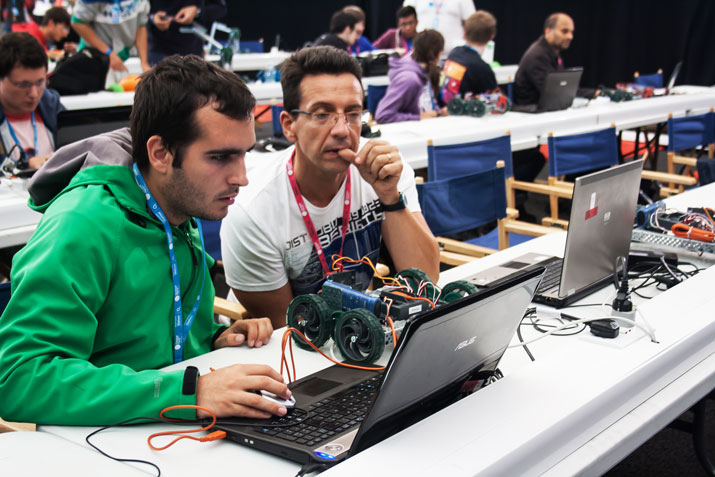 VEX robotic competition. Photo credit: Aaron Boardley.
The afternoon also offered a series of workshops, one of which focused on designing and programming robots and later testing them in a friendly competition.
For anyone not keen to listen to any of the presentations or attend any of the workshops on Friday – possibly due to staying awake until 4am competing in one of the hackathons – the exhibition zone downstairs boasted networked desks, a market place, gaming areas and chill-out zones.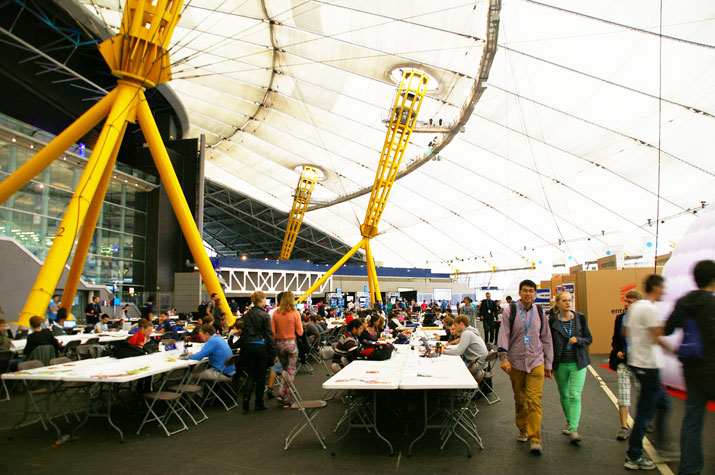 Networking at Campus Party. Photo credit: Jana Witt.
Under the giant roof of the O2 arena, hundreds of campuseros could get talking, hacking, gaming, networking and developing, although some of them preferred to use the beanbags and sofas for a quick power nap instead.
Friday evening, the event finally ended with award ceremonies and a big party, before campuseros packed up their bags and returned to their homes. With hundreds of campuseros from all over Europe attending the EU Campus Party, it appeared to have been a successful event, maybe best summarized with the words of Nolan Bushnell: "Game until you drop and then crawl into a tent."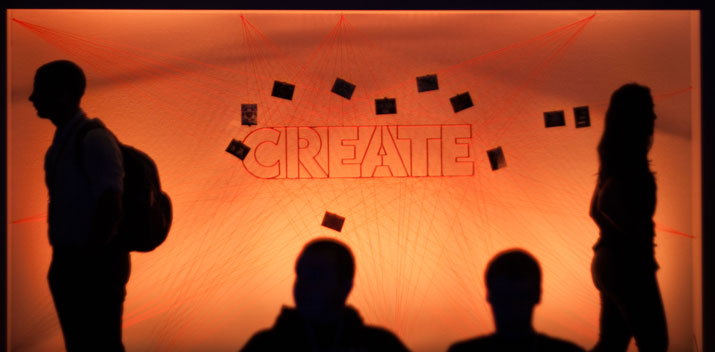 tags:
c-Events
,
cx-Education-DIY
---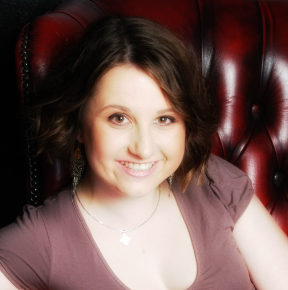 Jana Witt
is the Presenter for the ROBOTS Podcast, and is one of Robohub's UK correspondents.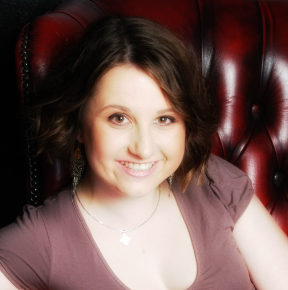 Jana Witt is the Presenter for the ROBOTS Podcast, and is one of Robohub's UK correspondents.