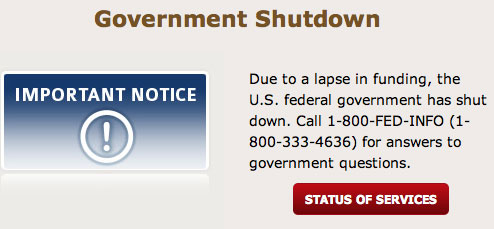 We had hoped to be sharing highlights with you this week from NASA's Asteroid Initiative Idea Synthesis Workshop, which was scheduled to run this September 30 to October 2 at the Lunar Planetary Institute, in Houston, Texas. But that's not the case anymore.
Most of NASA was shut down when the US Congress failed to fund its federal government beyond the end of the current fiscal year at midnight this past Monday (Sept. 30). Some programs, like the ISS, are exempt from the shutdown in order to ensure the safety of human and physical resources. However, while ISS astronauts and mission crew back on earth will continue to clock in, 97% of NASA employees are at home today. According to the Planetary Society, other independently operated programs under contract to NASA, such as the Jet Propulsion Laboratory (operated by Caltech) and the Applied Physics Laboratory (operated by John Hopkins University) will continue to operate for the time being.
Elizabeth Robinson NASA's Chief Financial Officer, in a statement that is no longer available because the NASA website is affected by the shutdown, wrote:
There are two major operations or classes of operations that would require ongoing support in accordance with the definitions of excepted activities identified above. First NASA currently is operating the ISS with a crew of 6 astronauts/cosmonauts, which has been in continuous operation since 1998. To protect the life of the crew as well as the assets themselves, we would continue to support planned operations of the iSS during any funding hiatus. Moreover, NASA will be closely monitoring the impact of an extended shutdown to determine if crew transportation or cargo resupply services are required to mitigate imminent threats to life and property on the ISS or other areas.

Second, if a satellite mission is in the operations phase, we will maintain operations that are essential to ensure the safety of that satellite and the data received from it. However if a satellite mission has not yet been launched, work will generally cease on that project.
See also:
tags:
c-Politics-Law-Society
,
Congress shutdown
,
cx-Space
,
Jet Propulsion Lab
,
NASA
---
Hallie Siegel
robotics editor-at-large
Hallie Siegel robotics editor-at-large