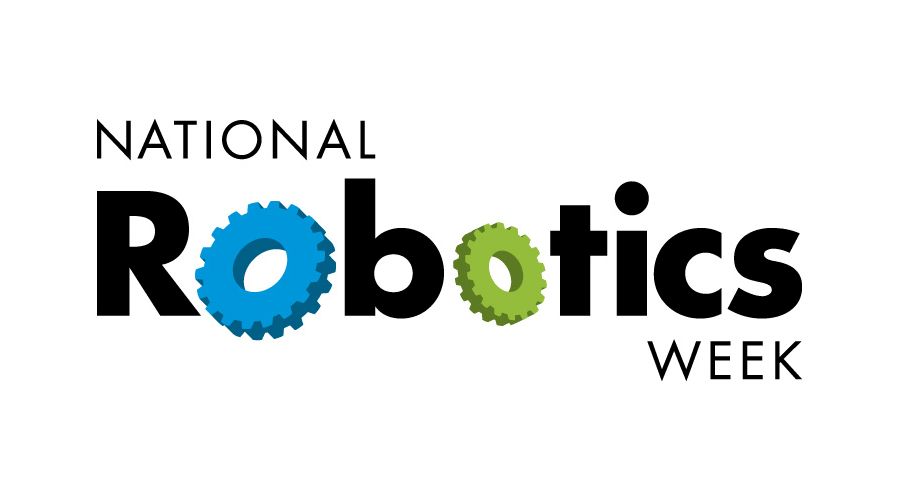 Happy National Robotics Week! This week robot-related activities, events, and talks are happening all across the US. Are you attending any events near you? 
The purpose of National Robotics Week is to:
Celebrate the US as a leader in robotics technology development;
Ed

ucate the public about how robotics technology impacts society, both now and in the future;

Advocate for increased funding for robotics technology research and development;

Inspire students of all ages to pursue careers in robotics and other science, technology, engineering, and math-related fields.
The week also features the Olympics of Robots: RoboGames! One of the world's largest robot competition will be held at Pleasanton, California on April 8th-10th.  You can watch videos highlights from previous years on their website.
It's a solid week filled with great robot events. Here's a brief snapshot of a few events happening coast-to-coast. Which events are you planning to attend?
Visit the website to see the full list of all upcoming events.
---
Silicon Valley Regional presented by Google.org, San Jose State University
Come and experience first hand the excitement of a FIRST® Robotics Competition event! Combining the excitement of sport with the rigors of science and technology, this is the ultimate Sport for the Mind™. Watch as student-built-robots compete in the 2016 challenge, FIRST STRONGHOLD. In FIRST STRONGHOLD, two Alliances of three robots each are on a Quest to breach their opponents' fortifications, weaken their tower with boulders, and capture the opposing tower. Robots score points by breaching opponents' defences and scoring boulders through goals in the opposing tower. During the final 20 seconds of the Quest, robots may surround and scale the opposing tower to capture it. More information.
When: April 6, 2016
9:00am – 5:00pm
Silicon Valley Regional presented by Google.org
Where: 290 South 7th Street
San Jose, CA 9511
---
Silicon Valley Robot Block Party, Jabil's Blue Sky Center
Join the rolling, roving, singing, dancing robots at Jabil's Blue Sky Center. Organized by Silicon Valley Robotics, the not-for-profit industry group supporting innovation and commercialization of robotics technologies. Robots on display will be out of this world (literally!), from the latest space research to the most sophisticated manufacturing robots, from the newest startups, to the youngest robot makers. More information.
Hosted by Silicon Valley Robotics
When: April 6, 2016
1:00pm – 4:00pm
Where: 6375 San Ignacio Ave
San Jose, CA 95119
---
Robotics Festival, Robotix Institute
The Robotix Institute is hosting it's First Annual Robotics Festival at our San Gabriel, CA location. The Festival will focus on STEM education and have robots, workshops, displays and family activities free to the public. More information.
Hosted by Robotix Institute
When: April 9, 2016
11:00am – 5:00pm
---
RoboUniverse New York, Javits Convention Center
Launched in New York City in May 2015, RoboUniverse is the premier conference and expo dedicated to the service robotics industry. RoboUniverse New York features focused tracks on Cognitive Science and IoT, Drones for Business, Manufacturing & Logistics, and Robots for Enterprise. The program will also delve into Business & Investment, Legal, Education, and IoT & Robotics. More information.
Hosted by Rising Media
When: April 11, 2016
9:00am – 6:00pm
April 12, 2016
9:00am – 5:30pm
Where: 655 W 34th St
New York, NY 10001
tags:
c-Events
,
national robotics week
--- Robohub Editors