Obama connects robots to jobs in State of the Union address
by
Hallie Siegel
22 January 2015
---
share this: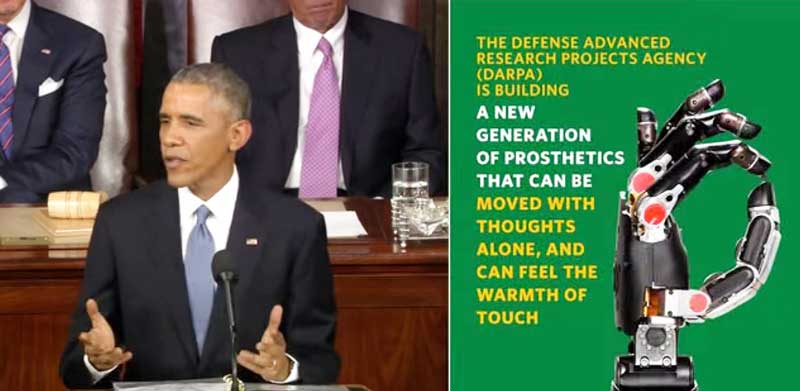 US President Barack Obama linked robots and jobs in his sixth State of the Union address this Tuesday. The State of the Union Address is usually delivered annually by the President in a joint session of the US Congress, and is a platform for highlighting the President's legislative agenda and national priorities.
Obama began by offering a positive link between technology as a driver for employment and business opportunity. "I want Americans to win the race for the kind of discoveries that unleash new jobs," he said, giving the examples of DARPA's robotic prosthetics program and NASA's program to send US astronauts to Mars.
However, following these remarks he immediately launched into cautionary words about the negative effects of income inequality on the moral state of the country: "When it comes to issues like infrastructure and basic research, I know there is bipartisan support in this chamber. Where we too often run into the rocks is how to pay for these investments. We don't mind paying our fair share of taxes as long as everybody else does too." He went on to discuss the need to end tax breaks that encourage companies to shift profits overseas and to support small businesses and entrepreneurs.
tags:
Barach Obama
,
c-Politics-Law-Society
,
DARPA
,
NASA
,
robots and jobs
,
State of the Union
---
Hallie Siegel
robotics editor-at-large
Hallie Siegel robotics editor-at-large
---