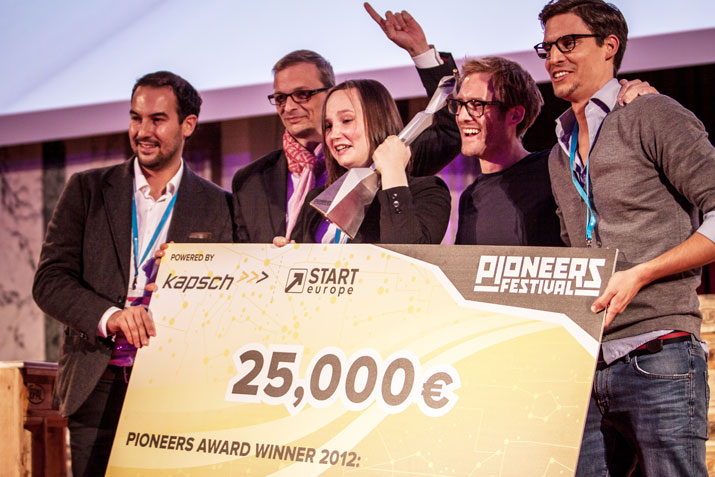 Andreas Tschas (far left) and Juergen Furian (far right) present a cheque to the 2012 Startup Challenge winner Poikos (centre). Photo credit: Heisenberg Media.
When founders Andreas Tschas and Juergen Furian launched the Pioneers Festival last year, they were determined that it would not be 'just another tech conference'. We asked them to tell us what motivated them to found Pioneers, what makes it different from the many other techfests out there, and what their plans are for the future.
This year's festival will take place from October 30-31 in Vienna, Austria. 
What motivated you, at a personal level, to found the Pioneers Festival?
Andreas Tschas: Four years ago, there wasn't really a dynamic startup scene in Vienna. Although there was a small startup community, very few of these were actually active.
This was the time that we founded Pioneers. The original idea was to create a platform that focused on startups and innovative future technologies, and played a part in supporting and developing the startup scene.
In 2009 we organized an event for 40 participants under the name STARTeurope; eleven of these people from our own team. The goal of the event was to bring together students from the technical university (TU) and the business university (WU) in order to give them the opportunity to network in an informal environment. We also wanted to encourage them to think outside of the box.
Although our event was relatively small, we saw it as giving birth to a global and active startup ecosystem. Since then there has been an extreme amount of development: co-working spaces arose, startups developed in Vienna, and people moved here to exchange ideas relevant to the startup world.
Why Vienna?
Juergen Furian: Vienna has traditionally always been an important business hub connecting the East with the West, as it is located in the heart of Central Europe. In addition, Vienna has given rise to a very active startup scene with a solid community, events, competitions and it is also attracting international attention.
So there are many reasons that speak for Vienna. At the end of the day, it is all about the event location – the Vienna Imperial Palace. Everyone who's ever seen the Wiener Hofburg has been awed. The Imperial Palace has housed some of the most powerful people not only in Austrian, but also in European history. With Pioneers Festival, we begin a new age with the Palace serving as a starting point. This mixture between past and present, history and future sets the perfect stage to celebrate entrepreneurship and innovative technologies.
Who comes to Pioneers?
Juergen Furian: International startups, entrepreneurs, Venture Capitalists, tech-enthusiasts, media representatives, and pioneers in a variety of fields – all coming from a range of backgrounds and age groups. However, all have a genuine interest in entrepreneurship and future technologies, whether Med Tech, AI and Robotics, Web and Mobile, or Aerospace.
How is Pioneers different from other tech festivals?
Juergen Furian: With more than 2,500 participants, Pioneers Festival is not just any [tech] conference; instead it goes beyond by focusing on innovative future technologies and the important role they play. It is then taken one step further by giving access to these technologies and allowing participants their own experience in live demos.
Pioneers Festival is also a platform for product launches and European-premiers. This year's MYO launch is an example of this. Thalmic Labs CEO Stephen Lake and his two co-founders will showcase MYO, an incredibly powerful Gesture Control Consumer technology, live on stage and for the first time in Europe. What is gesture control? Just imagine playing an instrument without it physically in front of you, or simply swiping your hand through the air to move to the next slide in your presentation. It's not everyday that you get to experience events like these.
You say that hands-on access to technology is one of the things that makes Pioneers unique, and this is something many roboticists can relate to. Do you have a personal experience that inspired you to take this 'hands-on' approach? 
Juergen Furian: It's not really one particular event, but rather the general experience. We have always valued conferences that bring more to the table than the usual content. When organizers really think about what they want to present to their attendees, and in turn when an individual's money is spent wisely on a ticket… that's when you know you've created something worthwhile.
Where there's a barrier between a presentation and the audience, preventing them from actually physically experiencing anything, you will never succeed in inspiring – the barrier will always be there. We want to lower that barrier to the best of our ability. And if you want to allow people a barrier-free environment when it comes to technology, you have to give them access. Otherwise it doesn't work.
It's much more exciting and engaging, and we feel that you walk away having gained so much more from that hands-on experience.
What is the Startup Challenge?
Andreas Tschas: The Pioneers Challenge offers both software and hardware startups the chance to prove themselves internationally and to present their project to a high-caliber public, media representatives, investors and possible clients
The winner of the Pioneers Challenge will receive a trip around the world, in order to set them up for success in their business. They will travel around the globe with stops in Atlanta, New York, San Francisco, Shenzhen, and Singapore, and will meet influential thinkers, shapers, and troublemakers.
Who won last year's Challenge, and what are they doing now?
Juergen Furian: Poikos is a 3D body measurement company. A lot of people struggle with buying products online because you don't know whether or not they will fit you properly. Poikos helps solve that problem. In the upcoming weeks, Nell Watson, CEO of Poikos, will begin running an Indiegogo campaign for their personal body imaging and measurement technology for mobile devices.
The fact that Pioneers Festival is now in its second year must be some indication of the event's success. What's new/different this year? 
Andreas Tschas: Overall Pioneers Festival was set up for success because of last year's festival. We received very good feedback regarding our agenda and the Pioneers Challenge, so we kept that concept. We also kept the venue the same. The Imperial Palace offers a perfect combination of tradition, history, beautiful rooms and high-tech, with laser shows and a lot of new technological innovations. This year we have a special focus on Entrepreneurship, Robotics & AI, Web & Mobile, Aerospace and Digital Health.
What is it about Robotics and AI that has made this field especially relevant as a focus area for Pioneers this year?  
Juergen Furian: Robotics and AI reach out and really stimulate people's emotions. It's the ultimate source for science fiction – first comes science fiction, then comes science. What better way than to start with robotics?
In 1989, Rod Brooks talked about the future of robotics as "fast, cheap and out of control." This was the tipping point at which the entire field was set to explode. When it comes to robotics, we don't want to wait for the giant, global wave; we want to be the beginning of it by actually allowing people to interact with something physical.
We also want to introduce a bit of controversy. Hollywood has always painted the picture in a very dark way when it comes to robotics. Think of the Terminator, for example. We want to educate people regarding topics like drones; hopefully after some time at the Festival people can relate them to something more positive. The ultimate hope is that we provide the full spectrum, the bigger picture.
You've managed to get two competing pioneers of NLP (Adam Cheyer and Vishal Sharma) together on one stage. What was the vision behind bringing these two luminaries together for Pioneers?
Juergen Furian: We want to bring to life topics and experiences that cannot be found on YouTube. Adam Cheyer and Vishal Sharma are a great example of that. Never before have these two architects of the future – and big competitors – been on stage together.
Despite having worked on competing products, both of them know each other very well and are two incredibly brilliant minds! Both have incredible insights into the future of virtual personal assistants and we are not even scratching the surface yet. We will gain some more insight into what's going on in that area at the Festival. Not to be missed – it will be epic!
You've got an interesting line-up of speakers this year … Kickstarter's Charles Adler, Nanosatisfi's Peter Platzer, Mars One's Bas Lansdorp and many more … what's the common thread here?
Juergen Furian: The common denominator is entrepreneurship and future technologies. There are endless opportunities in various tech areas and we are bringing together the Pioneers of their fields!
The event indeed covers a whole range of tech areas … did you see any cross-fertilization at last year's event as a result of this?
Juergen Furian: At last year's festival we definitely saw cross-fertilization taking place. Everyone is constantly working away on his or her own project, but they are in the same room, surrounded by other individuals working on projects in other areas. Whether or not you end up working with them is secondary; the inspiration you can draw from this interaction is where the cross-fertilization really happens.
This year we want to take it to the next level. We are currently working a project that will take place at this year's festival, which will do exactly this. The ultimate goal is to allow great minds to collaborate precisely because they're experienced in different areas. We're very excited about the project and highly looking forward to seeing how it plays out.
Can you tell us anything about this project?
Juergen Furian: One day prior to the festival, we are having an invite-only gathering of people from various tech areas to think about the future. We don't want to be too open about it, as its going to be quite an experiment.
Sounds intriguing! What's your strategy for the long term?
Andreas Tschas: In the long term we have plans to take the next big step, what this is going to be you will see in a few months. What we definitely can say is that there will be more Pioneers Festivals to come.
What do you hope attendees of Pioneers will take home?
Andreas Tschas: We hope participants will find inspiration and new ideas, and in turn develop them. There will be many opportunities to experience new future technologies hands-on and work with those technologies. It's a place to exchange thoughts with some of the most intelligent people of our time in relaxed setting. Growing your network is also a major part of it, and of course it's fun! That's why it's called a "festival" rather than a conference or expo; it's a celebration of entrepreneurship and future technology.
Last year we received brilliant feedback from participants, which showed us that no matter who you are, everyone can gain something from the Festival – entrepreneurs, investors, technology experts, media and pioneers alike!
tags:
c-Events
,
cx-Business-Finance
,
cx-Education-DIY
,
cx-Research-Innovation
,
Pioneers Festival
,
startup
---
Hallie Siegel
robotics editor-at-large
Hallie Siegel robotics editor-at-large