Startups represent 7 countries, making the intake globally diverse. Europe is well represented with startups from Greece, Italy, Germany and the UK. The US, Canada and Singapore provide the other startups, including 2 from hometown San Diego.
Managing Director Ryan Kuder says, "These startups are representative of the tremendously talented entrepreneurs creating the future of robotics. In this class, the companies are creating commercial and consumer robots, new robot-enabling technologies, and the infrastructure for a robot powered economy."
As a mentor and someone who has been involved in the establishment of the accelerator, I am very pleased to see the breadth and depth of robotics represented here. Congratulations and best wishes to the 'Class of 2015'!
| | |
| --- | --- |
| | Carbon Robotics out of San Francisco, CA, is a robotic arm company geared towards consumers and mid-sized businesses that combines affordable hardware with an open platform. They are building TOBI, a table top arm targeted at developers. |
| | CleverPet from San Diego, CA, is a technology company dedicated to teaching your pet new behaviors. Founded by a team of cognitive scientists and neuroscientists, CleverPet's first product is a smart, in-home robot that provides your dog with the daily mental and physical stimulation he or she craves. |
| | CtrlWorks, based in Singapore, is dedicated to transforming any mobile platform into an intelligent robot at an affordable price. Their first robot, Axon, attaches to just about anything and turns it into a fully autonomous robot through cloud navigation and specialized hardware. |
| | Inova Drone, from San Diego, designs and develops advanced, professional unmanned aerial systems for the global commercial market. Their first product is a drone targeted at first responders and search and rescue applications. |
| | Rational Robotics, from Edmonton, Alberta, CA, produces robots that automate the restorative automotive painting process. Utilizing 3D vision and advanced path planning, Rational Robots provide a safe and efficient way to paint cars on the shop floor. |
| | Reach Robotics, from Bristol, UK, is developing Mecha Monsters – the world's first gaming monster robots. They are controlled via smartphone or tablets and serve to bridge the physical and digital components of the gaming world. Mecha Monsters come with accessories that provide special abilities that make them more powerful. |
| | Skyfront, based in Hoboken, NJ, builds hybrid-electric technology for long endurance drones. Skyfront's technology extends typical drone flight times up to 10x and enables UAVs to be used for extended commercial applications. |
| | Sky Robotics, from Athens, Greece, is enabling the streamlined, affordable creation of robots. Their OPRA (open platform for robotics applications) is a development platform that combines high-performance modular hardware and intuitive open source software to catalyze the realization of an infinite variety of robots. |
| | Skysense, based in Berlin, Germany, builds and sells charging infrastructure for drones, enabling remote-controlled flights and autonomous missions. Their technology involves a gold plated charging station pad that can be easily scaled depending on the drone and application. |
| | Solenica, out of Rome, IT, makes Lucy – a sleek, sophisticated robot that brings sunlight directly into your home. Powered by solar cells, Lucy follows the sun throughout the day to reflect light into your home or office, creating natural illumination while simultaneously reducing electricity use. |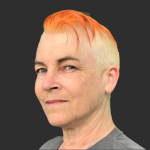 Andra Keay is the Managing Director of Silicon Valley Robotics, founder of Women in Robotics and is a mentor, investor and advisor to startups, accelerators and think tanks, with a strong interest in commercializing socially positive robotics and AI.