RoboBusiness started Wednesday, with mostly panels, although Robohub's very own Andra Keay spiced things up quite a bit with a "Pitchfire" event showcasing robotics start-ups.  Two themes were very much present at the conference today: robotics as traditional industrial automation and robotics as a consumer electronics industry.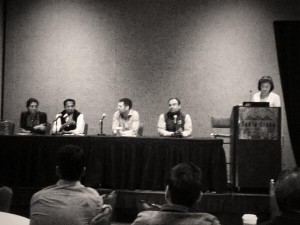 Venture Capitalists: From left to right, Renee DiResta, O'Reilly AlphaTech Ventures; Bilal Zuberi, Lux Capital; Rob Coneybeer, Shasta Ventures; Dr. Manu Kumar, K9 Ventures; and moderator Valery Komissarova, Grishin Robotics.
.
All the panels that I went to were focused on this latter view of robotics as a more or less consumer-focused industry.  There were talks about building robots that delighted customers, how to scale manufacturing, get venture capital investment, go big in crowd-funding, and how to market a product with or without crowd-funding.  I hope that Frank Tobe will be able to fill in some of the stuff that happened at the robotics as manufacturing automation because the rest of the Robohub contributors were at the start-up breakouts.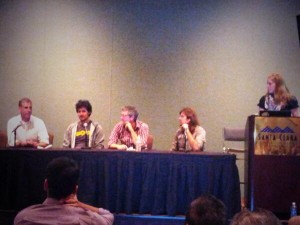 The manufacturing panel had representatives from Bolt, Highway 1 (PCH), Dragon Innovation, and Plethora — all innovators in outsourced manufacturing, but no advocate for in-house manufacturing like Intuitive Surgical or Kiva Systems do.
The pitchfire was the runaway success of the evening. Many great start-ups got to discuss the robots they were building.  The winner was Unbounded Robotics with their new UBR-1 robot as general purpose ROS platform.
The Pitchfire event was organized by Robohub's very own Andra Keay who had this to say about it:
We're seeing the emergence of many robot startups across just about every vertical possible. There is a real convergence of funding, technology and demand. By leveraging the lessons that software startups have learned in the last decade – iterate early and often – hardware startups have closed the funding gap and are now the hottest properties around the Valley.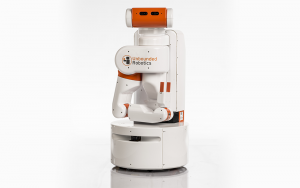 Unbounded Robotics won the RoboBusiness Pitchfire event with their new UBR-1 robot, a low cost follow-on to the Willow Garage PR-2.
A pitch event is great for robotics startups. If you're in Silicon Valley – at least in the mobile and software world – then you see a lot of companies pitch, you hear a lot of feedback from investors and you learn a lot about what makes a startup successful. Silicon Valley Robotics is helping robotics startups get the same level of acceleration, with pitch events and startup seminars.
This RoboBusiness is not the cause, but it definitely marks the arrival of the Silicon Valley spirit in the robotics industry.
Key Takeaways from Day 1:
Robotics is now being considered at as consumer electronics segment.
Hardware is not as important to the consumer electronics view as many other disciplines, especially software, community, and marketing.
If you mix alcohol and robotics, you definitely get a better audience response.
Our industry, at least as represented at RoboBusiness, is still really focused on the robot.  [I'm biased about this, I run a robotics-based service company.  I heard very little discussion of robotic services.  I see a lot of them out there not only in agriculture, but in everything from offshore oil and gas to lab automation, and I didn't seem them at RoboBusiness.]
The best part of RoboBusiness is getting to see old friends and meet new ones.
tags:
c-Events
,
cx-Business-Finance
---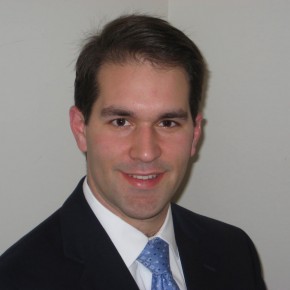 Robert Morris
is founder and CEO of the aerial imaging start-up TerrAvion. He is also the author of the blog
robocosmist.com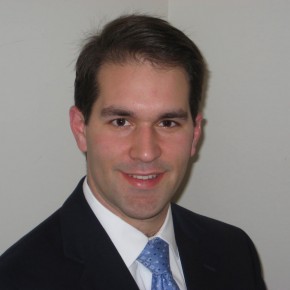 Robert Morris is founder and CEO of the aerial imaging start-up TerrAvion. He is also the author of the blog
robocosmist.com