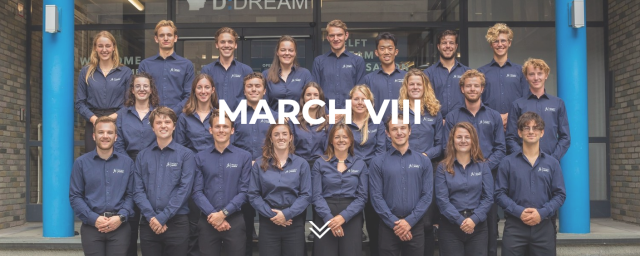 For the second part of our RoboHouse Interview Trilogy: The Working Life of the Robotics Engineer we speak with Wendel Postma, chief engineer at Project MARCH VIII. How does he resolve the conundrum of integration: getting a bunch of single-minded engineers to ultimately serve the needs of one single exoskeleton user? Rens van Poppel inquires.
Wendel oversees technical engineering quality, and shares responsible for on-time delivery within budget with the other project managers. He spends his days wandering around the Dream Hall on TU Delft Campus, encouraging his team to explore new avenues for developing the exoskeleton. What is possible within the time that we have? Can conflicting design solutions work together?
Bringing bad news is part of the chief engineer's job.
Project MARCH is iterative enterprise.
Most of its workplace drama comes from the urgency to deliver at least one significant improvement on the existing prototype. This year's obsessions is weight; a lighter exoskeleton would require less power from both pilot and motors. Self-balancing would become easier to realise.
In order not to weaken the frame of the exoskeleton, there was a lot of enthusiasm to experiment with carbon fibre, which is both a light and strong material. Something, however, got in the way: the team struggled to find a pilot.
My job is making sure that in the end we don't have 600 separate parts, but one exoskeleton.
"Having a test pilot is crucial if we are to reach our goals," Wendel says. "Our current exoskeleton is built to fit the particular body shape of the person controlling it. The design is not yet adjustable to a different body shape. So it is crucial to get the pilot involved as quickly as possible."
Not having a pilot was stressful for the entire team.
Their dream of creating a self-balancing exoskeleton was in danger. Wendel had to step up: "As chief engineer you have to make tough decisions. Carbon fibre is strong, but not flexible and difficult to machine. That is why we switched to aluminium, because it is easier to modify even after it is finished."
"It was a huge disappointment," Wendel says. "Some of us had already finished trainings for carbon manufacturing. Carbon parts were already ordered. The team felt let down. We had spent a so much time on something that was now impossible – because of the delays caused by having no pilot."
"I learnt that bringing bad news is part of the chief engineer's job. The next step is to look at how to convert the engineers' enthusiasm for carbon fibre into new solutions and to redeploy their personal qualities."
Wendel says the job also taught him to consider a hundred things at the same time. And to make sacrifices. Project MARCH involves long workdays and maybe not seeing your friends and roommates as much as you would like.
As a naturally curious person, Wendel found out that curiosity must be complemented by grit to make it in robotics. You often need to go deeper and study in more detail to make a good decision. "It is hard work. However, that is also what makes the job so much fun. You work in such a highly motivated team."
That is also what makes the job so much fun.
The carbon story ended well, though.
When the team did found a pilot, hard-working Koen van Zeeland, the choice for aluminium as a base material paid off. Through a process of weight analysis, parts can now be optimised for an ever lighter exoskeleton.
The Project MARCH team continues to grow through setbacks and has doubled-down on their efforts to create the world's first self-balancing exoskeleton. If they succeed, it will be a huge success for this unique way of running a business.
The post RoboHouse Interview Trilogy, Part II: Wendel Postma and Project MARCH appeared first on RoboHouse.
---
Rens van Poppel