The Financial Times reported earlier this year that one of the largest clothing manufacturers, Hong Kong-based Crystal Group, proclaimed robotics could not compete with the cost and quality of manual labor. Crystal's Chief Executive, Andrew Lo, emphatically declared, "The handling of soft materials is really hard for robots." Lo did leave the door open for future consideration by acknowledging such budding technologies as "interesting."
One company mentioned by Lo was Georgia Tech spinout, Softwear Automation. Softwear made news last summer by announcing its contract with an Arkansas apparel factory to update 21 production lines with its Sewbot automated sewing machines. The factory is owned by Chinese manufacturer Tianyuan Garments, which produces over 20 million T-shirts a year for Adidas. The Chairman of Tianyuan, Tang Xinhong, boasted about his new investment, saying "Around the world, even the cheapest labor market can't compete with us," when Sewbot brings down the costs to $0.33 a shirt.
The challenge for automating cut & sew operations to date has been the handling of textiles which come in a seemingly infinite number of varieties that stretch, skew, flop and move with great fluidity. To solve this problem, Softwear uses computer vision to track each individual thread. According to its issued patents, Softwear developed a specialized camera which captures  threads at 1,000 frames per second and tracks their movements using proprietary algorithms. Softwear embedded this camera around robot end effectors that manipulate the fabrics similar to human fingers. According to a description on IEEE Spectrum these "micromanipulators, powered by precise linear actuators, can guide a piece of cloth through a sewing machine with submillimeter precision, correcting for distortions of the material." To further ensure the highest level of quality, Sewbot uses a four-axis robotic arm with a vacuum gripper that picks and places the textiles on a sewing table with a 360-degree conveyor system and spherical rollers to quickly move the fabric panels around.
Softwear's CEO, Palaniswamy "Raj" Rajan, explained, "Our vision is that we should be able to manufacture clothing anywhere in the world and not rely on cheap labor and outsourcing." Rajan appears to be working hard towards that goal, professing that his robots are already capable of reproducing more than 2 million products sold at Target and Walmart. According to IEEE Spectrum, Rajan further asserted in a press release that at the end of 2017, Sewbot will be on track to produce "30 million pieces a year." It is unclear if that objective was ever met. Softwear did announce the closing of its $7.5 million financing round by CTW Venture Partners, a firm of which Rajan is also the managing partner.
Softwear Automation is not the only company focused on automating the trillion-dollar apparel industry. Sewbo has been turning heads with its innovative approach to fabric manipulation. Unlike Softwear, which is taking the more arduous route of revolutionizing machines, Sewbo turns textiles into hardened substances that are easy for off-the-shelf robots and existing sewing appliances to handle. Sewbo's secret sauce, literally, is a water-soluble thermal plastic or stiffening solution that turns cloth into a cardboard-like material. Blown away by its creativity and simplicity, I sat down with its inventor Jonathan Zornow last week to learn more about the future of fashion automation.
After researching the best polymers to laminate safely onto fabrics using a patent-pending technique, Zornow explained that last year he was able to unveil the "world's first and only robotically-sewn garment." Since then, Zornow has been contacted by almost every apparel manufacturer (excluding Crystal) to explore automating their production lines. Zornow has hit a nerve with the industry, especially in Asia, that finds itself in the labor management business with monthly attrition rates of 10% and huge drop offs after Chinese New Year. Zornow shared that "many factory owners were in fact annoyed that they couldn't buy the product today."
Zornow believes that automation technologies could initially be a boom for bringing small-batch production back to the USA, prompting an industry of "mass customization" closer to the consumer. As reported in 2015, apparel brands have been moving manufacturing back from China with 3D-printing technologies for shoes and knit fabrics. Long-term, Zornow said, "I think that automation will be an important tool for the burgeoning reshoring movement by helping domestic factories compete with offshore factories' lower labor costs. When automation becomes a competitive alternative, a big part of its appeal will be how many headaches it relieves for the industry."
To date, fulfilling the promise of "Made In America" has proven difficult, as Zornow explained we have forgotten how to make things here. In a recent report by the American Apparel & Footwear Association, US apparel manufacturing fell from 50% in 1994 to roughly 3% in 2015, meaning 97% of clothing today is imported. For example, Zornow shared with me how his competitor was born. In 2002, the US Congress passed the Berry Amendment requiring the armed services to make uniforms domestically, which led DARPA to grant $1.75 million to a Georgia Tech team to build a prototype of an automated sewing machine. As Rajan explains, "The Berry Amendment went into effect restricting the military from procuring clothing that was not made in the USA. Complying with the rule proved challenging due to a lack of skilled labour available in the US that only got worse as the current generation of seamstresses retired with no new talent to take their place. It was under these circumstances that the initial idea for Softwear was born and the company was launched in 2012."
I first met Zornow at RoboBusiness last September when he demonstrated for a packed crowd how Sewbo is able to efficiently recreate the 10-20 steps to sew a T-shirt. However, producing a typical mens dress shirt can require up to 80 different steps. Zornow pragmatically explains the road ahead, "It will be a very long time, if ever, before things are 100% automated." He points to examples of current automation in fabric production, such as dyeing, cutting and finishing which augment manual labor. Following this trend "they're able to leverage machines to achieve incredible productivity, to the point where the labor cost to manufacture a yard of fabric is usually de minimis." Zornow foresees a future where his technology is just another step in the production line as forward-thinking factories are planning two decades ahead, recognizing that in order "to stay competitive they need new technologies" like Sewbo.
---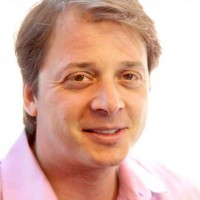 Oliver Mitchell
is the Founding Partner of Autonomy Ventures a New York based venture capital firm focused on seed stage investments in robotics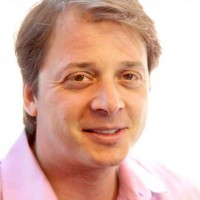 Oliver Mitchell is the Founding Partner of Autonomy Ventures a New York based venture capital firm focused on seed stage investments in robotics