SpaceX awarded launch reservation contract with MDA Robotics for Canadian satellite program
by
Hallie Siegel
30 July 2013
---
share this: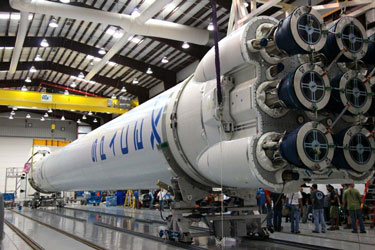 The Falcon 9 rocket in the hangar at SpaceX's launch site at the Cape Canaveral Air Force Station. Photo credit: SpaceX.
Space Exploration Technologies (SpaceX) announced today that, in 2018, it will be carrying three satellites that will make up Canada's RADARSAT Constellation Mission (RCM) into orbit aboard its Falcon 9 rocket.
The launch reservation contract was awarded by  MacDonald, Dettwiler and Associates Ltd. (MDA Robotics) to support Canada's largest space program to date in Canada. The satellite mission, which will be built on previous missions RADARSAT-1 and RADARSAT-2, will "support Canada's need for maritime surveillance, disaster management and ecosystem monitoring".
tags:
c-Space
,
cx-Mapping-Surveillance
,
Falcon 9
,
MDA Robotics
,
space
,
SpaceX
---
Hallie Siegel
robotics editor-at-large
Hallie Siegel robotics editor-at-large
---