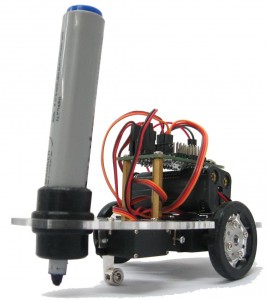 The Doodle Bot Kit from Dagu is a nice way to get beginners interested in robotics. It can write and draw messages on white board or paper. Its brains are powered by an Arduino compatible microcontroller, and the robot can be powered with 4x AAA batteries.
Read on for a video and more information!
Here is a video of the Doodle Bots in action:
One of the excellent features of the Doodle Bot is that it can be easily modified to add on more functionality to it. As you can see in the 'Wiring up the robot!' step, there are many pins available to add on more sensors or actuators.
Be sure to read more about this robot, and even build it yourself!