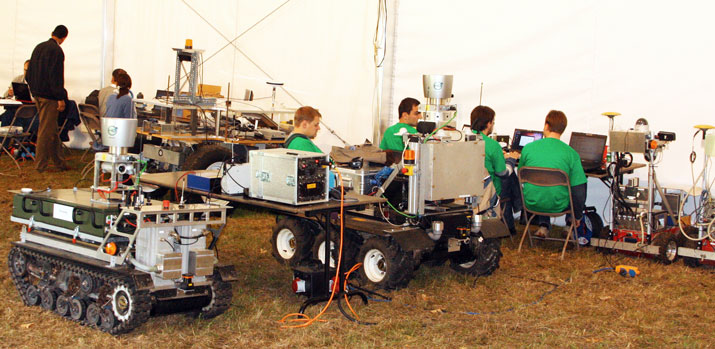 Teams participating in ELROB land robotics competition tune up their robots. Photo credits: ELROB
Buildings that are collapsed or on fire, tunnels flooded with smoke or water, unstructured areas subject to radiation, chemical spills or gas leaks … these are the kinds of scenarios that place emergency services personnel at great risk, and where using robots could help contain damage and minimize injury or death. euRathlon is a civilian outdoor robotics competition supported by the European Commission with a focus on realistic cooperative search and rescue response scenarios. Inspired by the 2011 Fukushima accident, the competition scenarios have been carefully designed to provide teams with realistic challenges that test their robot's ability to face real-world situations. Fourteen teams qualified for the event. We will be providing daily coverage of the competition, which will take place in Berchtesgaden, Germany from September 23-27, 2013.
The scenarios
When designing the event, organizers asked themselves how robots could best be leveraged by emergency services personnel in a disaster scenario: How can robots be monitored from a safe distance, so that human emergency workers can focus on other important tasks? What kinds of tasks could the robots perform? Are robots ready to succeed in real-world environments? And how can we test them?
To help address these questions, the euRathlon 2013 land competition was designed around five scenarios:
Reconnaissance and surveillance in urban structures (USAR)
Mobile manipulation for handling hazardous material
Search and rescue in a smoke-filled underground structure
Autonomous navigation using GPS, GLONASS and GALILEO
Reconnaissance and disposal of explosive devices
Descriptions of the five scenarios were published in advance of the competition to allow teams to prepare their robots. Detailed descriptions of the scenarios and potential hazards the robots would face were deliberately kept from the teams so as to keep an element of uncertainty, just like in a real world disaster.
Qualifying teams
Successfully tackling the competition scenarios is not an easy task, and prospective teams were required to take part in a qualifying process to prove that their robot(s) would be able to cope with the scenarios. Each team was required to write a Scenario Application Paper (SAP) explaining how their robot(s) would address the technical challenges of the scenarios they were planning to enter. The SAPs were reviewed to see if each team's proposed solutions were realistic, and feedback from this process was fed back to the teams to help them prepare for the actual land competition. Here are the 14 teams that have qualified for participation in the euRathlon 2013 land competition:
Which robots will successfully address the scenarios? Don't miss the daily updates next week.
For pictures and more information about the teams visit:    http://www.eurathlon2013.eu/information/competition/participants.html
See all the euRathlon 2013 coverage.
tags:
c-Events
,
competition
,
cx-Exploration-Mining
,
cx-Military-Defense
,
cx-Research-Innovation
,
euRathlon
,
euRathlon 2013
---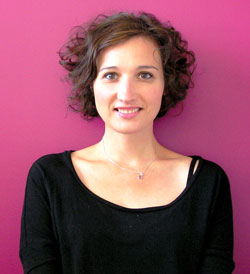 Marta Palau Franco
is an electronics engineer, oceanographer and project officer at euRobotics aisbl.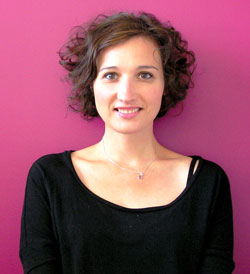 Marta Palau Franco is an electronics engineer, oceanographer and project officer at euRobotics aisbl.