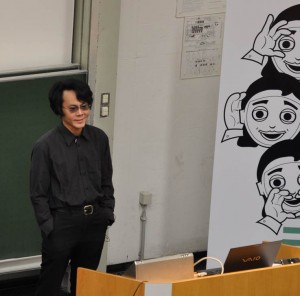 The second interview of this four-part series about collaboration between academia and industry was conducted at the CITEC Summer School 2012 at the Center of Excellence "Cognitive Interaction Technology", Bielefeld University in Germany. Sascha Griffiths, member of the ECHORD team at TUM interviewed Hiroshi Ishiguro, who is famous for his humanoids with lifelike appearance. Prof. Ishiguro is ATR fellow and director of the Intelligent Robotics Laboratory at Osaka University.
[Sascha Griffiths]
If you are involved in collaborations between academia and industry, in which areas do you prefer to cooperate?
[Hiroshi Ishiguro]
I have been cooperating with industry for a long time. In 2000 I started a venture company using my patents, where a small human-like robot is being developed. In collaboration with my venture companies, our team was a RoboCup champion four times. There we have lots of good engineers who build pretty good robots. In fact, we were so strong that the people started hating us, so eventually we did not attend anymore.
I am always working with big enterprises that build big systems, for example Toshiba, NTT, Fujitsu or Hitachi. For my venture company the market is smaller. We can develop a very simple, toy-like robot, and we don't need to have a big market. But on the other hand – in order to change this world – we need to work with big enterprises, and we need to develop more of a general, powerful robot, like for example Honda's Asimo.
In Japan, almost nobody studies human-robot-interaction. But I have studied it, and therefore all the enterprises are coming to ask my opinion, and we are always running small collaborations. The rest happens at the university. ATR (Advanced Telecommunications Research Institute International, Intelligent Robotics and Communication Laboratories) is very big with the government-supported projects, and its members are big enterprises.
I am involved in university operations and in ATR operations. The university is kind of an incubator. At universities, it is easy to work with venture companies. Once we have good ideas, we can start something new, and then we negotiate with the government about running a much bigger project at ATR. And ATR is no university – it is a private research organization. Therefore it is easier to collaborate with other private organizations, like big enterprises. The companies do not trust universities very much, because a university cannot take any responsibility. It is kind of a collection of amateur people, with so many students. Work at ATR, on the other hand, is different: Everybody is a professional, and we can make any contract.

How would you measure a successful collaboration between a university and industry?
For the companies involved, the most important goal is to have a real product. To have a big success it usually takes a long time. Of course it would be better to submit more patents or journal papers, and to share the know-how; however, the most important thing is internal evaluation, because this is not the paper writing game we play at the university. Cooperation with big enterprises is a very serious game. We do not need to have any external evaluation because we are spending our own money. Universities use government funds, and therefore they need to have external evaluations. That is the difference!

What are the main obstacles in academia/industry collaborations?
It depends on what you want to do. We cannot have pure collaborations. If we want to do real business we should leave the university. If I cannot do it at the university, I just do it at ATR – a private research institute. So my recommendation is to just have two types of cooperation. Obviously, a university is not the ideal place for doing practical work. A specialized institute that is independent of universities is a better platform for exchanging knowledge between industry and academia.
In Asia, is there a very active collaboration between industry and academia?
The situation in Japan is quite strange. We have many good, big enterprises in Japan, but they do not spend a lot of money on Japanese universities. However, they are spending a lot of money on US universities. Their excuse is that they are [already supporting universities by] paying a lot of taxes in Japan. I work at a national university – [and Japanese companies think] that means I am using their tax money. But I do not think that is true! In the US, the situation is probably more natural. Universities are supported by many companies. So, collaboration activities between industry and academia are better in North America than in Asia.

Do you know how the collaboration works in Europe?
I am not sure, but I guess you are doing very well, right? Your universities keep growing and you have a lot of good collaborations with industry, I think. Your universities are very traditional, and you are always working with industry. But in Japan the situation is different. Many people think universities should be independent from industry. In Japan, universities are kind of in a different world that is independent from economics. The fundamental idea is that studying something should be different from earning money. In Japan, the school traditionally was in a temple, and a temple was independent from business matters. A lot of people still think that a university professor cannot have a private company.
In your opinion, how could you improve knowledge transfer and collaboration between academia and industry?
The most important thing is to have the right people. I started my venture company with three people: myself, the president, and a student. The role of my student was technology transfer. He was the best student at Osaka University. I recommended he should get a PhD, but he said he could get a PhD anytime. For a venture company, the timing is quite important, so he said he was going to do something for the venture company. We need to have that kind of person.

How do you measure the success of a robotics research project?
If you can sell a lot of robots, that means a big success. The sales, the real numbers are important. In science, if you can write a pretty good scientific paper, that is also a good success. All we need are two simple evaluations: one for science and one for business. We don't need to have any other evaluation. Most other kinds of evaluation are artificial. If you find very important things, you will have a good reputation in science, and you can get the Nobel Prize. And if you develop a very useful robot, then someone will sell it.
Thank you very much for your time!
tags:
academic/industry partnership
,
c-Industrial-Automation
,
collaboration
,
ECHORD Interview Series
,
Hiroshi Ishiguro
,
interview
,
Person
---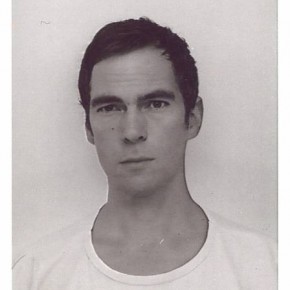 Florian Röhrbein
is a senior lecturer in the research group "Robotics and Embedded Systems" at Technische Universität München.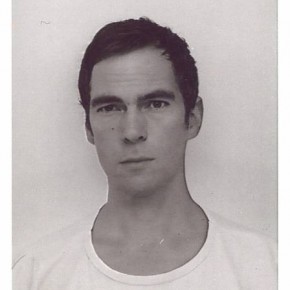 Florian Röhrbein is a senior lecturer in the research group "Robotics and Embedded Systems" at Technische Universität München.