Lots of companies have been promoting hilarious robot news pranks. Here are a few that caught our eye. What are some of your favourites?
---
Vodafone
Launching the Voda-drone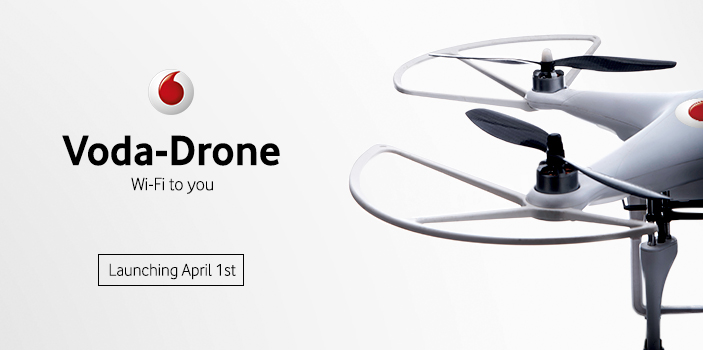 From the blog:
Voda-Drone will extend the Vodafone network which currently covers 97% of the Australian population, by deploying an on-demand service to reach and cover the remaining 3% so no cat video is ever missed again.
---
Little Bird Electronics
After the success of the MicroView, Little Bird Electronics is announcing a new ground breaking Arduino Compatible.
The Implantuino is the first Arduino compatible designed specifically for subcutaneous insertion. With a powerful ARM Cortex M0 Processor, Bluetooth LE and amazing 18 hour all day battery life, you can take IoT to new personal levels.

For those into the quantified self, the integrated temperature sensor allows around the clock monitoring of body temperature.
---
TerrAvion
Launching the M-UAV
From their blog:
The M-UAV blows the performance of other UAV platforms out of the water," said Stewart Long, TerrAvion Operations Director.  "Some specialized drone companies are claiming up 1,000 acres in a single flight under optimum conditions.  The TerrAvion M-UAV collects over 1,000 acres every minute it is in the air."
---
Domino's Pizza
From their YouTube:
A state-of-the-art robotic pizza maker that you control, it's the closest thing to working in a Domino's yourself. Awesome! The future of pizza making is in your hands.

Literally.
---
Robotiq
The fast and ideal scribbler helper!
From their blog:
Our new technology solves all your problems linked to writing and typing. The automated cell uses an advanced technology that recognizes the human voice and types the exact same text on the device of your choice. The technology is available for pen, pencil, keyboard, laptop, smartphone and tablet.
---
Leisure Travel Van
From their website:
Using the latest advancements in software and ultrasonic hardware, our engineers from the Pembina Valley have perfected the future of the self-driving vehicle. But we've taken it one step further; a fully autonomous RV. Take control with voice commands in our Leisure Travel Vans iPad App and enjoy as your RV takes you to your destination. Hands free.
---
Eastern Daily Press Motoring
Robots brought in to do roadworks in Norfolk, Suffolk and Cambridgeshire
From the post:
After driver-less cars and trucks emerged in the last few months, our region is to pioneer the arrival of roadworks without workmen.

In what could be the death knell for the roadside tea-break, where cuppa time has sometimes frustrated drivers caught in queues, the scheme, already working in Scandinavia, could be in Norfolk within weeks.
---
White castle
Crave Copter Delivery Goes Nationwide
---
Moshi
SpatiaFlight FAA-approved floating speakers
Who says you can't have your own soundtrack?
From their YouTube channel:
Our latest firmware update unlocks Spatia's voice-controlled Flight mode for a truly seamless listening experience. Featuring recently FAA-approved internal levitation technology, SpatiaFlight takes your music wherever you go, giving your life the soundtrack it deserves.
---
Aigean Networks
Perhaps not robotic, but lasers!
The marine industry's first  25 Terabit Laser Wireless System
From their blog:
Our powerful beam reaches out to even distant moorings with ease! And, no power robbing USB connections!

We have completely simplified the process of maintaining complex and fragile network connections, eliminating the demand for experienced administrators to setup and maintain your networks. With our products, anyone can connect and stay connected with ease.
Any other great ones you've seen? Tell us in the comments below.
tags:
c-Arts-Entertainment
--- Robohub Editors