ROB | ARCH 2014: Robotic Fabrication in Architecture, Art, and Design
University of Michigan Taubman College of Architecture and Urban Planning
May 17-18, 2014
Deadline for submission of abstracts: November 15, 2013
Final paper submission: December 1, 2013

ROB|ARCH has been initiated by the Association for Robots in Architecture as a new conference series on the use of robotic fabrication in architecture, art, and design, closely linking industry with cutting-edge research institutions. In December 2012 the conference was hosted by its founders in Vienna, Austria. In 2014 the conference travels to North America, hosted by the University of Michigan Taubman College of Architecture and Urban Planning.
Continuing with the previous theme of collaboration, the conference seeks to bring together artists, designers, fabricators, and industry leaders for the purpose of advancing the discourse surrounding robotic fabrication. Following on the success of ROB|ARCH 2012, the conference will again present a series of workshops held at select research institutions on the east coast of the United States, aimed at exposing the advanced capabilities of applied robotic research. Following the workshops, the conference will span two days at the University of Michigan Campus in Ann Arbor, Michigan, about an hour outside of Detroit, the origin of robotics in North America. The internationally renowned publishing house Springer Wien/New York will publish and market the proceedings of the conference worldwide.
Schedule
13.05.2014  Free sponsor "pre-workshops" [TBA]
14.05. – 16.05.2014 Conference workshops
17.12.-18.05.2014 Conference
Conference Paper Submission
We invite authors to submit papers with original research relating to the use of robots in architecture, art, and design. An international scientific committee consisting of researchers, designers, and architects will evaluate the papers and provide feedback to the authors. The selected papers will be published in the proceedings by Springer and presented at the conference in Ann Arbor, Michigan.
Submissions on the following topics are encouraged:
design to robotic fabrication
material feedback in fabrication
cooperative robotic fabrication
rapid prototyping with industrial robots
mass customization
digital and physical robotic interfaces
Schedule
First Call for Papers July 15th, 2013
Second Call for Papers September 1st, 2013
Final Call for Papers October 15th, 2013
Electronic Submission of Abstracts November 15th, 2013
Final Paper Submission December 1st, 2013
Author notification Jan 10th, 2014
Information and Contact
See www.robarch2014.org for details and up-to-date information. For any questions regarding the Rob|Arch 2012 conference, please contact chair@robarch2014.org
Conference Chairs
Wes Mcgee and Monica Ponce de Leon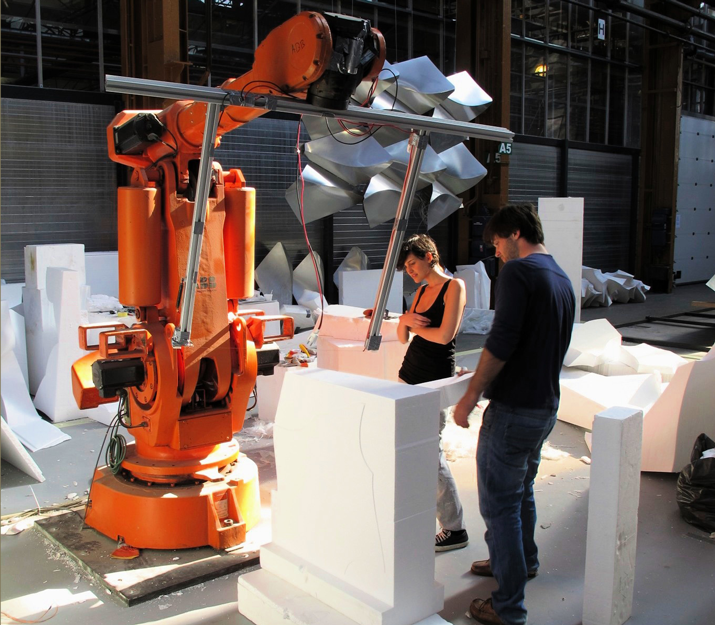 Delft University of Technology / University of Michigan students use a robot for hot wire cutting.
tags:
architecture
,
Call for Paper
,
Event
,
fabrication
--- Robohub Editors