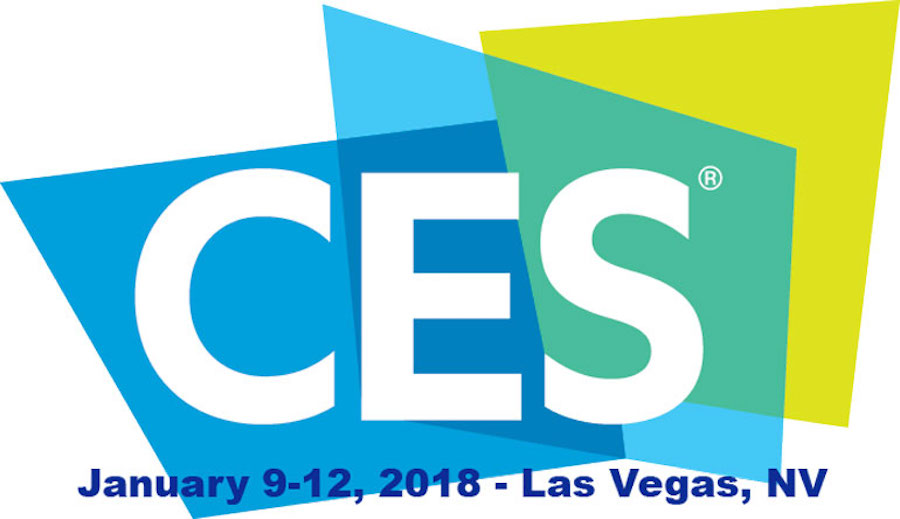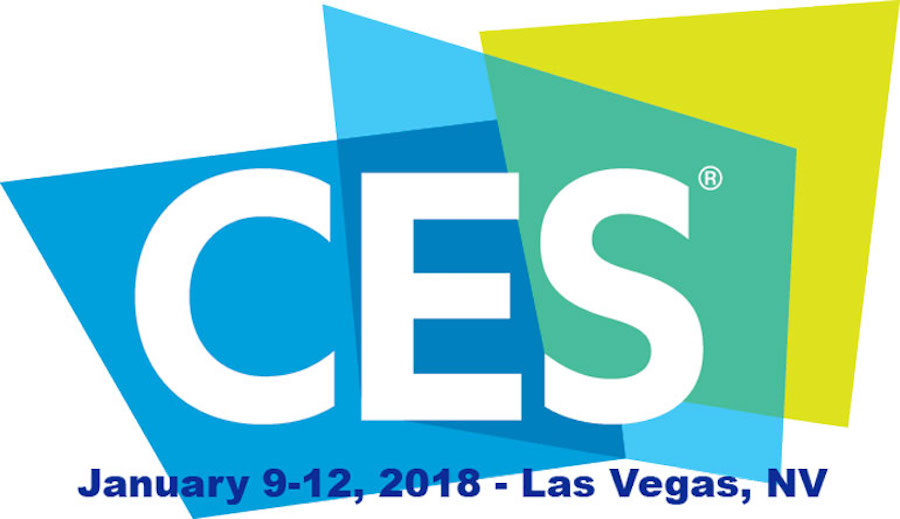 This year's CES was a great show for robots. "From the latest in self-driving vehicles, smart cities, AI, sports tech, robotics, health and fitness tech and more, the innovation at CES 2018 will further global business and spur new jobs and new markets around the world," said Gary Shapiro, president and CEO, CTA.
But with that breath of coverage and an estimated 200,000 visitors, 7,000 media, 3,000 exhibitors, 900 startups, 2.75 million sq ft of floorspace at two convention centers, hospitality suites in almost every major hotel on the Las Vegas Strip, over 20,000 product announcements and 900 speakers in 200 conference sessions, comes massive traffic (humans, cars, taxis and buses), power outages, product launch snafus and humor:
AI, big data, Amazon, Google, Alibaba and Baidu
"It's the year of A.I. and conversational interfaces," said J. P. Gownder, an analyst for Forrester Research, "particularly advancing those interfaces from basic conversations to relationships." Voice control of almost everything from robots to refrigerators was de rigueur. The growing amount of artificial intelligence software and the race between Amazon, Google and their Chinese counterparts Alibaba and Baidu to be the go-to service for integration was on full display. Signs advertised that products worked with Google Assistant or Amazon's Alexa or both, or with Duer-OS (Baidu's conversational operating system) but, by the sheer number of products that worked with the Alexa voice assistant, Amazon appeared to dominate.
"It's the year when data is no long static and post processed" said Brian Krzanich, Intel's CEO. He also said: "The rise of autonomous cars will be the most ambitious data project of our lifetime." In his keynote presentation he demonstrated the massive volume of data involved in the real-time processing needs of autonomous cars, sports events, smart robotics, mapping data collection and a myriad other sources of data-driven technology on the horizon.
Many companies were promoting their graphics, gaming, and other types of processors. IBM had a large invite-only room to show their Quantum Computer. Their 50-qubit chip is housed in that silver canister at the bottom of the thing/computer. Not shown is the housing which keeps the device super cool. IBM is making the computer available via the cloud to 60,000 users working on 1.7 million experiments as well as commercial partners in finance, materials, automotive and chemistry. (Intel showed their 49-qubit chip code-named Tangle Lake in a segment in Krzanich's keynote.)
Robots, robotics and startups
Robots were everywhere ranging from ag bots, tennis bots, drones, robot arms, robot prosthetics and robot wheelchairs, to smart home companions, security robots and air, land and sea drones. In this short promotional video produced by CES, one can see the range of products on display. Note the quantity of Japanese, Chinese and Korean manufacturers.
One of the remarkable features of CES is what they call Eureka Park. It's a whole floor of over 900 startup booths with entrepreneurs eager to explain their wares and plans. The area was supported by the NSF, Techstars and a host of others. It's a bit overwhelming but absolutely fascinating.
Because it's such a spread-out show, locations tend to blur. But I visited all the robotics and related vendors I could find in my 28,000-step two-day exploration and the following are ones that stuck out from the pack:
LiDAR and camera vision systems providers for self-driving vehicles, robots, and automation such as Velodyne, Quanergy and Luminar were everywhere showing near and far detection ranges, wide, narrow and 360° fields of view, and solid state or other conventional as well as software to consolidate all that data and make it meaningful.
SuitX, a Bay Area exoskeleton spin-off from Ekso Bionics, focused on providing modular therapeutic help for people with limited mobility rather than industrial uses of assistive devices. Ekso, which wasn't at CES, is providing assistive systems that people strap into to make walking, lifting and stretching easier for employees and the military.
There were a few marine robots for photography, research and hull inspection:

Sublue Underwater AI, a Chinese startup, had a tank with an intelligent ROV capable of diving down to 240′ while sending back full HD camera and sensor data. They also make water tows.
RoboSea, also a Chinese startup, was showing land and sea drones for entertainment, research and rescue and photography.
QYSea, a Chinese startup making a 4k HD underwater camera robot which can go to a depth of 325′.
CCROV, a brand of the Vxfly incubater of China's Northwestern Polytechnical University, demonstrated a 10-pound tethered camera box with thrusters that can dive more than 300′. The compact device is designed for narrow underwater areas and dangerous environments for people.
All were well-designed and packaged as consumer products.

UBTech, a Chinese startup that is doing quite well making small humanoid toy robots including their $300 StarWars StormTrooper showed that their line of robots are growing from toys to service robots. They were demonstrating the first video-enabled humanoid robot with an Amazon Alexa communication system touting its surveillance capabilities and Avatar modes for this little (17″ tall) walking robot. It not only works with Alexa but can also get apps and skills and accept controls from iOS and Android. Still, like many of the other home robots, they can't grasp objects, consequently they can't perform services beyond remote presence and Alexa-like skills.
My Special Aflac Duck won the CES Best Unexpected Product Award for a social robot designed to look like the white Aflac duck but also designed to help children coping with cancer. This is the second healthcare-related robotic device for kids from Sproutel, the maker of the duck. Their first product was Jerry the Bear for diabetic kids.
YYD Robo, another Chinese startup, was demonstrating a line of family companion, medical care robots (although the robot's hands could not grasp), which also served as child care and teaching robots. This Shenzhen-based robot company says they are fully-staffed and have a million sq ft of manufacturing space, yet the robots weren't working and their website doesn't come up.
Hease Robotics, a French mobile kiosk startup, showed their Heasy robotic kiosk as a guide for retail stores, office facilities and public areas. At CES, there were many vending machine companies showing how they are transitioning to smart machines – and in some cases, smart and robotic as the Heasy robotic kiosk.
Haapie SAS, also a French startup, was showing their tiny interactive, social and cognitive robots – consumer entertainment and Alexa-like capabilities. Haapie also integrates their voice recognition, speech synthesis and content management into smartphone clients.
LG, the Korean consumer products conglomerate, showed an ambitious line of robot products they called CLOi. One is an industrial floor cleaner for public spaces which can also serve as a kiosk/guide; another has a build-in tray for food and drink delivery in hotels; and a third can carry luggage and will follow customers around stores, airports and hotels. During a press conference, one of the robots tipped over and another wouldn't hear instructions. Nevertheless all three were well-designed and purposed and the floor cleaner and porter robots are going to help out at the airport for next month's Winter Olympics.
Two Chinese companies showed follow-me luggage: 90FUN and their Puppy suitcase and ForwardX and their smart suitcases. 90FUN is using Ninebot/Segway follow-me technology for their Puppy.
Twinswheel, a French startup, was showing a prototype of their parcel delivery land drone for factories, offices and last-mile deliveries.
Dobot is a Chinese inventor/developer of a transformable robot and 3D printer for educational purposes and a multi-functional industrial robot arm. They also make a variety of vision and stabilizing systems which are incorporated into their printers and robots. It's very clever science. They even have a laser add-on for laser cutting and/or engraving. Dobot had a very successful Kickstarter campaign in 2017.
Evolver Robots is a Chinese developer of mobile domestic service robots specifically designed for children between the ages of 4-12 offering child education, video chat, games, mobile projection and remote control via smartphone.
Although drones had their own separate area at the show, there were many locations where I found them. From the agricultural spraying drones by Yamaha, DJI and Taiwanese Geosat Aerospace to the little deck-of-cards-sized ElanSelfie or the fold-into-a-5″ X 1/2″ high AEE Aviation selfie drone from Shenzhen, nothing stood out amongst the other 40+ drone vendors to compete with the might of DJI (which had two good-sized booths in different locations).
Segway (remember Dean Kamen?) is now fully owned by Ninebot, a Beijing provider of all types of robotic-assisted self-balancing scooters and devices. They are now focused on lifestyle and recreational riders in the consumer market including the Loomo which you ride like a hoverboard and then load it up with cargo and have it follow you home or to another place in the facility. At their booth they were pushing the Loomo for logistics operations however it can't carry much and has balance problems. They would do better having it tow a cart.
Yujin Robot, a large Korean maker of robotic vacuums, educational robots, industrial robots, mobility platforms for research and a variety of consumer products, was showing their new logistics transport system GoCart with three different configurations of autonomous point-to-point robots.
The Buddy robot from Blue Frog Robotics won CES's Robotics and Drones Innovation Award along with Soft Robotics and their grippers and control system that can pick items of varying size, shape and weight with a single device. Jibo, the Dobot (mentioned above) and 14 others also received the Robotics and Drones Innovation Award.
[The old adage in robotics that for every service robot there is a highly-skilled engineer by its side is still true… most of the social and home robots frequently didn't work at the show and were either idle or being repaired.]
Silly things
A local strip club promoted their robotic pole dancers (free limo).
At a hospitality suite across from the convention center, the head of Harmony, the sex robot by San Diego area Abyss Creations (RealDoll), was available for demos and interviews. It will begin shipping this quarter at $8-$10,000.

Crowd-drawing events were everywhere but this one drew the largest audiences: Omron's ping-pong playing robot.
FoldiMate, a laundry folding robot, requires a human to feed the robot one article at a time for it to work (for just $980 in late 2019). Who's the robot?
And Intel's drones flew over the Bellagio hotel fountains in sync with the water and light musical show. Very cool.

ABC's Shark Tank, the hit business-themed funding TV show, was searching for entrepreneurs with interesting products at an open call audition area.
Bottom Line
Each time I return from a CES (I've been to at least six) I swear I'll never go again. It's exhausting as well as overwhelming. It's impossible to get to all the places one needs to go — and it's cold. Plus, once I get there, the products are often so new and untested, that they fail or are over-presented with too much hype. (LG's new CLOi products failed repeatedly at their press conference; Sony's Aibo ignored commands at the Sony press event.)
I end up asking myself "Is this technology really ready for prime time? Will it be ready by their promised delivery dates? Or was it all just a hope-fest? A search for funding?" I still have no answer… perhaps all are true; perhaps that's why I keep going. It's as if my mind sifted through all the hype and chaff and ended up with what's important. There's no doubt this show was great for robotics and that Asian (particularly Chinese) vendors are the new power players. Maybe that's why I copied down the dates for CES 2018.
---
Frank Tobe
is the owner and publisher of
The Robot Report
, and is also a
panel member
for Robohub's
Robotics by Invitation
series.
Frank Tobe is the owner and publisher of
The Robot Report
, and is also a
panel member
for Robohub's
Robotics by Invitation
series.