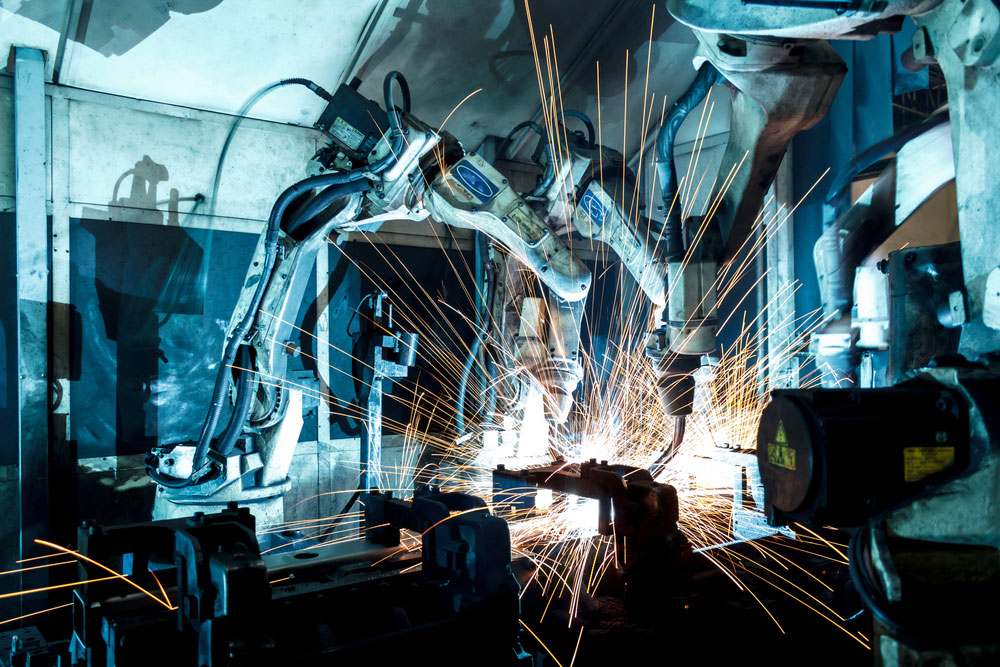 In two simultaneous launches last week, Toyota Motor and the UK RAS Group backed their previous statements regarding the imperative for robotics and AI development with money, roadmaps and strategic alliances.
TOYOTA MOTOR CO.
Toyota Motor announced an alliance with the AI labs at MIT and Stanford, along with a $50M investment, to develop auto-related sensing and perception, navigation and human-centric learning systems, automated decision making, and human-machine interaction technologies. Gil Pratt, who recently headed the DARPA Robotics Challenge, will lead Toyota's efforts from a new facility in Silicon Valley.
At a press conference, the Toyota spokesman repeatedly said that Toyota wasn't going to use this new collaboration to develop self-driving cars; rather, they were planning on augmenting drivers with driver assistance technologies to enhance the commuting experience and reduce highway deaths and injuries.
Toyota joins Ford, Mercedes, BMW, Tesla, Honda, Bosch and many other auto companies with AI labs in Silicon Valley and they join more generic AI research by Google, Apple, Baidu and others in the area. Lots of competing methods and an even greater competition for talent.
NORTHERN ROBOTICS NETWORK
Also announced last week was the establishment and funding of the Northern Robotics Network, a subset of the UK RAS 2020 Robotics and Autonomous Systems Initiative. The new Northern Robotics Network is setting up and funding GAMMA (Growing Autonomous Mission Management Applications), a 3-year, $13.6 million investment by the governments in the Northern regions of the UK to stimulate fast growth and assist with the funding, development and incubation of new ventures in AI and robotics.
The UK Government in 2012 identified 8 Great Technologies that support the UK Industrial Strategy to stimulate the UK economy and create jobs and economic growth – one of which covers robotics and autonomous systems. The government then created the RAS-SIG (Robotics and Autonomous Systems Special Interest Group) which developed a strategic roadmap to achieve their goals, and are now beginning to unfold and fund their various strategies. The Northern Robotics Network is one of those pieces of the overall strategy.
OTHER GOVERNMENT FUNDED PROGRAMS
The UK is also participating in the European Commission's robotics research and innovation program – a plan to invest $2.8 billion over the next 7 years. The EU Commission itself is investing $850M, and the rest is coming from participating governments and corporations. The goal is to invest in every robotics sector, from industrial robots to domestic, from the fields to space, etc.
Japan has a 5-year robotic strategy (Robot Revolution Initiative (RRI)), a group of 200 companies, universities and governmental agencies, to challenge issues unique to Japan, particularly the simultaneous aging of the overall population and the low birth rate causing a reduction in workforce size and a serious shortage of entry-level workers. The plan is to "spread the use of robotics from large-scale factories to every corner of our economy and society."
China is just finishing their 12th 5-year plan (2011-2015) and has hired MIT to help formulate a manufacturing, automation and robotics roadmap for the 13th 5-year plan to be released in November, 2015. The present plan to improve quality and automation efficiencies in manufacturing and stimulate an in-country robotics industry (instead of buying robots from elsewhere) is paying off and the numbers show its success: CRIA reports that robot sales in China increased by 54.6% in 2014 to around 57,000 units, 25% of the global total. Nearly 17,000 units were made in China with a value of $474M, an increase of 60% from 2013.
In 2011 the US announced $500M to be invested in automation and robotics as part of a $2.2 billion Advanced Manufacturing Initiative and in 2014 set up and funded a $1.3B program to establish 12 manufacturing communities — regional centers — for R&D in specific sciences unique to their regions. Each center will receive government and corporate funding to work on strategic automation, AI and robotics to strengthen American manufacturing methods and make it globally competitive.
In 2014 Korea announced a $2.7 billion plan in response to the American, Japanese and EU plans. Their new plan is to help existing robotics businesses increase their sales as well as investing in disaster recovery and search and rescue robots and eldercare robots. It was their KAIST robot that won the recent DARPA Robotics Challenge.
And there are many good-sized VC-backed funds attempting to stimulate the same set of goals. French Minister Arnaud Montebourg announced the creation of a private fund with $108M headed by Bruno Bonnell focused on service robotics made in France. A Chinese venture fund is providing $200M to partner with the Russian Skolkovo Institute to incubate Russian technology and robotics for manufacture and marketing in China. The new Commercial Drone Fund, $75M Sky Fund, Qualcomm Robotics Accelerator and Idea Hub are all examples of funds established by corporations already in the business to fund startups that might have a beneficial impact on their company and the industry.
SUMMARY AND UPCOMING EVENTS
Thus far, 2015 has been a banner year for funding and incubating robotics and AI science development and startup ventures. There have also been many strategic acquisitions this year such as the sale of Segway, VGo, SMG, gomTec and Universal Robots as corporations add robotics and robot functionality to their arsenal of products and services.
There is broad recognition within the business world of the value of robotics and that growing awareness, stimulated by government funding, is translating into dollars to tackle the science of AI, perception, mobility and navigation. Research companies are attempting to detail the rising trend by mining data from various segments within the industry. So far this year the sheer number of research reports has increased 7-fold from five years ago.
And the year isn't over yet! There are sure to be interesting announcements at RoboBusiness coming up later this month, RoboWorld in Seoul in October, DroneWorld in November and iREX in Tokyo in December. See our Events Calendar for details of these and other upcoming events.
tags:
Northern Robotics Network
,
RAS-SIG
,
Toyota
---
Frank Tobe
is the owner and publisher of
The Robot Report
, and is also a
panel member
for Robohub's
Robotics by Invitation
series.
Frank Tobe is the owner and publisher of
The Robot Report
, and is also a
panel member
for Robohub's
Robotics by Invitation
series.