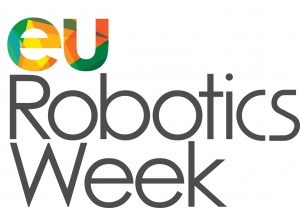 The fourth annual EU Robotics Week is on across Europe, with more than 300 activities happening this week in 25 EU countries.
Industry, research institutes and universities all over Europe will be offering a host of robotics activities for all ages – from open lab visits, public exhibitions, challenges and competitions, school visits and guided tours – in order to build public awareness and interest in robotics across the EU.
Highlights of this year's events include:
Czech Republic – Café Neu Romance: "Golem & the Mechanical Man of the Future" – Meet some of the World's best LEGO MINDSTORMS experts and robotics artist headliner Fernando Orellana from El Salvador, Slovakian AI-professor Jozef Kelemen, Dr. Rupert Young and the "bionic robotics arm man" Nigel Ackland, both from the UK.
Finland – Innokas Network: Interested in Coding and Robotics? Event roadshow for teachers and teacher students during the EU Code Week and Robotics Week in Fall 2014. You will learn in fun and engaging ways about coding and robotics during workshops run by teachers and students from Innokas Network schools.
Italy – The 2nd edition of the AI and Cognition workshop 2014 (AIC 2014) will bring together researchers coming from different domains (e.g., artificial intelligence, cognitive science, computer science, engineering, philosophy, social sciences, etc.) to work on the interdisciplinary field of cognitively inspired artificial systems.
Spain – Over 100 robotics related events will take place all over Spain, from Madrid to Barcelona, from San Sebastian to La Coruna. Events target: pupils of all ages, as young as 3 years old, parents and teachers. Workshops will be built around various topics such as building robots, 3D printing, programming or flying drones.
Get the full list of activities by date and location here.
tags:
c-Events
,
EU
,
EU Robotics Week
,
EU Robotics Week 2014
--- Robohub Editors