The Flying Donkey Challenge asks teams to create a UAV solution that can eventually circle Mount Kenya collecting and delivering 20 kilo payloads. The first subchallenge in this escalating task will take place between the 8 and 16 of November in Kenya. The final challenge, where teams have 24 hours to race around Mount Kenya, will take place in 2020 and teams are competing for a multimillion dollar prize. Solving the problem of supply delivery in places where infrastructure is poor or non-existent is seen as critical for health and economic well being.
33 Teams from Africa, Australia, Europe, India and North America have applied for the first edition of the Flying Donkey Challenge that will be held in Kenya 8-16 November 2014.
La Fondation Bundi (a Swiss non-profit organisation) and its partners are pleased to report that 33 teams from around the world have applied for the first edition of the Flying Donkey Challenge that will be held in Kenya 8-16th November 2014. Applications are from universities, start-ups and companies with recognised research, proven technology and experience in unmanned aerial vehicles (UAV). All the candidates are eager to take on the challenge of demonstrating the capabilities, safety and benefits of unmanned cargo aircrafts in Africa and beyond. The proposed aerial designs vary from fixed-wing, rotary-wing, lighter-than-air, paramotor to inflatable airframe. Teams are also proposing different powertrains (variations of combustion or electric motors) and cargo delivery strategies (e.g. loaded, winched or dropped). The event is open to worldwide entrants, but non-African teams must collaborate with a recognised higher education African institute, school or laboratory.
"This is a great endorsement for what we are doing. The teams understand that we must find solutions that are adapted to the environment and task. It's the ecosystem of engineers, designers, lawyers, regulators and business partners that must collaborate to demonstrate the benefits and gain acceptance of flying donkeys that are going to be part of our future transportation infrastructure", said Simon Johnson, Flying Donkey Challenge Co-Founder and Director.
"Friendly competitions that encourage open innovation are the best way to discover and test new ideas. The Flying Donkey Challenge takes the concept one step further by putting teams in situ so that their research, enabling technologies and designs are confronted immediately with the surroundings in which they will be used and to the users that will benefit. The Swiss NCCR Robotics is proud to provide scientific and advisory support to this great (ad)venture", commented  Dario Floreano, Swiss NCCR Robotics Director.
IBM's new Africa Research lab is one of the partners of the Flying Donkey Challenge and will provide technical support, equipment and counsel for the project. Using IBM's Intelligent Operations Center, Flying Donkey operators and other stakeholders will be able to monitor the Unmanned Aerial Vehicles (UAVs) in real time. The solution will integrate sensor data from the UAVs with other important information about weather forecasts and terrain allowing for informed decision making and improving the performance and safety of the project.
"Africa is fast becoming an adopter of cutting-edge technologies to overcome its infrastructure gap. Commercial drone technology has strong potential here to help overcome the limitations of the continent's transportation infrastructure and deliver goods and services in remote regions — spurring new models for business and service delivery", said Kamal Bhattacharya, Director, IBM Research, Africa. "But for drone technology to meet its potential in Africa, we need thorough understanding of the impact of factors such as weather, terrain, demographics and transportation networks; an area that IBM is researching with its latest cognitive computing systems."
Swiss WorldCargo is also keen to understand how unmanned air cargo vehicles will play a role in extending its services and reach. Swiss recognises that the air cargo industry is being transformed by new business models in manufacturing (nano technology and 3D printing for example) e-commerce and distribution.  The biggest opportunities will be in places with high economic and demographic growth such as Africa. "The question is not whether, but when and how cargo robots will appear in our skies and work alongside aircraft and trucks," said Oliver Evans Swiss WorldCargo Chief Cargo Officer and Chairman of the International Air Cargo Association (TIACA). "My guess is it will happen first in unsuspected areas, driven by disruptive new entrants, and benefiting the millions living in remote areas who will soon have access to the Internet and global trade using low cost smartphones."
Jonathan Ledgard, Head of EPFL Afrotech and Co-Founder of the Flying Donkey Challenge adds "in 2020 the purchase price of a flying donkey will be less than $2,500 (£1,500). Running costs including training, logistics, fuel, spare parts will be under 40 cents per kilometre and able to travel 50,000 kilometres over five years without a major breakdown. This model compares favourably to the number of health ministry motorbikes that are ruined by the state of African roads."
About The Flying Donkey Challenge 
The place to launch commercial aerial delivery services is in Africa! Africa has a population that will double by 2050, some of the fastest growing economies, forecasted infrastructure deficit, a flexible regulatory environment, plenty of air bandwidth and a structure that makes it ready to leapfrog technology. Solutions proven in Africa will be replicated in other areas.
The Flying Donkey Challenge is an escalating series of sub-challenges held annually in Africa. World-leading roboticists, engineers, regulators, entrepreneurs, logisticians, and designers will win substantial grants by advancing the safety, durability, legality, profitability and friendliness of flying-parcel carriers on a massive scale. Before 2020, with world media attention, the sub-challenges will culminate in a race of Flying Donkeys* around Mount Kenya in under 24 hours, delivering and collecting 20 kilo payloads along the way. The winner(s) will collect a multi-million dollar prize. *Cargo robots with a maximum takeoff weight of 60 kilos
About Swiss NCCR Robotics
The National Centre of Competence in Research (NCCR) Robotics is a nation-wide center, launched by the Swiss National Science Foundation, with the common objective of developing new, human-oriented robotic technology for improving our quality of life.  The centre gathers leading robotics experts in Switzerland from cutting-edge research institutions: EPFL as leading house, ETH Zurich, University of Zurich and Dalle Molle Institute for Artificial Intelligence. Research follows three strands; rescue robotics, where robots are being developed to use swarming technology and multiple modes of locomotion; wearable robotics, where roboticists work with neurologists and materials science to develop unique prosthetics that can truly work with their wearer; and development of a new generation of foldable and reconfigurable robotic systems for teaching.
About Swiss WorldCargo
Swiss WorldCargo is the air freight division of Swiss International Air Lines Ltd. With a global network of more than 150 destinations in over 80 countries and a wide range of services offered, Swiss WorldCargo generates true added value for its customers and makes a substantial contribution to the earnings power of Swiss International Air Lines Ltd.
tags:
c-Events
,
Competition-Challenge
,
cx-Aerial
,
Flying Donkey Challenge
---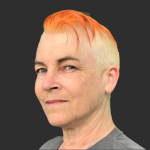 Andra Keay
is the Managing Director of Silicon Valley Robotics, founder of Women in Robotics and is a mentor, investor and advisor to startups, accelerators and think tanks, with a strong interest in commercializing socially positive robotics and AI.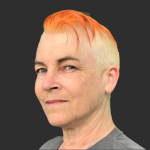 Andra Keay is the Managing Director of Silicon Valley Robotics, founder of Women in Robotics and is a mentor, investor and advisor to startups, accelerators and think tanks, with a strong interest in commercializing socially positive robotics and AI.