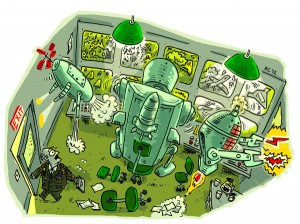 In November last year, the Human Rights Watch released the "Losing Humanity" report (which we've already covered on Robohub). This report discussed the role of robots in armed conflict, summarized the current trends and plans for increasing robot autonomy, and highlighted the dangers that fully autonomous systems ("killer robots") would pose, if ever deployed on the battlefield.
Today, the Human Rights Watch launch a new campaign, entitled "Campaign to Stop Killer Robots". This campaign builds upon the foundation laid by the "Losing Humanity" report, and calls for . . .
. . . a pre-emptive and comprehensive ban on the development, production, and use of fully autonomous weapons . . . through an international treaty, as well as through national laws and other measures.
The full press release can be read here, and the campaign's website, found here.
Photo Credit: Russell Christian for Human Rights Watch
tags:
ethics
,
Laws
,
policy
,
Service Professional Military Other
,
Social aspect
---
Mike Hamer