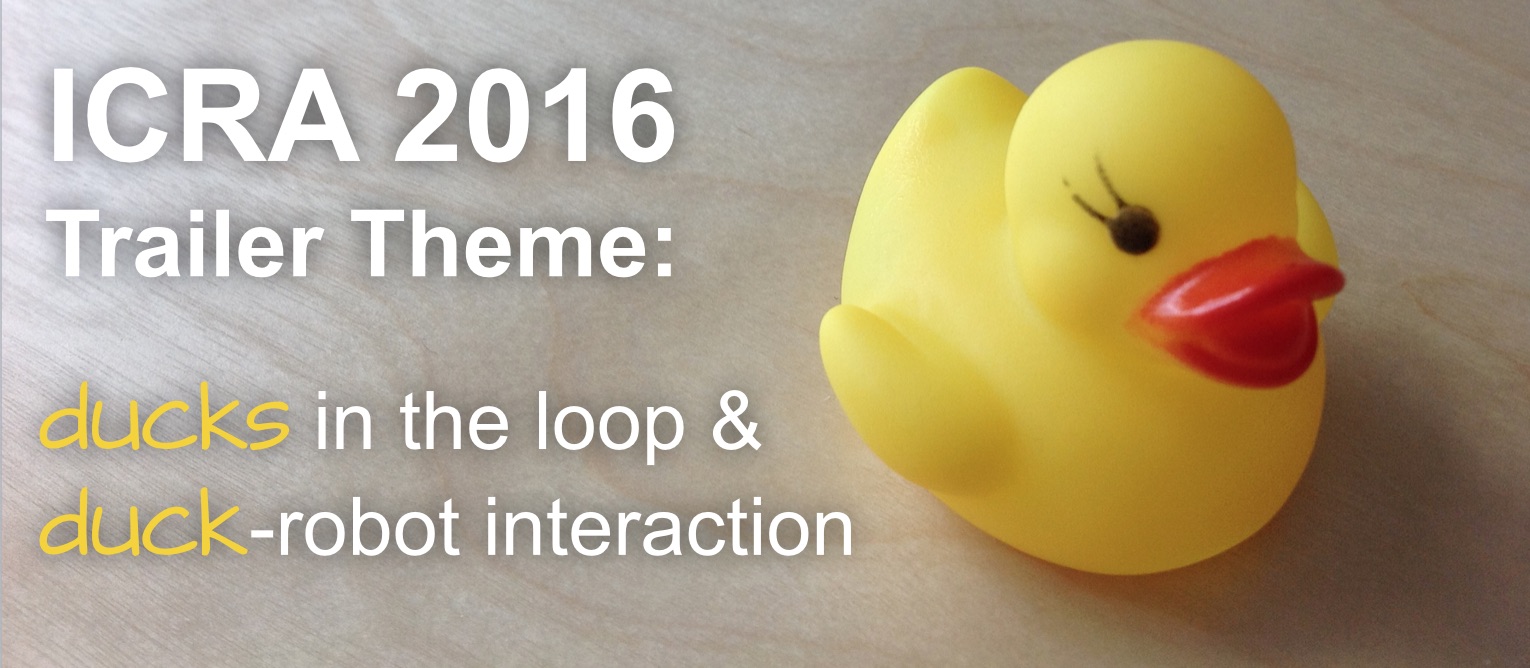 The robotics community have created a series of video tributes that showcase some of the contributions to ICRA, the largest conference in the field of robotics and automation. Episode three features 3D printing technologies, robot manipulation tasks, and an autonomous rally car at one-fifth scale.
Stay tuned for our final video: mini-micro robots.
---
Papers featured in this video:
"Printable Hydraulics: A Method for Fabricating Robots by 3D Co-Printing Solids and Liquids"
Robert MacCurdy, Robert Katzschmann, Youbin Kim, Daniela Rus
MIT
Modern 3D printing technologies allow 3D solids and liquids to be printed together, to create mechanisms that are hydraulically actuated. This method allows a complex moving robot to be printed in one piece, and can also be used to print to soft robots.
---
"Triple Scissor Extender: A 6-DOF Lifting and Positioning Robot"
Daniel J. Gonzalez and H. Harry Asada
MIT
This is a novel mechanism for reaching high ceilings. Translation and rotation of the robot tool are achieved through the coordinated motion of the linear actuators at the base.
---
"The effect of shapes in input-state linearization for stabilization of nonprehensile planar rolling dynamic manipulation"
Vincenzo Lippiello, Fabio Ruggiero, Bruno Siciliano
University of Naples
Are you able to stabilize the position of a disk at a given angle, while keeping another rolling disk in balance on its top? This acrobatic problem is solved here in an automatic way, suggesting a control strategy for more complex robot manipulation tasks.
---
"Hierarchical Planning of Dynamic Movements without Scheduled Contact Sequences"
Carlos Mastalli, Ioannis Havoutis, Michele Focchi, Darwin G. Caldwell, Claudio Semini
Department of Advanced Robotics, Istituto Italiano di Tecnologia (IIT)
This robot's movement is generated by an algorithm that is capable of optimizing for the sequence and timing of contacts with the environment, alongside with the smooth motion between contacts. This capability is important for generating dynamic motions for robots with arms and legs.
---
"Aggressive Driving with Model Predictive Path Integral Control"
Grady Williams, Paul Drews, Brian Goldfain, James Rehg, and Evangelos A. Theodorou
Institute for Robotics and Intelligent Machines, Georgia Institute of Technology
This autonomous rally car at one-fifth scale performs agile cornering maneuvers by repeatedly executing and optimizing a trajectory around an off-road track. All of the computation required is performed on-the-fly, without any pre-planning phase, using only the computer on board of the vehicle.
For more details about these clips, visit the ICRA trailer website.
If you liked this article, you may also be interested in:
See all the latest robotics news on Robohub, or sign up for our weekly newsletter.
tags:
c-Events
,
duckies and robots
,
ICRA16
--- Robohub Editors