The 48th annual World Ag Expo, with over 1,400 exhibitors, finished up in Tulare, California last week with little exposure to robotic game changers. Their Top 10 New Products included just one robotic entry.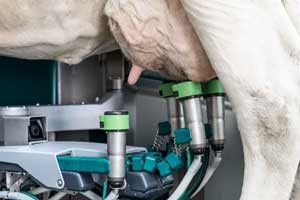 DairyProQ, the only robotic winner of the 10, by GEA Farm Technologies, a German firm, uses robotic arms to sterilize, stimulate and milk cows. Robotic milking devices are a big business in Europe and have been for two decades. They are just recently beginning to be sold in the U.S. and the DairyProQ milking stall module is a proven process. Lely and DeLaval, both European robotic milking vendors, had booths at the show but their sales people acknowledged that robotic milking products are a hard sell in the U.S.
Flying robots were downplayed at the show, probably because of the current FAA restrictions on their use. Trimble, the big GPS products and navigation company that owns Gatewing, didn't even display or offer any Gatewing UAS products. Yamaha, which flies RC helicopters that spray chemicals on crops in Japan, didn't show that device nor did anybody on their sales team know that they even had it for sale. Nevertheless drone makers All Drone Solutions, Advanced Reconnaissance, HoneyComb and senseFly all had booths at the show.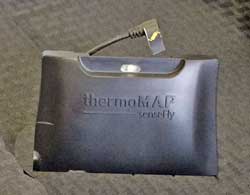 SenseFly is a Swiss startup acquired by Parrot, the French mobile electronics company that developed the AR.Drone. senseFly was showing, amongst other accessories, their new ThermoMAP sensor/camera, which enables users to create full thermal maps for mapping water distribution, checking irrigation systems, assessing the functionality of solar panels and many more uses. They also showed their workhorse eBee professional mapping drone. [The sales rep at the senseFly booth was typical of the new breed of young farm business people: young but with many years of on-farm hands-on experience, college educated, passionate, and eager to show and use new tech to solve the reoccurring problems of industrial farming.]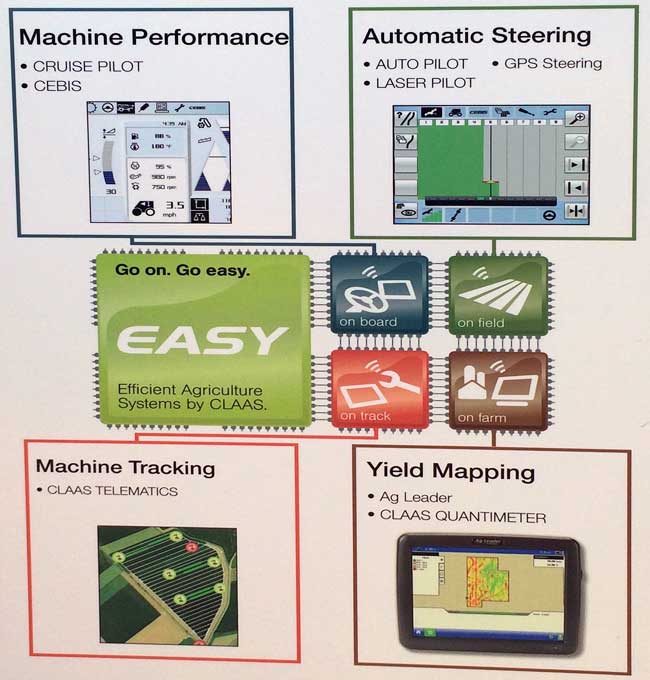 Precision ag is the catchphrase that covers the process of identifying very small segments of a property and providing detailed visual and geographic data so that individualized actions can take place at those specific locations. Gather data from the air, map and overlay the results, study and make decisions based on that information, take customized action based on those decisions using digitally augmented implements. All the big companies displayed posters of their intelligence systems but none were robotic or complete; rather the elements of present-day precision ag are piecemeal.
Real Time Kinematic (RTK) GPS was offered by a few vendors and is used on many farms to refine the GPS down to +/- .5″ so that self-driving tractors and digital implements can be accurate.
Tractors are still big and getting bigger. They, and the implements they tow, were everywhere at this mammoth show. All the bigger tractors come equipped with self-steering kits and an ISO bus to monitor and control digital implements. Topcon Precision Agriculture, a maker of the self-driving kits, had a booth. No cabin-less tractors were displayed or even discussed, but the self-driving autopilots appeared to be commonplace.
Bottom line: Very little robotic technology was shown at World Ag Expo. More info can be found on company websites and in media stories than at this particular ag trade show.
tags:
c-Events
,
cx-Environment-Agriculture
,
cx-Industrial-Automation
,
World Ag Expo
---
Frank Tobe
is the owner and publisher of
The Robot Report
, and is also a
panel member
for Robohub's
Robotics by Invitation
series.
Frank Tobe is the owner and publisher of
The Robot Report
, and is also a
panel member
for Robohub's
Robotics by Invitation
series.