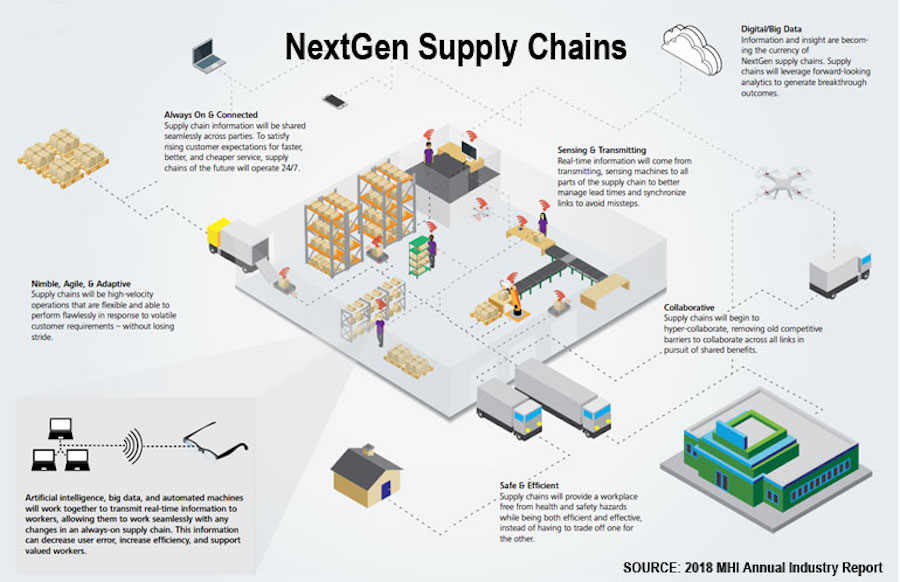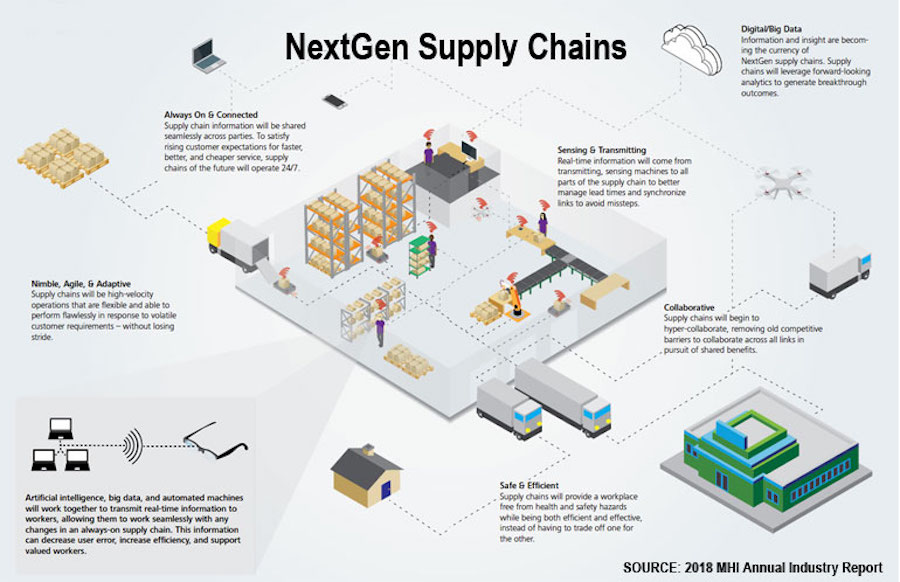 MODEX, ProMat and CeMAT are the biggest global material handling and logistics supply chain tech trade shows. But as I walked the corridors of this year's MODEX in Atlanta, I was particularly aware of the widening disparity between the old and new.
Stats: Material Handling and Logistics
The 2018 MHI Annual Industry Report found that the 2018 adoption rate for driverless vehicles in material handling was only 10% and the adoption rate for AI was just 5% while the rate for robotics and automation was 35%.
The report indicated the top technologies expected to be a source of either disruption or competitive advantage within the next 3-5 years to be: (shown in order of importance)
Robotics and Automation – picking, packing, sorting orders; loading, unloading, stacking; receiving and put-away; assembly operations; QC and inspection processing
Predictive Analytics – manage lead times; synchronize links; avoid missteps
Internet-of-Things (IoT) – enable real-time info flow; predictive analytics; and QC
Artificial Intelligence – faster deliveries; reduced redundancies; improved analytics
Driverless Vehicles – autonomous vehicles (and conversion kits for existing AGVs, tows and lifts); SLAM and point-to-point navigation; some with manipulators
The report also listed the key barriers to adoption of driverless vehicles and AI: (shown in order of importance)
lack of a clear business case
lack of adequate talent
lack of understanding of the technology landscape
lack of access to capital to make investments
cybersecurity
Other research reports were more optimistic in their forecasts:
A $3,500 report from QY Research made rosy forecasts for global parcel sorting robots and last mile delivery robots
A $10,000 report from Interact Analysis forecast five years of double-digit growth for AMRs and AGVs converted to AMRs
A $4,450 report from Grand View Research forecasts significant growth through 2024 driven by increasing demand for autonomous and safe point-to-point material handling equipment
Transforming lifts, tows, carts and AGVs to AMRs and VGVs
Human-operated AGVs, tows, lifts and other warehouse and factory vehicles have been a staple in material movement for decades. Now, with low-cost cameras, sensors and advanced vision systems, they are slowly transitioning to more flexible autonomous mobile robots that can tow, lift and carry. AMRs are Automated Mobile Robots which can be human operated or autonomous or a combination of both.
Vendors providing conversion systems for existing lifts and carts to Vision Guided Vehicles (AMRs) for line-side replenishment, pallet movement, etc. include:

Vendors providing grasping capabilities in addition to autonomous mobility include:
Vendors providing high speed random grasping from moving conveyors or bins:

Kinema SystemsVendors providing AMRs, VGVs and AIVs (Autonomous Intelligent Vehicles) for goods-to-person, load transfer, restocking, etc. include:
Navigation systems have changed as well and often don't require floor grid markings, barcodes or extensive indoor localization and segregation systems such as those used by Kiva Systems (and subsequently Amazon). SLAM and combinations of floor grids, SLAM, path planning, and collision avoidance systems are adding flexibility to swarms of point-to-point mobile robots.
Kiva look-alikes emerge
In March 2012, in an effort to make their fulfillment centers as efficient as possible, Amazon acquired Kiva Systems for $775 million and almost immediately took them in-house, leaving a disgruntled set of Kiva customers who couldn't expand and a larger group of prospective clients who were left with a technological gap and no solutions. I wrote about this gap and about the whole community of new providers that had sprung up to fill the void and were beginning to offer and demonstrate their solutions. Many of those new providers are listed above.
Recently, another set of competitors has emerged in this space:
Companies started in China who copied the Kiva Systems formula to provide Kiva-like goods-to-person robot services and dynamic free-form warehousing to the major Chinese e-commerce vendors such as:
Now some of those companies are expanding outside of China and SE Asia to Europe and America:
Bottom Line
There are many forms of warehousing. But the area where NextGen tools are needed the most are in high-turn distribution and fulfillment centers.
The rate of acceptance of e-commerce is changing warehousing forever, particularly distribution and fulfillment centers. Total e-commerce sales for 2017 were $453.5 billion, an increase of 16.0% from 2016. E-commerce sales in 2017 accounted for 8.9% of total sales versus 8.0% of total sales in 2016 according to the U.S. Department of Commerce.
Consequently flexibility and an ability to handle an ever-increasing number of parcels is paramount and fixed costs for conveyors, elevators and old style AS/RS systems has become anathema to warehouse executives worldwide. Hence the need to invest in NextGen Supply Chain methods as shown at shows like MODEX.
Although 31,000 people went to this year's MODEX, I wonder how many share my view about the disparity between the old and new shown at the show. Certainly there were enough new tech vendors offering "a mixed fleet of intelligent, collaborative mobile robots and fully-autonomous, zero-infrastructure AGVs designed specifically for safe and flexible material flows in dynamic, human-centric environments." Yet the emphasis on the show – and the favorable booth space placement – was to the old-line vendors rather than the NextGen companies listed above.
Go figure!
---
Frank Tobe
is the owner and publisher of
The Robot Report
, and is also a
panel member
for Robohub's
Robotics by Invitation
series.
Frank Tobe is the owner and publisher of
The Robot Report
, and is also a
panel member
for Robohub's
Robotics by Invitation
series.