The DRC is all about pushing robotics technology forward. It's all about creating a community devoted to innovation. And as it comes down to the finale on Friday and Saturday, it will also be about theatre. When spectators take their seats in the Grandstands at the Fairplex on Friday and Saturday, they will see a quartet of virtually identical Finals Courses, or what Kathy Wadham, director of creative programming for Fairplex, thinks of as stage sets. "Anything that needs to be turned into something else, or created here, we do that," said Wadham during a backstage tour of the concocted disaster zones the robots will have to navigate over and through.
Momentum toward these DRC finals-courses/stage-sets began picking up several months ago when DRC organizers met with Wadham to explain how the courses had to be laid out, so four robots could test their humanitarian assistance skills in parallel. "They said, 'We have a vision, can you do it?'" Wadham recalled. Those initial meetings led to detailed specifications and drawings and then it was up to Wadham to translate those abstractions into four essentially identical sets that would put the most sophisticated humanoid robots on the planet through some of the most challenging tests they have ever faced.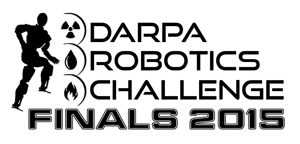 "I didn't want it to look cartoonish," Wadham said. "I wanted it to look real." And that explains why she had an aha! moment one day as she was doing some rounds on the grounds beyond the Grandstands. She looked up at the roofs of the old horse barns on the premises and she knew she had found the perfect material for the walls of her DRC sets—corrugated tin that had been aging and rusting for 40 years. It was a fitting artistic epiphany, given that the DRC is the Triple Crown of robotics.
"We went through our scrap piles to find the doors and the electrical switches," she said. Those same piles were a gold mine for creating the debris fields in front of the steel staircases on the left side of each set. Each junk heap is an assemblage of rooftop turbine vents (some with long-abandoned birds' nests inside), gas line piping, beat up steel drums, water heater vessels, and sundry other pieces of detritus. "Some of the stuff was not rusted enough at first," she said. "So we have a person who rusts and weathers it and makes it look old."
For some of the details on the set, Walham went shopping. She found the incandescent bulbs for the dingy metal mesh fixtures online and purchased decals of gauges for the square electrical cabinets from a store specializing in retro design.
"We create places," says Wadham. "That's what we do." The precisely dilapidated settings Walham and her Fairplex coworkers ultimately built—each with somewhat different piles of rubble strewn around the periphery but by necessity identical in the areas where the competing robots must traverse—are sure to transport DRC spectators to the earthquake, tsunami or hazerdous industrial zones in which we all hope robots will one day provide life-saving assistance.
---
Robotica Comedia
Human beings rarely squander an opportunity for comedy. That tendency is holding true in Building Nine of the Fairplex in Pomona, where the DRC teams are preparing their robots for the big race days on Friday and Saturday.
tags:
c-Events
,
Competition-Challenge
,
DARPA
,
DRC
---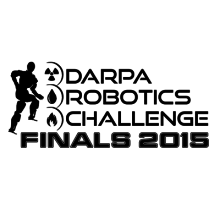 DARPA Robotics Challenge
The DRC is a competition of robot systems and software teams vying to develop robots capable of assisting humans in responding to natural and man-made disasters.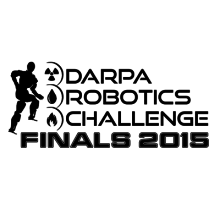 DARPA Robotics Challenge The DRC is a competition of robot systems and software teams vying to develop robots capable of assisting humans in responding to natural and man-made disasters.