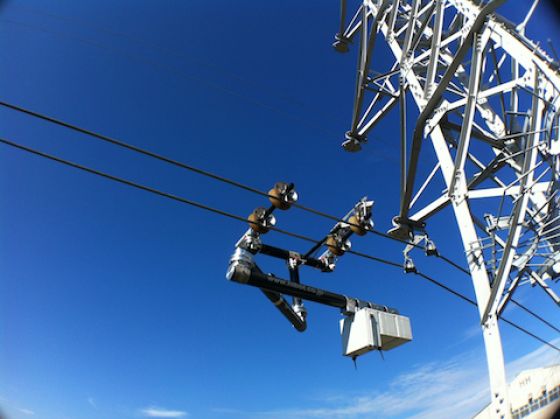 Japanese start-up HiBot, a maker of various types of robots for commercial use such as industrial pipeline cleaning, also developed a high transmission line inspection robot name Expliner. Last week HiBot announced a partnership with Hitachi High-Tech Group to expand the development and distribution of that robot.
Hitachi High-Tech has been inventing and manufacturing railroad track/wire inspection equipment as part of its infrastructure inspection business. Looking ahead, Hitachi High-Tech will collaborate with HiBot to expand into the transmission line inspection business as well.
HiBot was at the forefront of the development of overhead transmission line robots and was about to do live trials when the Fukushima disaster occurred. It took all Tepco resources – including those used with HiBot to test and install their robots – and redirected them to the disaster area and recovery efforts – which is why this new partnership agreement is fortuitous for HiBot.
In the power industry, optimizing the use, performance and life of transmission lines, is a continuing need for the power industry. Hence the need for this type of inspection robot. Different methods have been explored to examine, assess and determine and/or perform maintenance where needed, and, in Canada, to de-ice those lines as well. Many existing methods, some of which involve turning off the power, are too expensive to continue and include helicopter inspections. The Expliner robot by HiBot, Québec's LineScout and the EPRI's robot are the farthest along in providing those services.
The American Electric Power Research Institute (EPRI) has developed and is testing their robot. It was originally planned to be installed for field trials in 2013 but seems to be running at least a year or so late.
In Canada, Hydro-Québec Research Institute created the LineScout robot which has been in the testing and upgrading phase for the last couple of years.
In October, 2014, the 3rd International Conference on Applied Robotics for the Power Industry will take place in Brazil.
If you liked this article, you may also be interested in:
See all the latest robotics news on Robohub, or sign up for our weekly newsletter.
tags:
c-Mapping-Surveillance
,
HiBot
,
line inspection
---
Frank Tobe
is the owner and publisher of
The Robot Report
, and is also a
panel member
for Robohub's
Robotics by Invitation
series.
Frank Tobe is the owner and publisher of
The Robot Report
, and is also a
panel member
for Robohub's
Robotics by Invitation
series.