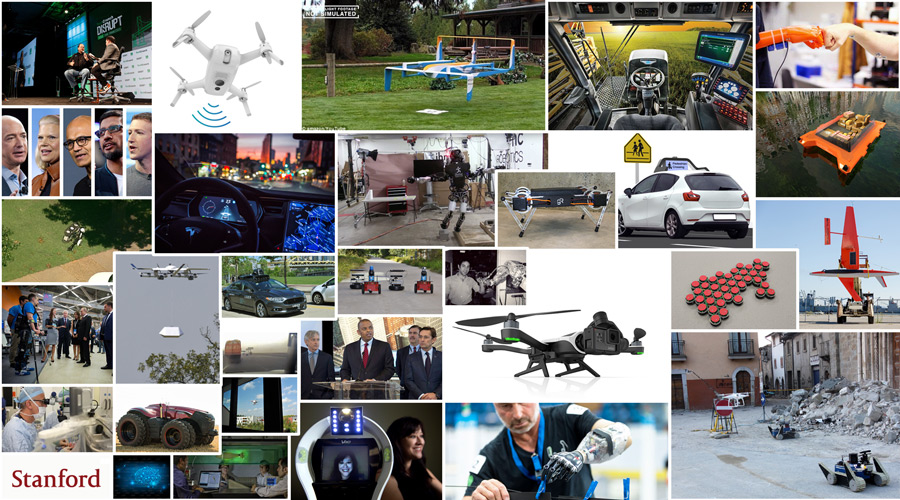 A quick, hassle-free way to stay on top of robotics news, our robotics digest is released on the first Monday of every month. Sign up to get it in your inbox.
AI100: Big announcement in artificial intelligence
September was all about AI and lots of big, exciting announcements that'll keep us on our toes for years to come. Eric Horvitz at Stanford University invited leading thinkers to join him to begin a 100-year effort to study the effects of artificial intelligence on society. The group plans to produce a report every five years to track the impact of AI on all aspects of work, family and social life – for a century! The studies are expected to develop assessments that provide expert-informed guidance for directions in AI research, development, systems design, as well as programs and policies to help ensure that these systems broadly benefit individuals and society. Soon, it's set to penetrate nearly every area of our lives, with experts trying to forecast what AI will look like in 2030. Despite the abundance of AI research, we don't quite have all the answers to the complex ethical and legal questions that arise from the use of such technologies.
You can read and download the 2016 report here.
This kind of work will be vital, as 'clever software' has become more and more mainstream, with programmes like Siri, and as AI is starting to be used routinely by many big companies now.
It's a good thing, then, that a group of the world's largest tech companies, including Google, Amazon and Microsoft, are coming together to create a standard of ethics for the creation of artificial intelligence, to ensure AI is developed to benefit and not harm humans.
Law of Robotics, 2.0
And while the tech and internet giants are just about to start their discussions on ethical issues in robotics, the British Standards Institute just issued an official version of what constitutes 'good behaviour' in robots, based on the original rules formulated by Isaac Asimov. The guidance outlines potential hazards researchers and makers of robots need to consider in their work – including sci-fi-like scenarios, such as robots capable of deception and robot addiction.
Conducting dangerous work? Get help from a robot
Meanwhile, in the real world, robots are being used for good – taking on dangerous, sometimes deadly jobs, and keeping humans from harm. In the recent bomb attacks in New York, police used robots to disarm explosive devices they found, one which did detonate. And Los Angeles county police used a robot to disarm a suspected murderer, ending a six-hour stand-off.
Elsewhere, a robot-human disaster response team (TRADR) were able to assist the post-earthquake response in Amatrice, Italy. The robots helped to create models of two churches that were at risk of collapsing, to provide vital information about how to support the structures to prevent additional damage.
Cybathlon, advancements in healthcare robotics
As mentioned briefly in last month's digest, 2016 is the year for the very first Cybathlon – an event for people with disabilities to compete against each other with the help of assistive technologies. In the lead-up to the event, we conducted a Robohub Roundtable discussion with our experts and discussed current and future advancements in prosthetics. And our Robots Podcast explored the use of exoskeletons for rehabilitation and people with disabilities.
But robotic technologies have applications in healthcare beyond rehab and disability support, of course, and this was once again demonstrated when surgeons in the UK performed the first robotic eye surgery. "With a robotic system, we open up a whole new chapter of eye operations that currently cannot be performed", said Professor Robert MacLaren of John Radcliffe hospital in Oxford in the Guardian.
And in another world first, researchers at the University of California Irvine reported on a first-of-its-kind study that allowed chronically ill children to use telepresence robots to attend school. The research found that children felt more socially connected and academically involved when they could go to school virtually. Although more research is needed before telepresence in schools can become mainstream, the success of the study shows great promise for those unable to attend school due to chronic illness or disability.
Robots in the water
Outside of the healthcare field, robots are currently being used in several bioconservation efforts across the globe – and not just on land. We mentioned the use of airborne drones for conservation before, and now autonomous robot sailboats are also sailing the Bering Sea counting fish and monitoring seals, all without the need for a sailor on board.
And in Amsterdam, researchers from MIT and the Amsterdam Institute for Advanced Metropolitan Solutions (AMS) are developing a fleet of autonomous boats for the city's canals. Meanwhile across the Atlantic, the US Navy is providing funding to develop more versatile underwater vehicles by studying the locomotion of fish.
Robots on the farm
In agriculture, the use of robots has the potential to transform how farming works – and there's a whole bunch of technologies already available, including GPS, precision irrigation, and autonomous grain cart systems. The latest addition to this arsenal of farming tech may be a driverless tractor, which had its first outing at the annual Farm Progress Show in Boone, Iowa. It's only a concept vehicle at this stage, but its makers are hoping that it will become commercially available in the not too distant future.
Drone watch: Responsible drone journalism
September also marked the long awaited unveiling of GoPro's Karma – a new stabilized drone kit and system that'll allow users to capture engaging, wide-angle video from the air. "This is a game-changing experience that we will continue to build upon", said Nicholas Woodman, founder and CEO of GoPro, at the unveiling ceremony. And for those with a smaller budget keen to produce content for social media, there's the latest drone from Yuneec, which allows users to take 4K video and 13MP images.
With the growing capability of drones to take high quality pictures and video, it's no wonder that many journalists are among the first to take the test to become licensed drone pilots. But being able to fly a drone isn't quite the same as good drone journalism, so the Drone Journalism Lab has just released an operations manual to help media outlets operate responsible drone journalism from the newsroom.
With the dawn of drone journalism looming, the Electronic Privacy Information Center (EPIC), a privacy advocacy organization in Washington, has voiced concerns that increased use of drones could threaten people's right to privacy which the FAA regulations do not cover, according to the organization.
And in a final piece of drone news, Amazon has secretly been testing its delivery drones in the UK, hiding their activities behind 'a wall of haybales', while students on Virginia Tech's campus could observe drones delivering small white parcels, rumoured to contain burritos in a test-run of Google's food deliver service.
Robocars news and updates
In the world of autonomous vehicles, Drive.ai has announced that it's going to use deep learning to teach self-driving cars, and the US Department of Transportation has released guidance on automated driving.
Meanwhile, some companies are sending their vehicles out onto the roads. Cab service Uber will be offering some of their Pittsburgh users the option of being picked up by a self-driving car, and nuTonomy just launched their first autonomous taxi pilot on the streets of Singapore.
Car manufacturer Tesla released an update for their cars with improved autopilot radar and more 'human-like' lane positioning. The update also features a time out warning that'll come on when a driver has taken their hands off the wheel for a while (exact time depends on speed and road conditions). It's meant as a reminder that the Tesla system isn't actually a full autopilot, but rather a sophisticated cruise control system, and comes after the death of a Tesla enthusiast earlier this year.
Sadly though, this month news emerged that another Tesla vehicle had been involved in a fatal crash in China back in January, and that the autopilot is thought to have played a role in the collision. This lead to further questions about whether the company is doing enough to ensure driver safety.
While it's still not quite clear whether autonomous cars are in fact 'robots', research reports have traditionally looked at them together with other robots – seeing advances in the robocar industry as part of the wider developments in robotics.
Developments in the lab
In the research world, Boston Dynamics posted a pretty cool video of their Atlas robot balancing on a 2cm thick plywood edge, in Austria, engineers are working to deliver energy to explorer robots through improved coordination, and researchers at the University of Sheffield developed a new machine learning method that allows machines to simply observe and learn, without being told what to look for.
Lastly, a team at the University of Pennsylvania have developed a small quadruped robot, called Minitaur, that can conquer doors and stairs thanks to four direct-drive legs.
Fun robotics news
New Zealand phone provider Spark had a great idea to help their customers get their hands on the new iPhone 7 without having to wait in line – they allowed tech fans to have a robot take their place in the queue. One hundred Alpha 1 robots, controlled through phone apps, patiently waited in line, moving, dancing and live-streaming the experience to their human 'handlers'. We think that's a pretty nifty marketing idea!
In memoriam
Finally, we were sad to hear that Victor Scheinman, inventor of the first robotic arm, passed away this month, aged 73. He was one of the fathers of industrial robotics and his 'Stanford Arm', commercialized as the PUMA robotic arm, is still used in almost every industry application today.
Upcoming October-November events
Workshop on Brain-Machine Interface Systems 2016: October 9-12, Budapest, Hungary.
Cybathlon 2016: 8 October, SWISS Arena, Kloten.
IROS 2016: October 9-14, Daejeon, Korea.
World Robot Conference 2016: October 21-25, Beijing, China
SSRR 2016 – IEEE International Symposium on Safety, Security, and Rescue Robotics: October 23-27, Lausanne, Switzerland.
Minesweepers Competition: Towards a landmine-free world: October 27-30, Zewail City of Science and Technology, Egypt.
Distributed Autonomous Robotic Systems (DARS): November 6-9, Natural History Museum, London UK.
GCC Manufacturing Excellence and Technology Summit: November 14-15, Dubai, U.A.E.

Humanoids 2016 – IEEE-RAS International Conference on Humanoid Robotics: November 15-17, Cancun, Mexico.
tags:
Robohub Digest
---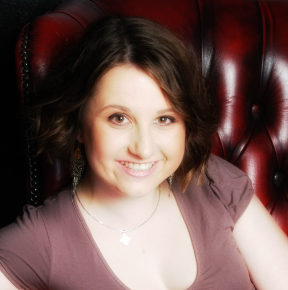 Jana Witt
is the Presenter for the ROBOTS Podcast, and is one of Robohub's UK correspondents.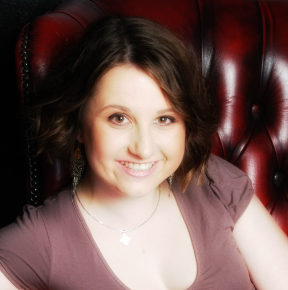 Jana Witt is the Presenter for the ROBOTS Podcast, and is one of Robohub's UK correspondents.
---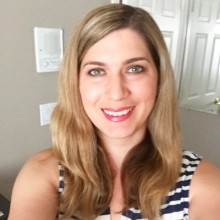 Kassie Perlongo
Kassie is the Managing Editor at Robohub.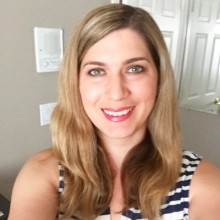 Kassie Perlongo Kassie is the Managing Editor at Robohub.