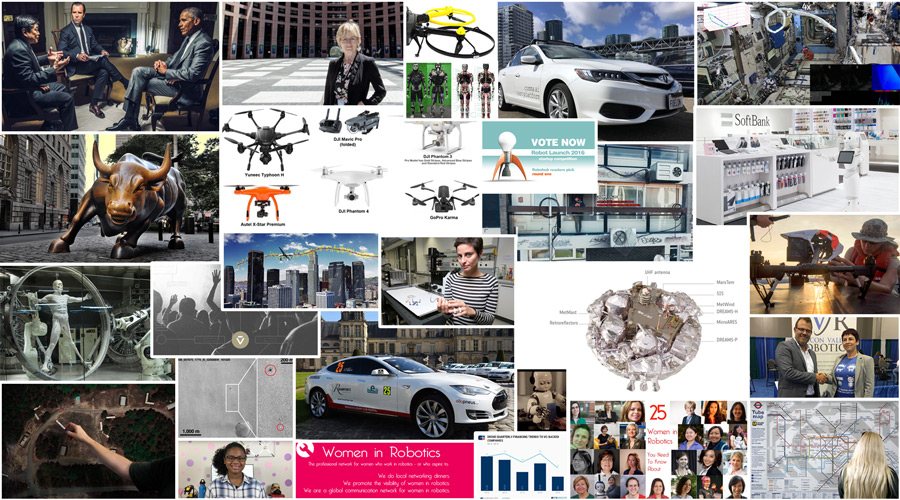 A quick, hassle-free way to stay on top of robotics news, our robotics digest is released on the first Monday of every month. Sign up to get it in your inbox.
Robo-Politics?
In October, the presidential race for the White House entered its final stretch that will culminate on Tuesday, November 8th (no doubt, to the relief of many Americans). While the majority of the political spotlight is on Hillary Clinton and Donald Trump, current "geek-in-chief" President Barack Obama sat with MIT Media Lab Director Joi Ito to discuss hopes, goals, and challenges of artificial intelligence in society. The conversation, covered by Wired magazine, focussed on cyber security, autonomous cars, and even Star Trek – as well as the roles government, academia, industry and the public should be part of in developing, using, and regulating AI.
In a fitting move with Obama's interview, the White House published two reports outlining the Administration's thoughts on the future of AI. Rather than pushing for broad regulation, the reports explore opportunities for AI to better society if developers pay "thoughtful attention to its potential and to managing its risks."
They call upon practitioners to ensure their technologies are "open, transparent, and understandable; that they can work effectively with people; and that their operation will remain consistent with human values and aspirations." The government's role is described as a provider of vital funding, as well as a user of technologies who must ensure AI benefits the people, and the economy is ethical, fair and safe.
But only a few weeks after the reports were published, an article in the New York Times flagged that the Defense Department is spending billions of US dollars on AI technology that is at the "center of its strategy to maintain the United States' position as the world's dominant military power." The Pentagon argues this is essential to compete with rivaling nations who are also investing in AI technology, but many fear that the government's call to use AI for good won't apply to the autonomous weapons being built for the military.
It's a brave new 'Westworld'
Those who followed the sci-fi drama 'Person of Interest', which sadly concluded in June, may find solace in the new alternative sci-fi show HBO's 'Westworld'. Many of the people involved in writing and producing Westworld were also behind Person of Interest (Jonathan Nolan, JJ Abrams, Bryan Burk), and this science fiction thriller isn't afraid to ask big philosophical questions about ourselves and robotics, pushing the limits of how we define humanity.
Can artificially intelligent humanoids become sentient? If so, what would happen? And how would we – the real humans – compare? Research fellow at Sheffield Robotics Michael Szollosy, summed up his thoughts about Westworld, wondering whether this new series will live up to what it promises in episode 1. Many have also taken to YouTube and Reddit to discuss each episode in detail.
Meanwhile in today's world, DeepMind's latest AI (the Differentiable Neural Computer or DNC) learned how to read the London tube map. We all know programmes like Google maps and Citymapper can do this already, but the way the DNC tackles the problem is a little more impressive because it has no prior knowledge of the tube network. By separating processing and memory DeepMind have come up with a system that can learn what it has to do to solve a problem – and remember it for later.
Mixing it up – diversity in robotics research
At the Wall Street Journal WJSDLive conference in Laguna Beach this month, two leading ladies in robotics, Maja Matarić and Cynthia Breazeal, made a strong case for diversity in the research field, arguing that robotics is for everyone and therefore needs to engage everyone.
Their remarks came just a few days after Ada Lovelace Day on the 11th of October, a day that celebrates the achievements of women in science, technology, engineering and maths around the world. Joining in the celebrations, Robohub published 25 women in robotics you need to know about, our annual list showcasing women working in research, development, and commercialization of robotics to celebrate women leading the way in future developments within this field. And a new international community, Women in Robotics, was launched, giving female roboticists the opportunity to network locally and globally, and improve the visibility of women in the field.
Diversity is not just about gender but also about different backgrounds and so events, such as the innovation tour offered by Silicon Valley Robotics to its global partners, brought together global leaders to foster greater understanding and looking at ways to further international collaboration and partnerships.
Space robotics heats up in Europe
Meanwhile in Europe, the European Space Agency (ESA) is analysing what went wrong when its Entry, Descent and Landing Demonstrator Module (EDM), Schiaparelli, apparently crashed on Mars. The BBC reported that data so far indicate that the descent systems did not work as they should have. But ESA experts in Darmstadt, Germany, are reviewing what happened exactly.
On a more positive note, the Advanced Concepts Team (ACT) of the ESA reported that a joint experiment with the Massachusetts Institute of Technology (MIT) and the Micro Air Vehicles lab (MAV-lab) of Delft University of Technology on the ISS was successful. In the experiment, a small done learned to 'see' distances with just one 'eye' (camera) using a self-supervised learning algorithm. This kind of advanced AI could in future be used to develop truly autonomous space systems.
Driving technology forward (or back) with autonomous cars
Back on Earth, autonomous cars made the headlines once again this October. Tesla announced that it would build and sell its cars with fully autonomous driving technology, but also said that drivers wouldn't actually be able to use the technology yet. The company plans to calibrate and improve the system before actually enabling it – so those eager to try out this new piece of tech may have to wait just a little while longer.
Meanwhile, small start-up company comma.ai made a complete U-turn on starting sales of their self-driving system designed as an add-on to Hondas and some Acuras after receiving a stern letter from the National Highway Traffic Safety Administration (NHTSA). The letter points out a number of issues with the suggested technology that applies beyond comma.ai's proposed system and could also pose problems for bigger companies, such as Tesla, as they plan to build self-driving technology.
A solution to at least some of the issues currently facing developers of autonomous cars could be the technology highlighted by Carol Reiley in the MIT Technology Review. She explains how deep learning could help cars see and make sense of their surroundings (including moving cars, buses, and people as well as fixed items such as lamp posts), enabling them to be more responsive and flexible in the ever-changing context of road traffic  – possibly even making a more 'human' driving experience.
Funding and acquisitions
Also in October, the International Federation of Robotics (IFR) released its industrial and service robotics reports, predicting double-digit growth for the rest of this decade, and investments in agricultural tech hit a record $25 billion in 2015. So it's looking good in the world of robot business. No wonder then that Member of European Parliament Mady Delvaux believes that robots will positively impact the economy.
Also this month, CB Insights named the seven most active robotics investors over the last 5 years – among them Eclipse Ventures, Lux, and Intel Capital. And among the big business news in October were Samsung's acquisition of Viv and Zymergen's venture capital injection of $130 million to produce industrial chemicals.
But in the world of drone funding, a report revealed a change in the kinds of ventures getting funded – moving away from funding construction of drones and towards funding for applications. Many of the companies that are now being funded use DJI drones to develop their applications, prompting Franke Tobe to discuss  how DJI beat its competition in the drone manufacturing market.
Know your drones
Sticking with the topic of drones, Amazon's and other companies' plans to use delivery drones in the near future took a hit when expert aviation safety advisors revealed that they didn't expect drone deliveries to take off until 2020.
Don't expect Uber's latest idea to become reality any time soon either. Thecab hailing service is exploring whether they could use autonomous drone people carriers to get customers from A to B. As of right now, US regulations don't permit autonomous flight for delivery drones, let alone massive drones that carry people in them. As reported, Uber would need to "develop an entirely new type of aircraft and have it approved by a country's aviation authority." Too futuristic? Maybe.
Back in the real world of drones today at a military base in Florida, the Department of Defence was hosting its annual two-week Black Dart event, where developers can show off their latest anti-drone tech. Much of the event happens in secret, but John Knefel from Inverse allowed us a rare look behind the scenes of Black Dart.
And finally, a film shot entirely by autonomous, pre-programmed drones premiered at the London Film Festival in the UK this month.
Meanwhile in the lab
Researchers in labs around the world were also keeping busy this October with a number of exciting and fascinating stories making the headlines. In Bristol, UK, engineers are using swarms of robots to help fight cancer; a team from EPFL in Switzerland developed a self-healing stiffness fibre; researchers at the University of California, Riverside, designed a highly reliable navigation system that doesn't need GPS; in Italy, roboticists are working on precision agriculture robots to help farmers; and finally, engineers in Japan have developed a robot that can sweat.
And in a new European project, led by the Laboratory of Computational Embodied Neuroscience (LOCEN), researchers are planning to use open-ended learning in autonomous robots to solve increasingly challenging tasks.
Robot Launch
It's that time of year again when Robot Launch announces its shortlist of interesting, ambitious start-ups competing for the prestigious Robot Launch awards. Every week in November you'll be able to 'meet' a number of short-listed start-ups and cast your vote. And Robohub readers can also vote for their very own Robohub Readers' Pick. Winners will be announced at the end of November.
And finally…
Ever wondered how many quadcopters it would take to screw in a lightbulb? The answer may surprise you.
---
Upcoming events in November-December
Distributed Autonomous Robotic Systems (DARS): November 6-9, Natural History Museum, London UK.
GCC Manufacturing Excellence and Technology Summit: November 14-15, Dubai, U.A.E.

Humanoids 2016 – IEEE-RAS International Conference on Humanoid Robotics: November 15-17, Cancun, Mexico.
European Robotics Week 2016: November 18-22, Amsterdam, Marine Base.
ROBIO 2016- IEEE International Conference on Robotics and Biomimetics: December 3-7, Qingdao, China.
SIMPAR 2016 – IEEE International Conference on Simulation, Modeling, and Programming for Autonomous Robots: December 13-16, San Francisco, CA.
tags:
Robohub Digest
---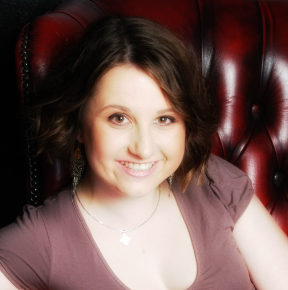 Jana Witt
is the Presenter for the ROBOTS Podcast, and is one of Robohub's UK correspondents.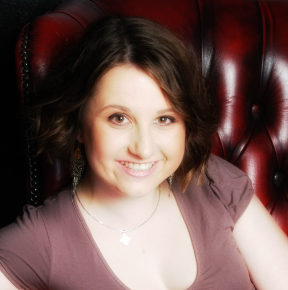 Jana Witt is the Presenter for the ROBOTS Podcast, and is one of Robohub's UK correspondents.
---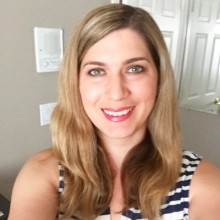 Kassie Perlongo
Kassie is the Managing Editor at Robohub.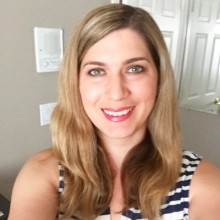 Kassie Perlongo Kassie is the Managing Editor at Robohub.