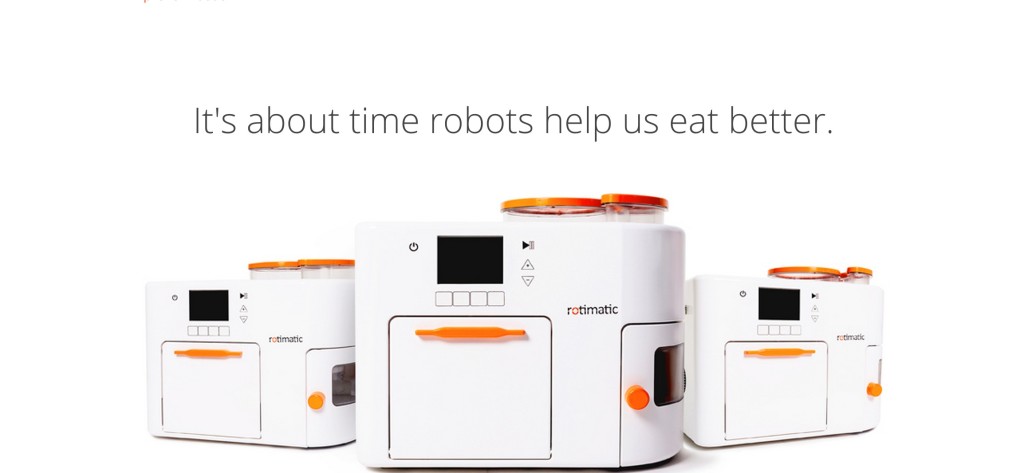 First it was robot vacuum cleaners; now it's robot kitchen appliances. Robots are back in the popular imagination as household helpers, and industry seems to be taking a bet on leveraging that interest as a viable marketing strategy. 
The Rotimatic is a 'robotic' flatbread maker from Zimplistic, who have just completed a Series B investment round of $11.5 million from NSI Ventures, based in Singapore, and RBVC, the venture arm of Robert Bosch GmBH. Not surprising, as Bosch have strong interest in consumer robotics and this is a great product for entry into the Asian market.
The Rotimatic can produce a freshly cooked flatbread in a minute and has capacity to make 20 at a time. Rotimatic has proven to be a very popular device, doing over $5 million in preorders at launch in 2014 and with $72 million worth of orders on current books and more than 5000 distribution requests. I'm told by people who use the device that it's 'almost as good as roti cooked by your mother'.
Zimplistic will use the $11.5 million just raised to accelerate manufacturing rollout, fund working capital and set up operations in international markets to fulfill Rotimatic demand. The company plans to finish ongoing extended beta before scaling production.
"Zimplistic is a rare combination of a project with huge revenue potential and also social impact by increasing the productivity of millions of men and women around the world who still make flatbreads by hand. We are proud to be able to support such an innovative hardware company and look forward to helping make Rotimatic a global bestseller" said Hian Goh, NSI Ventures and also founder of Asian Food Channel.
"Rotimatic's cutting edge robotic technology takes user convenience in the kitchen around a conscious, healthy nutrition to new levels. We are very impressed by the Zimplistic team and happy to support the company on its way to scale up production and enter global distribution " added Jan Westerhues, of RBVC.
The arc of kitchen tech
Rotimatic is far from the first robotic kitchen appliance though. According to their website, SF based Momentum Machines aims to revolutionize gourmet food making from hamburgers to salads and sandwiches. Sereneti is a recent Highway 1 startup that is taking the new breed of bowl mix/breadmakers to another level; FlatEv does this too, as the "Keurig for tortillas". Not to mention BrewBot for beer, and also robot baristas, coffee makers, tea makers, even a robot chai maker.
The prototypes for automating food processing dates back to the 40s, if not earlier, but electric motors were expensive and large. In 1960, French company Robot-Coupe pioneered the food processor. In the 70s, the Magimix was commercialized in the USA under the brand Cuisinart. Their Robot Cook® is now on the market as 'the first professional heating food processor'.
"You can emulsify, grind, blend, chop, mix and knead to perfection with the new Robot Cook®, the only professional cooking cutter blender on the market."
Although many of these devices are on the very simple end-of-the-arc of robotics and automation technologies,the fact that marketing a consumer device as a robot is proving to be a viable strategy  is good indication of a bullish period for robotics. And it is essential to simplify robotics for the consumer market to achieve an affordable price point.
There are three paradigms at play in the robot kitchen: the appliance improved; the completely new device; and the robot using existing appliances. The first is about building the better mousetrap and there is low hanging fruit here as component technologies improve and become more affordable. The second paradigm requires more of a paradigm shift, like breeding mice that are allergic to humans instead of trapping them when they enter our houses. The third paradigm would augment or replace humans, building the equivalent of a robot cat.
I'm excited about automation in the kitchen reducing the work load and making it easier to provide fresh, healthy and nutritious meals for time-poor families. But at the same time, we are running out of counter space, and under counter space too. At some point, we don't need more gadgets, we need a new process. The replacement for a whole range of robot kitchen appliances might be a stove/refrigerator unit that auto orders food, autoloads it, autoprepares it and autocleans itself. Or we could turn the table into a unit that doubles as cupboard and dishwasher.
So while we could replace the machines in the kitchen to save space, however the final paradigm is to add a machine that replaces a person in the kitchen. Moley Robotics wowed crowds at Hannover Messe industrial trade fair in April with their robot chef. Capturing the exact movements of British 2011 MasterChef champion, Tim Anderson, the robot chef prepared a crab bisque for the trade fair visitors.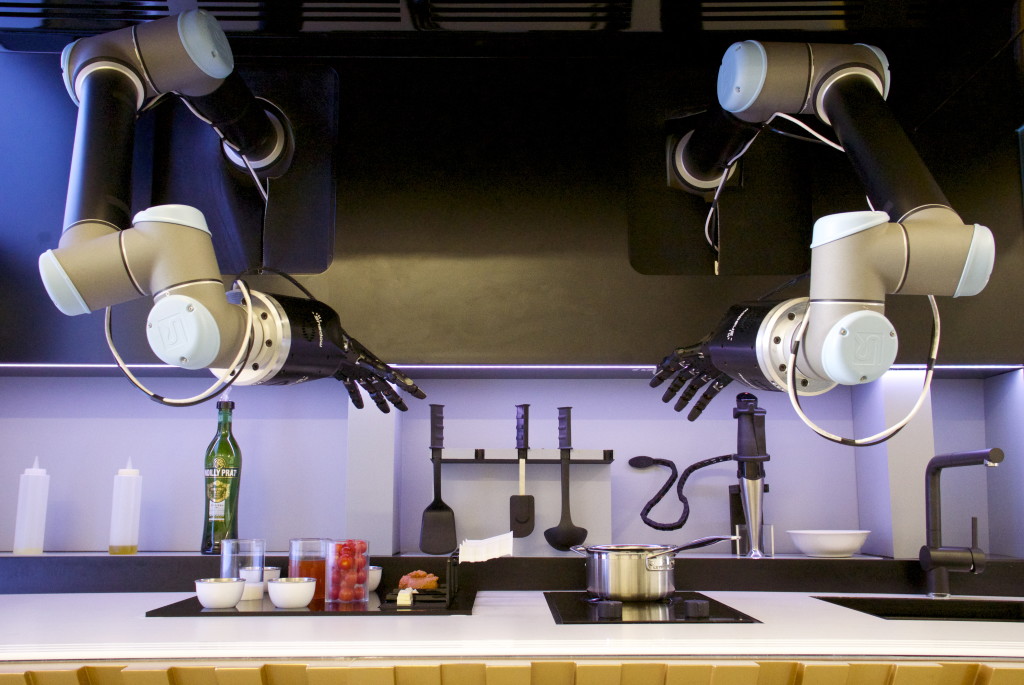 Moley Robotics was founded by computer scientist Mark Oleynik, working with hands from Shadow Robot Company. Crab bisque is only the first recipe of a thousands planned. Moley Robotics intends to launch a consumer kitchen robot system in 2017, consisting of hands, hob, stove and touchscreen.
And robot chefs are useful in ways that extend beyond replacing humans in the kitchen. The kitchen is a great learning environment for robots. WAs a learning tool DARPA AND thisAt the other end of the spectrum is the RoDyMan project lead by Bruno Siciliano, which is using pizza making to demonstrate robotics skill acquisition in the area of robot gripping, ie. localisation of the object while it is moving, motion and manipulation of the object, and control of the overall robotic system.
Even DARPA is funding research at the University of Maryland where robots learn to cook from you tube videos. The rationale being that skills acquired are relevant to a whole range of other activities.
Perhaps not what you want in your kitchen yet, but who knew we might be watching the research labs for our next recipes?
tags:
Bosch
,
c-Consumer-Household
,
cx-Business-Finance
,
marketing robotics
,
robotic kitchen appliances
,
Rotimatic
---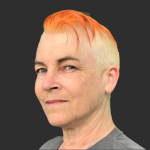 Andra Keay
is the Managing Director of Silicon Valley Robotics, founder of Women in Robotics and is a mentor, investor and advisor to startups, accelerators and think tanks, with a strong interest in commercializing socially positive robotics and AI.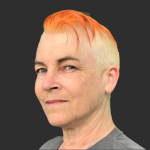 Andra Keay is the Managing Director of Silicon Valley Robotics, founder of Women in Robotics and is a mentor, investor and advisor to startups, accelerators and think tanks, with a strong interest in commercializing socially positive robotics and AI.