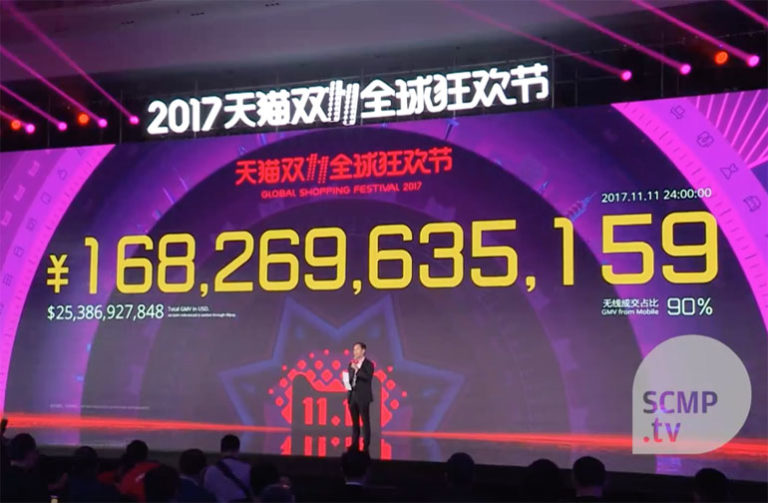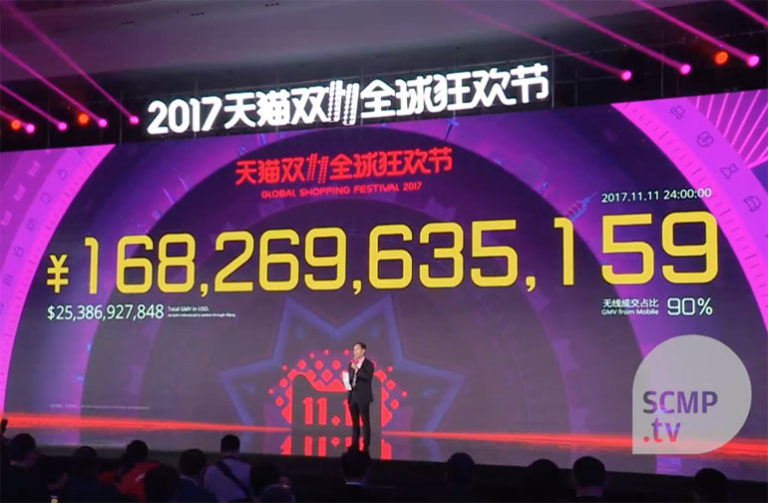 The Singles' Day Shopping Festival held each year on November 11th is just like Black Friday, Mothers' Day or any other sales-oriented psuedo-holiday, but bigger and more extravagant. Starting in 2009 in China as a university campus event, Singles Day has now reached all over China and to more than 180 countries.
After 24 hours of non-stop online marketing, including a star-studded Gala with film star Nicole Kidman and American rapper Pharrell Williams, the day (also known as Bachelors Day or 11/11 because the number "1" is symbolic of an individual that is alone) concluded with a sales total of ¥168 billion ($25.3 billion) on the Tmall and Taobao e-commerce networks (both belong to the Alibaba Group (NASDAQ:BABA)). Other e-commerce platforms including Amazon's Chinese site Amazon.cn, JD.com, VIP.com and Netease's shopping site you.163.com also participated in the 11/11 holiday with additional sales.
Singles Day sales reported by Alibaba were $5.8 billion in 2013, $9.3 billion in 2014, $14.3 billion in 2015, $17.8 billion in 2016, and $25.3 billion for 2017.
In a story reported by DealStreetAsia, JD.com said that their sales for Singles' Day – and its 10-day run-up – reached ¥127.1 billion ($19.1 billion), a 50% jump from a year ago. JD started its sales event on Nov. 1st to reduce delivery bottlenecks and to give users more time to make their purchasing decisions.
Muyuan Li, a researcher for The Robot Report, said: "Chinese people love shopping on e-commerce websites because sellers offer merchandise 20% – 60% cheaper than in the stores, particularly on 11/11. Sites and consumer items are marketed as a game and people love to play. For example, if you deposit or purchase coupons in advance, you can get a better deal. Customers compare prices on manmanbuy.com or smzdm.com and paste product page urls into xitie.com to see the historical prices for those products. There are lotteries to win Red Envelope "cash" which are really credits that can be applied to your Singles Day shopping carts, and contests to beat other shoppers to the check out."
Robotics-related products sold in great quantities on Singles Day. ECOVACS and other brands of robot vacuum cleaners were big sellers as were DJI and other camera drones and all sorts of robotic toys and home assistants.
The process:
Although 11/11 was a great day for people buying robotic products, it was also a significant day for the new technologies of handling those products: 1.5 billion Alibaba parcels will transverse China over the next week delivering those purchases to Chinese consumers while all those packed and shipped items will have been manufactured, boxed, cased, temporarily stored and then unskidded, unboxed, picked and packed, sorted for shipment and shipped in all manner of ways.
New technology is part of how this phenomenal day is possible: robots, automation, vision systems, navigation systems, transportation systems and 100,000 upgraded smart stores (where people viewed items but then bought online) – all were part of the mechanical underside of this day – and foretell how this is going to play forward. There were also hundreds of thousands of human workers involved in the process.
Material handling:
Here are a few of the robotics-related Chinese warehousing systems vendors that are helping move the massive volume of 11/11's 1.5 billion packages:
Alibaba and Jack Ma:
Jack Ma, is the founder and executive chairman of Alibaba Group and one of Asia's richest men, with a net worth of $47.8 billion, as of November 2017 according to Forbes. His story is a rags to riches one with an 'Aha' moment, where, on a trip to the US, he tried to search for general information about China and found none. So he and his friend created a website with a rudimentary linkage system to other websites. They named their company "China Yellow Pages."
Quoting from Wikipedia: "In 1999 he founded Alibaba, a China-based business-to-business marketplace site in his apartment with a group of 18 friends. In October 1999 and January 2000, Alibaba twice won a total of a $25 million foreign venture capital investment. Ma wanted to improve the global e-commerce system and from 2003 he founded Taobao Marketplace, Alipay, Ali Mama and Lynx. After the rapid rise of Taobao, eBay offered to purchase the company. Ma rejected their offer, instead garnering support from Yahoo co-founder Jerry Yang with a $1 billion investment. In September 2014 Alibaba became one of the most valuable tech companies in the world after raising $25 billion, the largest initial public offering in US financial history. Ma now serves as executive chairman of Alibaba Group, which is a holding company with nine major subsidiaries: Alibaba.com, Taobao Marketplace, Tmall, eTao, Alibaba Cloud Computing, Juhuasuan, 1688.com, AliExpress.com and Alipay."
Ma was recently quoted at the Bloomberg Global Business Forum as saying that people should stop looking to manufacturing to drive economic growth. That message ties into his and Alibaba's overall business plan to be involved in all aspects of the online e-commerce world.
---
Frank Tobe
is the owner and publisher of
The Robot Report
, and is also a
panel member
for Robohub's
Robotics by Invitation
series.
Frank Tobe is the owner and publisher of
The Robot Report
, and is also a
panel member
for Robohub's
Robotics by Invitation
series.
---