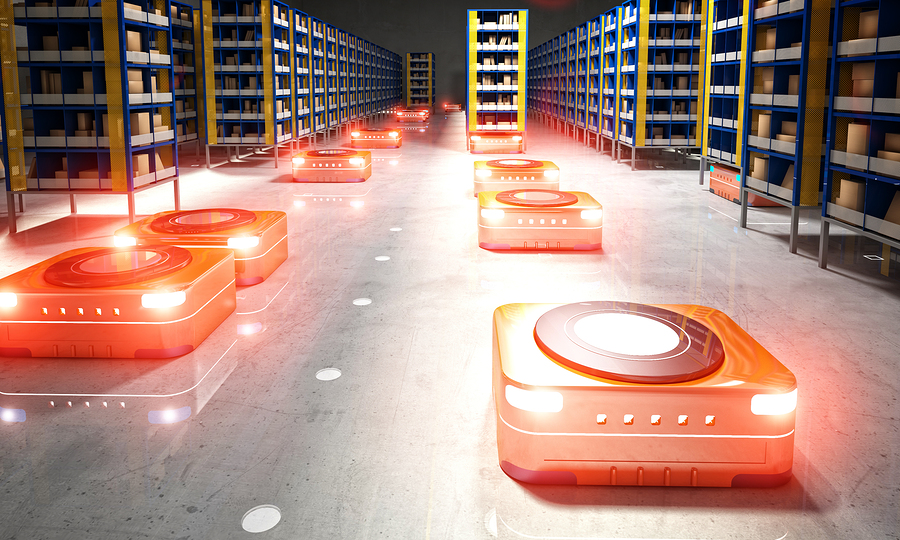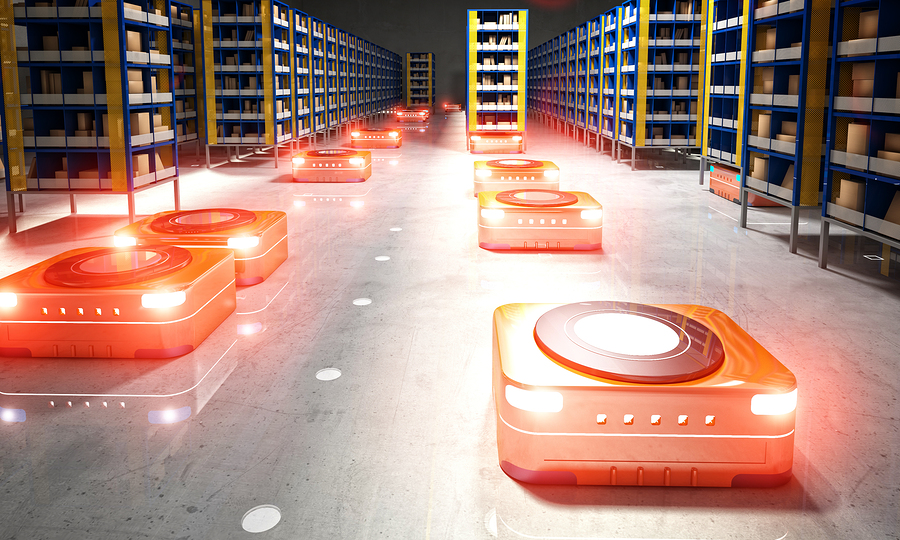 E-commerce sales for 2017 were $453.5 billion in the U.S. and $1.1 trillion in China, an increase of 16.0% and 32.6% respectively over 2016. This upward trend is projected to continue for the next many years. Consequently flexibility and an ability to handle an ever-increasing number of parcels is of concern to warehousing, fulfillment and distribution center (DC) managers around the world.
Handling, distribution, transport and delivery – and the amortization of facility setup charges which often represent more cost than raw materials and manufacturing combined – are part of mounting challenges faced by today's fulfillment executives. Accordingly, warehousing and material handling are a big business for hundreds of different types of companies that provide conveyors, rollers, racks, vision systems, hoists, shelving, electric motors, slides, barcode readers, printers, ladders, gantries, tugs, forklifts, skids, totes, carts, and software systems of all types. Most of these vendors provide products which serve the man-to-goods model, ie, a person goes somewhere in the warehouse, finds the item, and either puts it into further play in the system or packs it himself.
Kiva Systems shattered that model with their goods-to-person robots and dynamic shelving systems. Amazon was so enamored with Kiva's robotic solution that it acquired Kiva and their robots. Since that acquisition Amazon Robotics (as Kiva Systems was renamed) has since produced over 130,000 Kiva robots and put them all to work in Amazon warehouses and DCs thus proving the efficacy of the method – a method which has been copied and also expanded upon by multiple vendors listed below.
Bottom line: In warehouse and supply chain logistics focused on e-commerce fulfillment, whether third-party logistics service providers or e-retailers and their logistics arms, fixed and exorbitant front-end costs for conveyors, elevators and old style AS/RS systems have become anathema to warehouse executives worldwide who are clamoring to lower fixed costs while increasing flexibility and handling more goods. Comprehensive software and analytics — particularly predictive analytics — are on executives near-term agendas. Hence the need to invest in NextGen Supply Chain methods offered by the companies listed below.
Automating lifts, tows, carts and AGVs
Human-operated tows, lifts, AGVs and other warehouse and factory vehicles has been a staple in material movement for decades. Now, with low-cost cameras, sensors and advanced vision and depth-sensing systems, they are slowly transitioning to more flexible mobile robots (AMRs) that can autonomously tow, lift and carry and can work in either autonomous or human-operated modes.
Of the top 20 industrial lift suppliers tabulated by Modern Materials Handling, only 5 offer kits or optional self-driving add-ons.
Vendors providing kits and systems for existing forklifts and carts to convert them to Vision Guided Vehicles (VGVs, AMRs) for line-side replenishment, pallet movement, etc. include:
RoboCV is a Russian provider of autopilots for warehouse machines at Russian facilities for Samsung, VW and 3PLs. RoboCV also provides cloud-based task optimization and traffic control.
Balyo, a French provider of autonomous vehicle kits to forklift OEMs Hyster and Yale.
Seegrid, a Pittsburgh-based provider of vehicle autonomous kits for OEM Raymond, 3PLs and distribution centers of all types, also makes their own VGVs, and provides software and engineering systems to minimize human involvement and maximize VGV productivity.
Vendors providing AMRs, VGVs and AIVs
(Autonomous Intelligent Vehicles) for goods-to-person, point-to-point, load transfer, restocking, etc. include:
6 River Systems
Aethon
Beijing Geekplus Technology (Geek+)
Canvas Technology
Clearpath's OTTO robots
Fetch Robotics
Grenzebach
Kuka
Locus Robotics
Mobile Industrial Robots
Robotnik Automation
Seegrid
STILL
Swisslog
Toyota's Autopilot
Vecna Robotics
and others
Grasping
Where humans surpass machines is in the quick visual determination of what to pick, how to grasp, and then move the item to wherever it needs to go. Until recently, this has been the missing link in automated fulfillment and one of the biggest challenges in robotics acceptance. A few vendors are perfecting the science that enables high speed random grasping from moving conveyors or bins:
RightHand Robotics
Universal Logic
Kinema Systems
Swisslog
Soft Robotics
Vendors providing grasping capabilities in addition to autonomous mobility include:
InVia Robotics
IAM Robotics
Magazino
Dorabot
GreyOrange (see below for details)
Indoor navigation
Navigation systems have changed along with all the other technological improvements and often don't require floor grid markings, barcodes or extensive indoor localization and segregation systems such as those used by Kiva Systems (and subsequently Amazon). SLAM and combinations of floor grids, SLAM, path planning and mapping systems, indoor beacons, and collision avoidance systems are adding flexibility to swarms of point-to-point mobile robots and enabling traffic control and dynamic inventory placement.
Kiva look-alikes
In March 2012, in an effort to make their fulfillment centers as efficient as possible, Amazon acquired Kiva Systems for $775 million and almost immediately took them in-house, leaving a disgruntled set of Kiva customers who couldn't expand and a larger group of prospective clients who were left with a technological gap and no solutions. I wrote about this gap and about the whole community of new providers that had sprung up to fill the void and were beginning to offer and demonstrate their solutions. Many of those new providers are listed above.
Recently, another set of competitors has emerged in this space. Chinese e-commerce giants Alibaba, JD (JingDong), VIPShop, Tencent and others have funded companies who copied the Kiva Systems formula to provide Kiva-like goods-to-person robot systems and dynamic free-form warehousing for their in-country fulfillment and distribution centers.
Now some of those companies are braving the prospect of IP infringement proceedings from Amazon and are expanding outside of China and SE Asia to Europe and America:
Grey Orange Robotics has sites using their systems in Japan and Europe and exhibited at Europe's Logimat trade show where they launched PickPal, an autonomous picking robot which can pick a wide variety of SKUs using machine vision and a scalable gripper system specifically suitable for high-volume order fulfillment.
Beijing Geekplus (Geek+) Technology also has sites using their systems in Japan and Poland and had booths at MODEX and CeMAT trade shows to introduce Geek+ to the West.
Xinyi Logistics Science & Technology (Alog) – has not yet ventured beyond China and SE Asia.
Shanghai Express Warehouse (Quicktron / Flashhold) –
Hanzhou Hikrobot Technology (HIK) – has not yet ventured beyond China and SE Asia.
Kiva alternatives
Symbotic
Swisslog
Dematic
Locus Robotics
Fetch Robotics
[NOTE: The lists shown above are not fully comprehensive. The universe is much larger. I have some knowledge of the vendors shown and know that they are beyond pilot projects, researching and prototyping which was my criteria for including them.]
---
Frank Tobe
is the owner and publisher of
The Robot Report
, and is also a
panel member
for Robohub's
Robotics by Invitation
series.
Frank Tobe is the owner and publisher of
The Robot Report
, and is also a
panel member
for Robohub's
Robotics by Invitation
series.