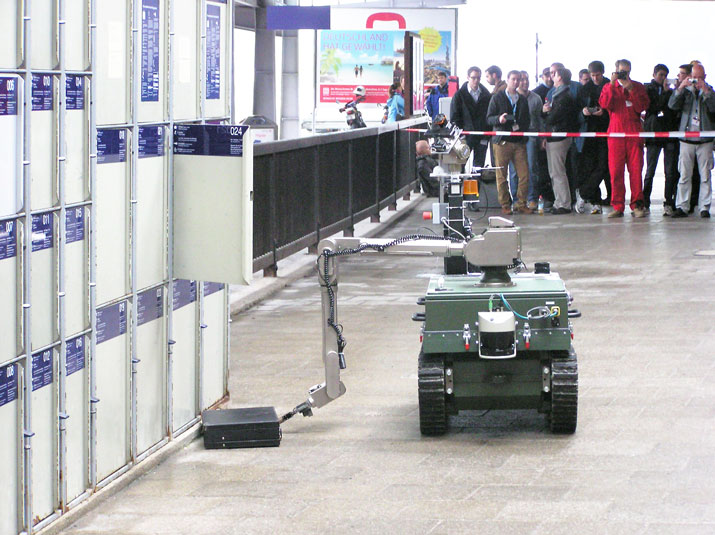 Robot TeodorPrime of team FKIE opening the suitcase that contains explosive material.
Photo credits: euRathlon.
euRathlon is an outdoor robotics competition where teams test the intelligence and autonomy of their robots in realistic mock emergency-response scenarios. On the fifth and last day of euRathlon 2013 competition, visitors saw demonstrations of robots performing different tasks. The winners of the four euRathlon 2013 scenarios were unveiled at the award ceremony in Salinenplatz, in Berchtesgaden.
Watch the Day Five recap video …
Demonstration of Reconnaissance and Disposal of Explosive Devices
The demonstration "Reconnaissance and disposal of explosive devices" was open to the public and held in the Berchtesgaden train station. Attendees standing on the main platform saw three scenarios in which robots are used by police and bomb squads. The teams participating in this demo were ELP, Telerob and Fraunhofer FKIE.
Robots had to find and pick up a bag or suitcase from a locker and deactivate an explosive device, so as to reduce risk for the squad members. In another scenario, the competing robots had to cut a cable belt of explosives. Some robots were faster than others, but all performed well and successfully completed their mission.
Dynamic display demonstrations
Parallel to the demonstration, visitors once again witnessed some teams' robots be challenged by National Institute of Standards and Technology (NIST) tests. Visitors also enjoyed product demonstrations from various exhibitors and euRathlon 2013 Sponsors: Cobham plc, ELP GmbH, Geo Systems Inc., OrbiTeam Software GmbH & Co. KG and Saltation GmbH & Co. KG.
euRathlon 2013 winners
The awards ceremony took place in the big marquee located in Salinenplatz.
Frank E. Schneider, head of euRathlon 2013 competition, and Alan Winfield, euRathlon project coordinator, gave the certificates and prizes to the winners.
Scenario: Mobile for handling hazardous materials.
1st prize Telerob, 2nd ELP and 3rd SPACEAPPS
Scenario: Reconnaissance & Surveillance in urban structures (USAR).
1st prize ELP, 2nd Telerob and 3rd IMM-IAIR
Scenario: Search & Rescue in smoke-filled underground structure
1st prize Telerob, 2nd ELP and 3rd ENSTABretagne
Autonomous navigation
1st prize MuCAR, 2nd RIS and 3rd NAMT
Additional awards for:
Novel Scientific Solution: team RIS
Creative Solution: team NAMT
Best Team Effort: team E15
Corporate teams ELP (from ELP) and Telerob (from COBHAM) donated their prize money to the first university team on the list of scenario finalists.
At the end of the ceremony, Alan Winfield and Frank E. Schneider thanked the Chief Judge Team, Dr.-Ing. Michael Gustmann, and the judges: Dipl.-Ing. Thomas Zawadke, Prof. Dr. Juha Röning and Kenneth A. Pink.  They also thanked the local organiser Frank Woodcock, CEO of the company ProgenoX, and all the teams and attendees of euRathlon 2013. All of them were invited to participate or attend euRathlon 2014 underwater robotics competition in Italy next year.
See all the euRathlon 2013 coverage.
tags:
c-Events
,
cx-Research-Innovation
,
euRathlon
,
euRathlon 2013
---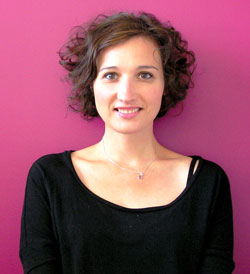 Marta Palau Franco
is an electronics engineer, oceanographer and project officer at euRobotics aisbl.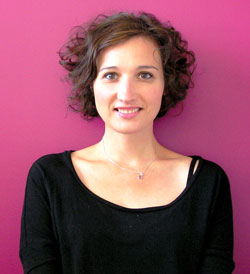 Marta Palau Franco is an electronics engineer, oceanographer and project officer at euRobotics aisbl.