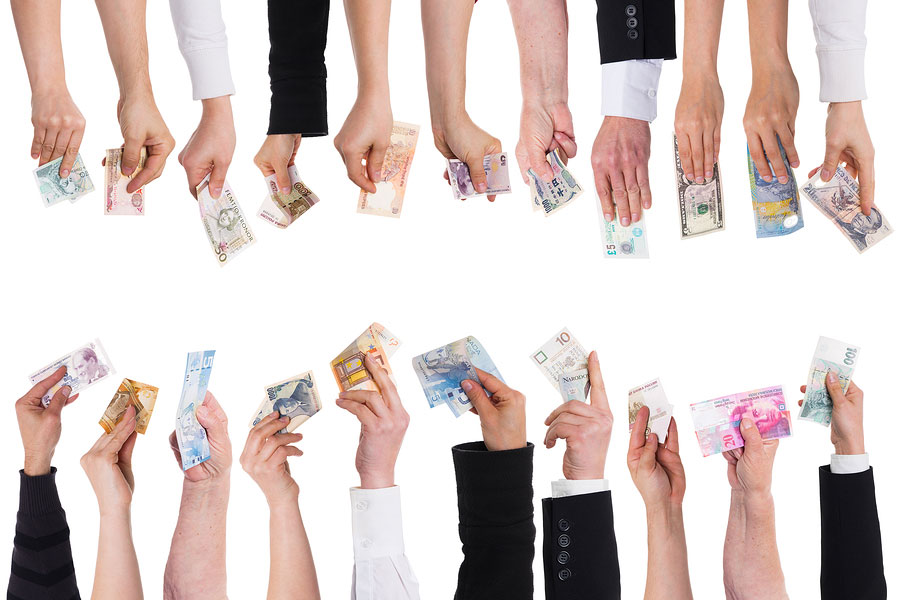 From the 2015 archives of The Robot Report: 54 fundings of $1.267 billion, 31 acquisitions totalling over $1.97 billion, and one IPO — all adding up to some surprisingly large figures. 
[All citations below can be found in the 2015 archives of The Robot Report.]
$1.97+ billion in Acquisitions:
Universal Robots was acquired by Teradyne for $350 million;
C&C Technologies got $280 million from Ocean Engineering;
Blue Belt Technologies got $275 million from Smith & Nephew;
SurgiQuest got $265M from ConMed;
Adept Technology got $200M from OMRON Industrial Automation;
SMD got $190M from China South Rail;
MTS Medication Technologies got $156M from Omnicell;
TELELAP ALF-X got $99.8M from TransEnterix Surgical;
and Segway, VisLab, 2D3 Sensing, Coord3, Next Metrology, FastBrick Robotics, Dane Systems, Delta Tau, Draganfly Innovations, gomTec, Intek Products, Intellibot, Jabez Technologies, JR Automation, KMel Robotics, Lacquey BV, Let's Make Robots, MACH4 Pharma Systems, Marine Robotics, Oxford Technologies, Sarcos, Theiss UAV Solutions and VGo all got acquired for smaller or unknown amounts.
$42 million

in a single IPO:
Corindus Vascular Robotics got $42M for their IPO.
$1.267+ billion

in equity fundings (seed, crowd, series A,B,C,D, VC, etc.):
Large and small — but steadily throughout the year — all types of funding for robotic startups and spin-offs occurred during 2015.
Large fundings:
Softbank Robotic Group got $236 million in joint venture funding with Alibaba and Foxconn;
Auris Surgical Robotics got $149.5 million;
SZ DJI Innovations got $75M;
3D Robotics got $64M in two fundings during the year;
Yuneec Electric Aviation got $60M;
Jibo, in 3 separate fundings, got $52.3M;
Aeryon Labs got $45.9M;
Orbotix got $45M;
Zymergen got $44M;
Corindus Vascular Robotics got $42M;
Rethink Robotics got $40M in two fundings;
Hansen Medical got $35M;
Peloton Technology got $33 in two fundings;
GreyOrange got $30M;
CyPhy Works got $25.4M in two fundings;
Medrobotics got $25M;
Xenix got $25;
Fetch Robotics got $23M in two fundings;
Sino-Israeli R&D Institute got $20M;
Blue River Technology got $17M;
Zimplistic got $11.5M;
Clearpath got $11.2M and an undisclosed amount;
Virtual Incision got $11.2M; and
Ehang Ghost got $10.8M.
Smaller fundings:
Bionik Labs, $6.2M
Corepath Robotics, $.355M
DroneDeploy, $9M
Dronomy, $1.5M
Flyability in two fundings, $5.5M
Gamma 2 Robotics, $3.5M
Harvest Automation, $2.9M
HUVR Data Services, $2.0M
iCamPro Amarillo, $.25M
MiR Mobile Industrial Robots, $1.4M
Naïo Technologies, $3.3M
Osaro, $3.3M
Petnet, $4M
Rapyuta Robotics, $3
RedBird, $2.2M
Righthand Robotics, $3.3M
RoboCV, $3M
Sight Machine, $5M
Skidio, $3M
Sky-Futures, $4M
SkySpecs, $3M
Soft Robotics, $3M
Somabar, $.313M
Squadrone System, $3M
Wonder Workshop, $6.9M
Worx America, $2M
and Airware, Magazino and Ocean Aero were also funded for undisclosed amounts.
Failures:
What does it all mean?
2015 fundings are almost triple what they were in 2014, and the number of acquisitions has also grown. UAS, robots, robotics and robotic-like apps are entering our lives and workplaces everyday and everywhere — and getting funded. Unmanned systems were a big component in this year's fundings as can be seen in this chart by CBInsights: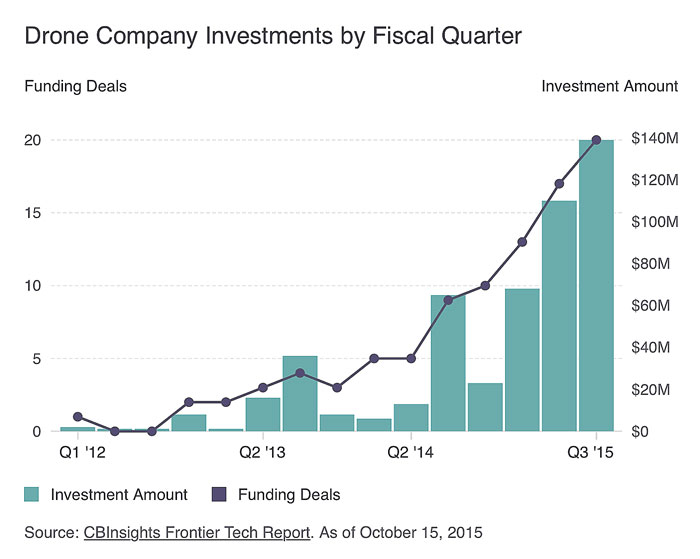 Looking back to the beginning of the digital era, hobbyists and early adopters dabbled for years but not too much happened until three software applications showed businesses how PCs and software could change the way they worked. Business people became aware mostly by word-of-mouth of the qualities and uses of WordStar, VisiCalc and dBase. Even though none of those three companies still exists, their concepts are ubiquitous in our world today.
As robots move from behind fixed and caged locations to take their place alongside us (what the new collaborative robots are doing), and as they move from heavy-duty industrial applications to providing assistance and augmenting skills (what the new surgical systems and low-cost data collecting drones are doing), business people can once again see that rising tide and they want in (or said another way, they don't want to be left out). Ray Kurzweil said that auto companies don't want to be 'Nokia'd' — i.e., they don't want to be pushed aside as typewriters, secretaries and stand-alone word processors were by WordStar, WordPerfect and MS Word, or Nokia's operating system was by Google's Android.
This awareness accounts for why companies of all types and sizes are finding strategic reasons to acquire robotic ventures to add to their arsenal of products and services. They don't want to be left behind like Nokia was. And they are paying high prices for their acquisitions. Many thought the multiples Teradyne paid for Universal Robots were unreasonably high. Others suggested that the growth Universal has shown — and continues to show — make it worth every penny.
Personally, I see that acquisitions make sense to and for the acquirer; I'm just disappointed that the acquired companies won't go public (there was only a single IPO in 2015!) so that investors such as myself can share in the fun and ride the wave.
tags:
c-Business-Finance
---
Frank Tobe
is the owner and publisher of
The Robot Report
, and is also a
panel member
for Robohub's
Robotics by Invitation
series.
Frank Tobe is the owner and publisher of
The Robot Report
, and is also a
panel member
for Robohub's
Robotics by Invitation
series.