The Drone Social Innovation Award is a new initiative of the rapidly growing
Drone User Group Network
(DUGN). With over 3000 members across North America, Australia and Europe, DUGN is the largest community in the world dedicated to teaching people to build and operate their own flying robots. What better way to celebrate the use of drones by civilians, than by starting an award for the best ideas for the social or civil use of flying robots! The grand prize is $10,000 US and entries close June 20, 2014.
The $10,000 prize is for the most socially beneficial, documented use of a drone platform costing less than $3,000. DUGN hope to spur innovation, investment, and attention to the positive role that drone technology can play in our society. "We believe that flying robots are a technology with tremendous potential to make our world a better place, and we are excited that they are cheap and accessible enough that regular people and community groups can have their own."Already the organizers have heard from groups around the world that plan to use their systems for STEM education for youth with autism, wildlife tracking, firefighting and medical applications. If you're interested in entering, the organizers would appreciate a heads up by March 17 to better help support the community of participants. Final entries need to be in English, with a 1-2 page summary of your project and link to a 2-4 minute video of your flying robot in action.
"We think drones are a revolutionary technology with tremendous potential to make the world a better place, and we wanted to focus our prize on low cost drones to highlight the fact that this technology is cheap and accessible enough that ordinary people and community groups can drive innovation and do new things with them," said Timothy Reuter, founder of the Drone User Group Network.
As examples, he cited hobbyists using their systems to map coldwater refuges to help restore native fish species in West Virginia, tracking the progress of wildfires in Oregon and helping park officials in the Washington,D.C. area study changing patterns in the growth of vegetation. Another example is the Roswell Flight Test Crew video of a controlled burn through the eyes of a thermal imaging camera on a "Raven".
In this video, the Roswell Flight Test Crew flies RQCX-3 "Raven" equipped with a FLIR thermal imaging camera — over a controlled burn conducted by Portland Fire and Rescue. The goal of this effort is to clear invasive species off of a two-acre parcel in the Baltimore Woods Natural Area. The crew's goal is to demonstrate the potential of using small unmanned aircraft systems to support public safety missions: providing an overview of ground operations as well as using the FLIR to track the fire's progress.
The Drone Social Innovation Award is sponsored by NEXA Capital Partners, a firm with background in the aerospace and infrastructure sector who see the high growth potential for consumer drone technology.
"When Timothy approached us, we saw this award as an opportunity to help demonstrate the socially meaningful applications of unmanned aerial systems.  We see that there is a growing grassroots social movement that wants to play a part in the development of this technology, and we want to support that," stated Michael Dyment, NEXA Capital Partners Founder and Managing Partner.
If you want to help see flying robots used to create a better society, then share the news about the inaugural Drone Social Innovation Award.
tags: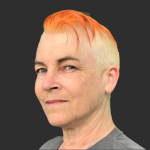 Andra Keay is the Managing Director of Silicon Valley Robotics, founder of Women in Robotics and is a mentor, investor and advisor to startups, accelerators and think tanks, with a strong interest in commercializing socially positive robotics and AI.