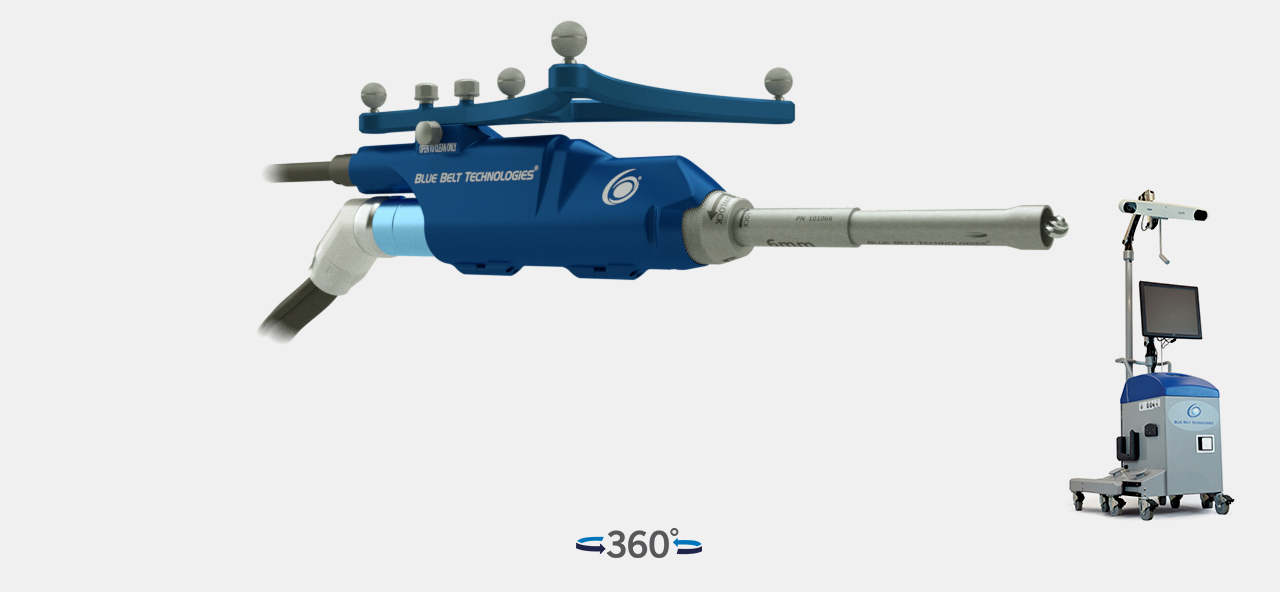 Smith & Nephew, a global medical tech conglomerate that is expanding into robotics-assisted surgeries, announced that they are paying $275 million to acquire Pittsburgh startup Blue Belt Technologies. Blue Belt has developed a robotic-assisted surgical system for knee replacement. Smith & Nephew is already Blue Belt's sales partner and distributor. UPDATED 12-7-2015: Fixes incorrect information about Auris Robotic Systems (see below).
Blue Belt has been working on a total knee system that it plans to launch in 2017. It also has hip arthroplasty in its pipeline. Olivier Bohuon, Chief Executive Officer of Smith & Nephew said,
This acquisition is a compelling strategic move, with the combination of complementary products and R&D programs creating a platform from which we can shape this exciting new area of surgery. It reinforces our distinctive orthopaedic reconstruction strategy, which combines cutting edge innovation, disruptive business models and a strong emerging markets platform to drive outperformance.
The surgical robot device market was estimated to be $3.2 billion in 2014 and forecast to reach $20 billion by 2021 as next generation devices, systems and instruments are introduced to manage surgery through small ports in the body instead of large open wounds. The market is characterized by enormous variety and innovation, from snake robots to navigation systems to highly articulated devices such as the da Vinci surgical system from Intuitive Surgical. In their 553-page, $4,000 report published in April, RNR Market Research suggests that this dynamic growth industry will involve many shifts in ownership and funding.
Auris Medical Robotics, the Peter Thiel-backed startup that is developing robotic device for eye surgery robotic device, received $150 million from undisclosed sources. This news comes from MedCity News reports based on an analysis of regulatory filings. Just last year, Auris raised $34 million from some 20 backers, including Highland Capital Partners, Lux Capital and Mithril Capital Management. It was previously — and incorrectly reported — that Auris had been acquired for $150 million.
As surgeons develop and use ever-more capable robotic augmentation devices for their surgical procedures, many startup companies are being acquired by global medical device conglomerates. In addition to Stryker's $1.5 billion acquisition of MAKO, many other robotic medical device startups have been acquired including Hansen Medical, which acquired the rights to Advanced Cardiac Therapeutics and also acquired EndoVia Medical and AorTx; Intuitive Surgical acquired licenses from Power Medical Interventions; and TransEnterix Surgical acquired the TELELAP ALF-X project for $100 million.
tags:
Blue Belt Technologies
,
c-Health-Medicine
,
cx-Business-Finance
,
Smith & Nephew
,
surgical robotics
---
Frank Tobe
is the owner and publisher of
The Robot Report
, and is also a
panel member
for Robohub's
Robotics by Invitation
series.
Frank Tobe is the owner and publisher of
The Robot Report
, and is also a
panel member
for Robohub's
Robotics by Invitation
series.