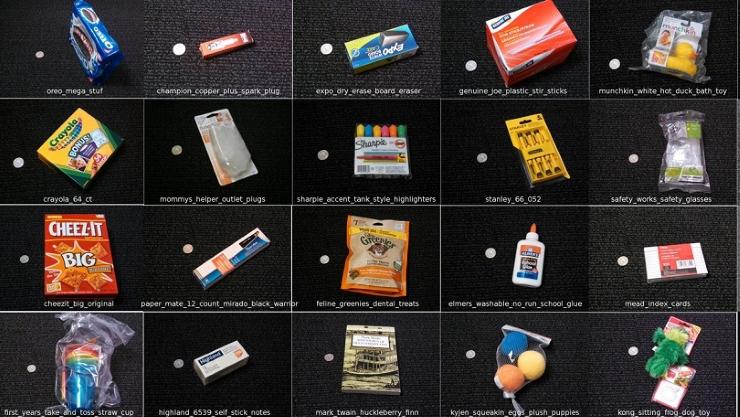 As sales via online retailers steadily increase, so too does the speed with which customers want their goods delivered. Amazon, eBay, and Google all have massive and speedy warehousing operations attempting to meet those needs.
Amazon Robotics (previously Kiva Systems)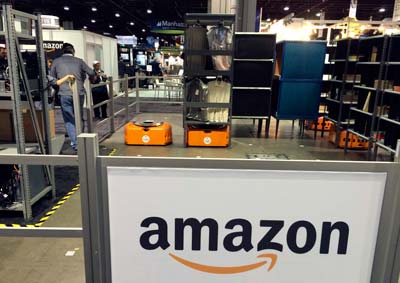 Amazon changed their warehouse pick and pack operations from man-to-goods to goods-to-man using robots in their attempt to speed up operations. Kiva Systems and their orange robot fleet had been thoroughly field tested and became a winner in Amazon's eyes, so much so that in 2012 they paid $775 million to acquire the company. Since that time Kiva has been busy supporting Amazon's growth with thousands of Kiva robots populating Amazon's many new distribution centers.
Amazon recently announced three interesting items: (1) that Kiva Systems would be renamed to Amazon Robotics, (2) that it was soliciting to hire a Head of Robotics, and (3) that it was sponsoring a challenge to pick items one at a time and package them. It was not clear whether the new Head of Robotics would also head Amazon's Prime Air operation or the winning pick and pack effort but the Boston-based Head of Robotics will lead Amazon's largest research and development center which has been "growing faster than at any time in the company's history, opening additional facilities and expanding our technology charter."
Amazon's challenge is to use computer-vision and machine deep-learning technologies to pick items one at a time and package them. This contest has about 30 teams from around the world taking part in the finals to be held at ICRA in Seattle May 26-30. "Participating robots will earn points by locating products sitting somewhere on a stack of shelves, retrieving them safely, and then packing them into cardboard shipping boxes. Robots that accidentally crush a cookie or drop a toy will have points deducted. The team whose robots earn the most points will win $25,000."
Amazon isn't the only game in town for picking and packing of business-to-business and consumer goods nor are Kiva's orange shelf-moving robots the only methodology. There's Gray Orange, Hi-tech Robotic Systemz, Swisslog, Grenzebach, CIM Corp, Vandrlande, Bastian, Dematic, Adept Technology and most recently Fetch Robotics.
Fetch Robotics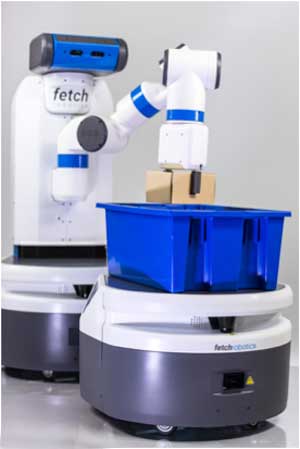 Just the other day Fetch Robotics announced that they will demonstrate their new Fetch and Freight robots at ICRA in Seattle May 26-30.
The San Jose-based startup comprises a team that has a colorful history first as a spinoff from Willow Garage called Unbounded Robotics charged with making a low-cost version of Willow Garage's PR2 robot. They succeeded with an orange, white and gray one-armed mobile robot that they could build and sell for $35,000 compared to the PR2's $250,000 cost. That operation failed to get agreeable funding terms and folded but the team went on to found FYS Systems (fetch your stuff) which they recently renamed to Fetch Robotics.
The Fetch Robotics system is comprised of a mobile base (called Freight) and an advanced mobile manipulator (called Fetch).  Fetch and Freight can autonomously find and use a charging dock for continuous operations. In addition, the system includes accompanying software to support the robots and integrate with the warehouse environment.  Both robots are built upon the open source robot operating system, ROS.
The robots are designed to work autonomously alongside workers, performing repetitive tasks such as warehouse delivery, pick and pack, and more.  Fetch and Freight used in tandem are capable of handling the vast majority of most items in a typical warehouse.
From their videos and press materials, Fetch robots fulfill the Amazon challenge requirements. If Fetch is able to match the build cost formula that enabled Unbounded Robotics to offer their robots at $35,000 and come up with a similarly competitive pricing scheme, they will soon become a formidable competitor in the fast-paced distribution center pick-and-pack race.
Swisslog, Grenzebach and Kuka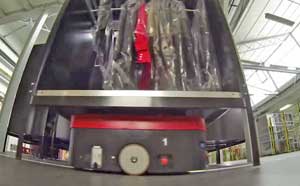 Swisslog's CarryPick system is very similar to Kivas. It uses automated guided vehicles (AGVs) and mobile racking units feeding ergonomic workstations all running under Swisslog's WarehouseManager control system. Like Kiva's system, the CarryPick system is scalable and can quickly adjust to changing requirements.
The CarryPick AGV has four clamp-on devices to lift and move shelves unlike Kiva's single screw-on mechanism. But similar to Kiva, which uses barcoded spots on the floor, the CarryPick AGVs follow white lines on the floor.
Swisslog is 96+% owned by KUKA AG, one of the big four of global robot manufacturers. Swisslog has two division, healthcare and materials handling. Both are mobility-based in their solutions. Their hospital vacuum-delivery tubes business has morphed into a focus on AGVs for material handling and medication management.
Grenzebach, a large family-owned industrial automation provider, used to own 25% of Swisslog and also 25% of KUKA. Although they have recently sold both holdings, some of their AGV products are very similar to Swisslog's AGVs. Grenzebach's Carry AGV can transport up to 1.2 tons at a speed of up to 60 meters per minute backwards and forwards and can also turn on the spot. Their Snox AGVs are much more heavy-duty and include AGV-forklift trucks and industrial-grade car-manufacturing tugs.
KUKA's strategy regarding competing in the warehouse material handling space seems to be through acquisitions and trading-partner agreements such as those with Swisslog and Grezebach plus its normal industrial robot arms – arms which Amazon uses to move heavy goods between floors in their new multi-story distribution centers and heavy goods in their case-packing and skid container centers.
Gray Orange, Hi-tech Robotic Systemz, CIM Corp, Vanderlande, Bastian, Dematic, Adept Technology and others
Two Indian firms are just beginning to market products and systems very similar to Kiva's. Gray Orange, a 2012 startup, has a factory and offices near Delhi and a team of 120 working on what they call a Butler System, i.e., a mobile robot which picks up and moves a portable shelving system to a Put Station where goods are assembled and packed. Hi-tech Robotic Systemz, an established systems integrator of industrial robots in India, had a booth at Promat showing their AGVs being used for picked-goods mobility. This is similar to Adept Technologies mobile transporters which are used for a variety of purposes including the delivery of goods and materials within dynamic environments. In 2010, Adept Technology acquired MobileRobots, an AGV platform provider that sold their AGVs to others who relabeled them as theirs (Swisslog was one of those firms).
There is another whole world of gantry robot technology for goods-to-man order picking and shuttle systems. CIMCORP is an established Finnish provider of everything from car assembly lines to postal automation. Their goods-to-man shuttle system creates stacks of goods from the receiving dock. "When a particular SKU is required to fulfill an order, a robot retrieves the corresponding tote and deposits it on the shuttle device. The shuttle travels along the gantry and transfers the tote to the outfeed conveyor, which then transports it to a conveyor line that feeds the picking stations. Once picking from a tote is complete, it is conveyed back to the entry point to the storage area." Vanderlande is a similar company in The Netherlands. It's automated order picking/fulfillment systems can handle pallets, cases, and totes. Dematic GmbH (not to be confused with Australian Demantic) also provides a structural mobility system to move totes from place to picking station and back.
Bastian Solutions is an integrator specializing in material handling solutions for automated storage and retrieval systems and represent many of the larger providers as distributor, reseller and integrator.
There are many other companies in this space. I apologize for not including as many as I could find but….
Software
Underlying all the hardware, robots and robotics is an amazing array of software: navigation software, collision avoidance software, software to control the robots, send them off to recharge, and software to integrate into product ordering and fulfillment systems, to name just a few.
Kiva Systems attributes much of its success to their complete material handling solution which not only handles, schedules and operates their orange robots but also includes a custom wireless network and a server-based back-end system to stock, restock and position their portable dynamic reconfigurable free-form shelving system.
eBay is working on a different solution: finding product close to customers in local stores and warehouses and then arranging to deliver things quickly without the costly automated distribution centers that Amazon operates.
Bottom Line
The Kiva concept of bringing the shelves to the picker packer, the goods-to-man concept, has been copied internationally and relentlessly with many similar systems already in the marketplace. Changes at the picker-packer station, using follow-me devices such as the new Fetch mobile base, and new picking methods based on the results of the Amazon Challenge culminating at ICRA at the end of May are sure to enhance the process. As the controlling software gets better and more comprehensive, the ever-improving equipment component will become less important than the overall capabilities of the software system.
tags:
Amazon
,
c-Industrial-Automation
,
cx-Business-Finance
,
Fetch
,
Kiva
,
Swisslog
,
warehouse automation
---
Frank Tobe
is the owner and publisher of
The Robot Report
, and is also a
panel member
for Robohub's
Robotics by Invitation
series.
Frank Tobe is the owner and publisher of
The Robot Report
, and is also a
panel member
for Robohub's
Robotics by Invitation
series.