This post is part of our ongoing efforts to make the latest papers in robotics accessible to a general audience.
Small Unmanned Aerial Vehicles (UAVs) can be both safe and maneuverable, but their small size means they can't carry much payload and their battery life only allows for short flights. To increase the range of a small UAV, one idea is to pair it with an unmanned ground vehicle (UGV) that can carry it to a site of operation and transport heavier cargo. Having both ground and aerial perspectives can also be useful during a mission. One challenge is to make sure the vehicles have the ability to rendezvous and perform coordinated landings autonomously. To this end, a paper by Daly et al. in Autonomous Robots presents a coordinated control method and experimental results for landing a quadrotor on a ground rover . The two robots communicate their positions, converge to a common docking location and the dock successfully, both indoors and out.
The video above demonstrates the use of a coordinated control strategy for autonomous docking of a Aeryon Scout UAV onto a skid-steer UGV (Unmanned Ground Vehicle) from Clearpath Robotics. The controller handles the nonlinearities inherent in the motions of the two vehicles, and is stable in the face of multi-second time delays, allowing unreliable wifi communication to be used in the landing. Both indoor and outdoor experiments demonstrate the validity of the approach, and also reveal the major disturbance caused by the ground effect when hovering over the ground vehicle.
For more information, you can read the paper Coordinated landing of a quadrotor on a skid-steered ground vehicle in the presence of time delays (John M. Daly, Yan Ma, Steven L. Waslander, Autonomous Robots – Springer US, July 2014) or ask questions below!
Robohub is an online platform that brings together leading communicators in robotics research, start-ups, business, and education from around the world. Learn more about us here. If you liked this article, you may also be interested in:
See all the latest robotics news on Robohub, or sign up for our weekly newsletter.
tags:
c-Research-Innovation
,
Clearpath
,
cx-Aerial
,
University of Waterloo
---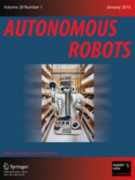 Autonomous Robots Blog
Latest publications in the journal Autonomous Robots (Springer).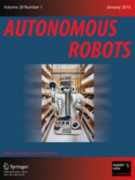 Autonomous Robots Blog Latest publications in the journal Autonomous Robots (Springer).