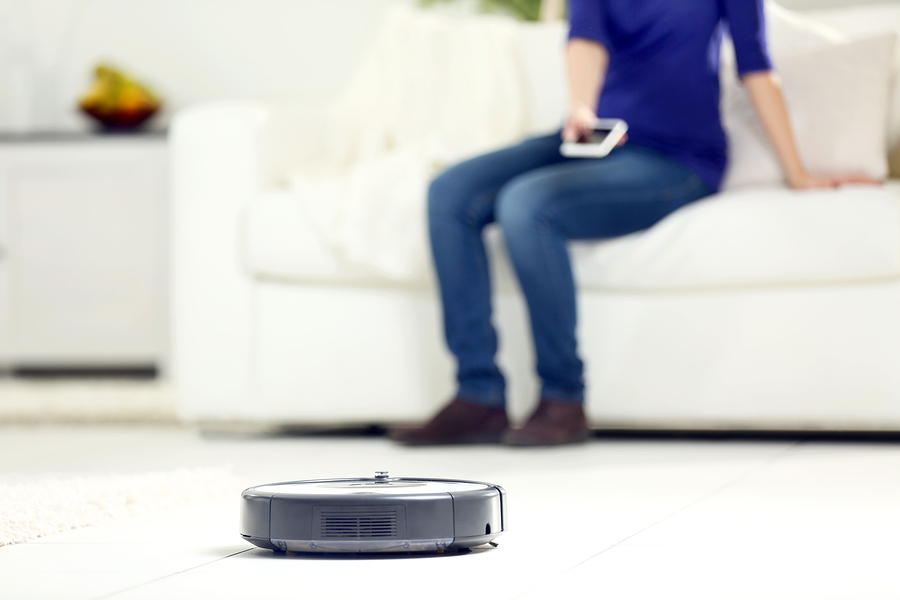 iRobot recently divested its defense division so that it could focus on consumer and mobility products. Red Mountain Capital, a hedge fund that owns ~6% of iRobot stock wants to place two people on the iRobot board to effect some change.
Proxy Fight
Red Mountain Capital has forced iRobot into a battle over management direction, a fight described in detail in a story by Jon Chesto of The Boston Globe: IRobot CEO faces what could be his biggest test: a heated proxy battle over company's future.
Red Mountain considers itself to be an activist shareholder – and wants to play a more direct role in how iRobot is run, how iRobot funds are allocated to R&D, how expenses are controlled, and how much is returned to shareholders. iRobot thinks it is successfully handling strategic planning, product development, return on equity, and prudent manufacturing operations without adding extra financial advice from non-industry people to the mix.
The Globe article, describing iRobot's planning for the future, describes iRobot's Venture Group and their investments in future companies within the mobility, consumer and home marketplaces – all areas where iRobot has expertise. One investment is particularly interesting and offers the prospect of much growth for iRobot as well as the startup: 6 River Systems, a Massachusetts startup comprised of ex-Kiva Systems execs. 6 River is providing a mobile robot solution for material handling in warehouses, factories and distribution centers. It's a big marketplace particularly since Amazon has taken the Kiva technology in-house with the consequence that new vendors (such as 6 River) are scrambling to fill the void.
In the Boston Globe article I was quoted as summarizing the iRobot / Red Mountain proxy fight as follows:
"From time to time, any company really can use a shake-up. But you can shake up the company [iRobot] just by talking to Colin," Tobe said. "You don't need to put two hedge-fund, money-type people on the board."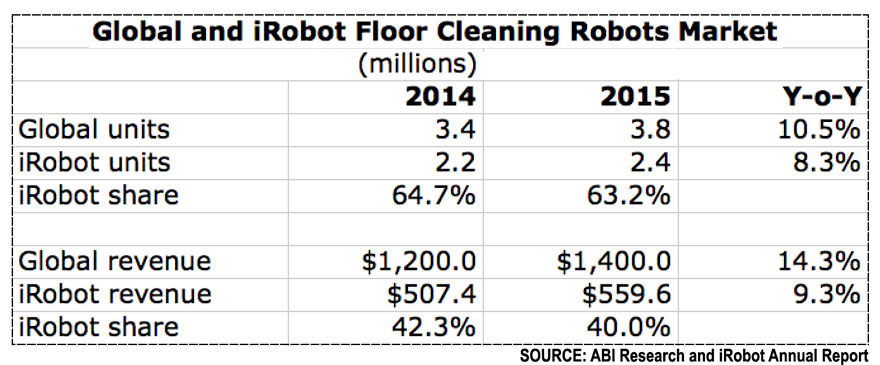 Global Home Vacuum Market
From the chart above one can see that iRobot's share of the global robot floor cleaning market is 63% of units and 40% of revenue, and shows year-over-year gains of 8.3% for units and 9.3% for revenue.
The robot segment of the overall home vacuum cleaner market has also been growing. Colin Angle, iRobot co-founder, Chairman and CEO, used this chart in a 2014 presentation: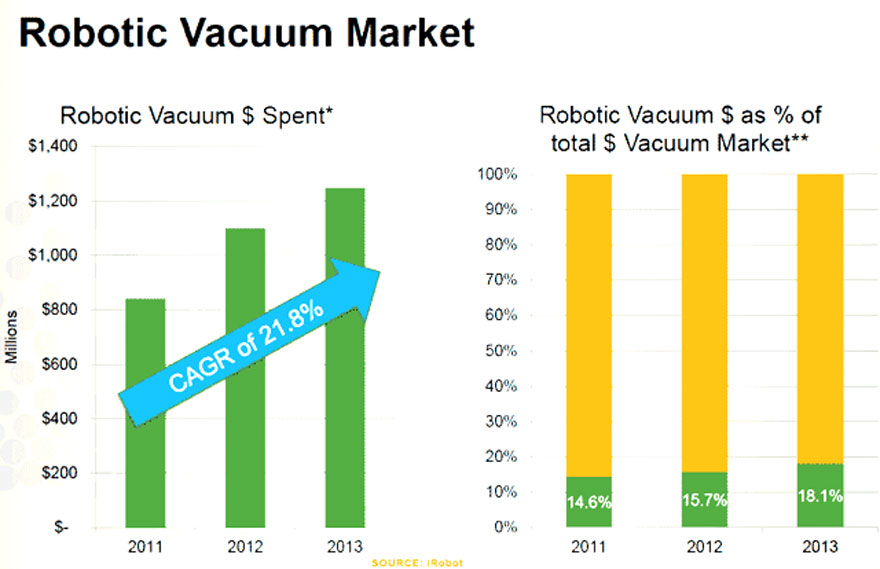 Thus one can see that robotic vacuum sales are becoming more popular but at a lower growth rate than the general vacuum market growth rate. And from Angle's presentation slide, it's clear that although iRobot has a goodly share of the market, their revenue could be higher and their overall capture rate is going down instead of up.
Conflicting Forecasts
The following three research reports vary widely but all show double-digit growth within the robotic sector of the global home vacuum market.
Global Industry Analysts, a San Jose, CA research firm, in a 2014 report, forecasted the global market for household vacuum cleaners to reach $11.4 billion and 115.7 million units by 2020.
Grand View Research, a San Francisco research company, in a 2015 report, says that the global household vacuum cleaner market size was valued at $11.2 billion in 2014 and is expected to grow at a 4.9% compounded annual growth rate (CAGR) through 2022. Grand View also estimates that the robot vacuum segment will grow at a CAGR of 11.4% over the forecast period.
ABI Research, in a 2015 report on Robotic Home Care predicted that the home care/lawn care robotics market will surpass US$2.9 billion by 2019, up from US$1.2B in 2014 and that approximately 7M robotic home care/lawn care products will be sold in 2019, up from 3.4M in 2014, representing a CAGR of 15.6%.
tags:
c-Consumer-Household
,
cx-Business-Finance
---
Frank Tobe
is the owner and publisher of
The Robot Report
, and is also a
panel member
for Robohub's
Robotics by Invitation
series.
Frank Tobe is the owner and publisher of
The Robot Report
, and is also a
panel member
for Robohub's
Robotics by Invitation
series.