Since programming is an extremely time-consuming business, small and medium-sized enterprises (SME) are often forced to manage without robots. Researchers from Fraunhofer IPA have therefore developed the software RobotKit specially for welding tasks. In an initial test scenario, the kit reduced programming times from 90 down to just 7 minutes.
At its production facility in St. Leon-Rot in Baden-Württemberg in South Germany, Piccolo K+L Behältertechnik GmbH manufactures skeleton and transport containers for the automotive industry. Because the company produces relatively small volumes with high variant diversity, the assembly workers at the factory perform all welding tasks by hand.
Under such conditions, the use of robot systems is simply not cost-effective. Reason: The manufacturer-specific programming languages are so complex that experts must be called in to program a robot for new components. In addition, under present circumstances it would take 90 minutes to program a new welding task, even for a simple component. This is acceptable for mass production but not for lot sizes of 20 to 100 pieces, which is often the case at Piccolo K+L Behältertechnik GmbH.
The lack of skilled workers is also a problem when high-quality welded parts are manufactured: This requires sound knowledge and longstanding experience. But suitably skilled workers are becoming increasingly scarce. It therefore makes sense to increasingly automate production processes and transfer existing expert knowledge to robot systems. For SMEs to use welding robots profitably, they need to be adapted to flexible, customer-specific production methods.
To achieve this, researchers working in the Department of Robot and Assistive Systems at Fraunhofer IPA have developed a manufacturer-independent software RobotKit specifically for welding tasks.
The software identifies possible weld seams on components in the CAD model and automatically generates a complete robot program with all movement commands.
Via a graphic interface, welders can simulate the entire process and correct it as required. This enables end-users to start using a robot for new welding tasks without delay and without the need for in-depth programming knowledge.
If product variants change, the respective welding tasks are easy and fast to reconfigure. To move parts freely on the welding table and thus reduce the necessary devices, the position of components can be accurately measured by the integrated 3-D sensor system and the robot program adjusted automatically.
Any geometric discrepancies on components can also be identified, such as those resulting from inaccuracies arising in the course of prior manual welding processes. The software then automatically adjusts the robot trajectory and processes parameters, doing away with the need for manual re-teaching in off-line programming mode.
Thanks to the intuitive software with the innovative algorithms for calculating trajectories and identifying components in 3-D, in an initial test scenario robot, programming times at Piccolo K+L Behältertechnik GmbH could be cut from 90 to just 7 minutes.
Based on these promising results, the technology is now being developed for serial application as one out of eight pilot projects in ROBOTT-NET.
tags:
Industrial Other
,
Research
,
Robotics technology
---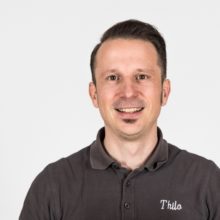 Thilo Zimmermann