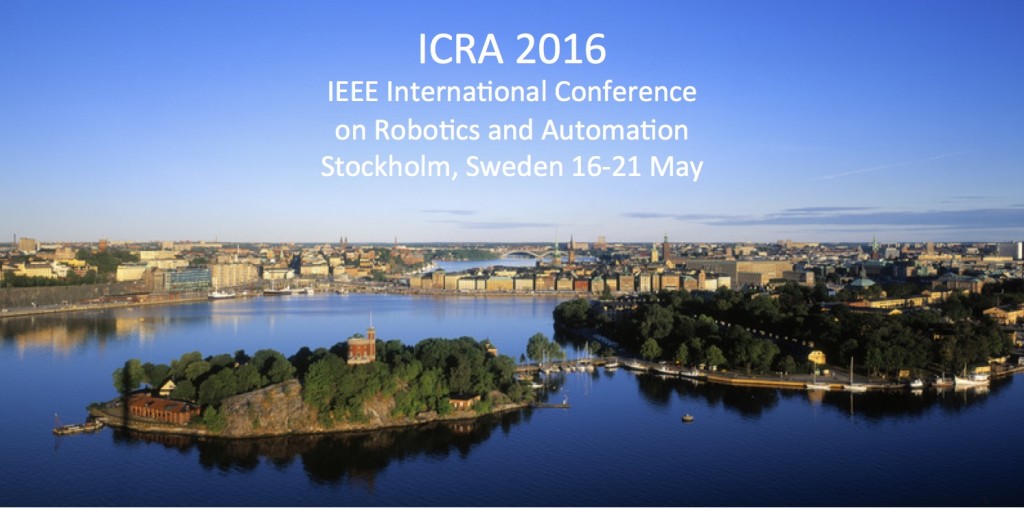 The next edition of IEEE 2016 International Conference on Robotics and Automation (ICRA), is kicking off in Stockholm, Sweden. This 5-day event, from 16-21 May, is one of the leading international forums for robotics researchers to present their work.
Plenary talks feature Tamar Flash (Weizmann Inst. of Science), presenting on Controlling motor behavior: humans, brains and robots (Tuesday morning); Fredrik Gustafsson (Linköping U.) presenting on Project Ngulia: from Phone to Drone (Tuesday evening); Roberto Cingolani (Istituto Italiano di Tecnologia) presenting on Nanotechnology and materials science for humanoids (Wednesday morning); Leslie Pack Kaelbling (MIT) presenting on Intelligent Robots Redux (Wednesday evening); and Claire Tomlin (UC Berkeley) presenting on Safe Learning in Robotics (Thursday evening).
The conference will also host a number of high-profile keynote talks.
During ICRA 2016 there will be four challenges:
Airbus Challenge Podcast

Listen to Robots Podcast #201: The Airbus Shopfloor Challenge, with Curtis Carson
Six high-profile tutorial sessions will also be featured for junior researchers. The sessions are to provide interaction and foster collaboration between young researchers, with the opportunity to listen to, and closely interact, with senior experts. They will be held after the main conference on Friday, 20 May 2016.
The full list of plenaries, keynotes, workshops, tutorials, challenges, and talks can be found on the ICRA 2016 website.
Sabine, Kassie, Yannis and Audrow, are covering the conference, check back here for our latest coverage, including photos, #ICRA16 videos, podcasts, and live tweets during the Airbus Shopfloor Challenge!
tags:
c-Events
,
ICRA16
--- Robohub Editors