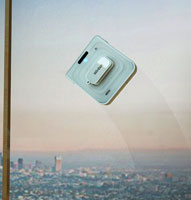 Many new vendors selling robotic consumer products at next year's Consumer Electronics Show in Las Vegas January 10-13.
Robstep showing off their Segway-like devices; iRobot with their floor and pool cleaner bots and AVA platform; lots of toys; even IEEE and their new iPad app about robots have a booth.
[clear]
ECOVACS' Winbot window cleaning robot (shown above) is getting a lot of pre-press hoopla.
Most of the car companies will be showing and telling about their new autonomous technologies, eg, Mercedes will be displaying their new robotic steering assist option for their 2014 S-Class cars.
3D printer companies 3D Systems, Affinia and MakerBot all have booths.