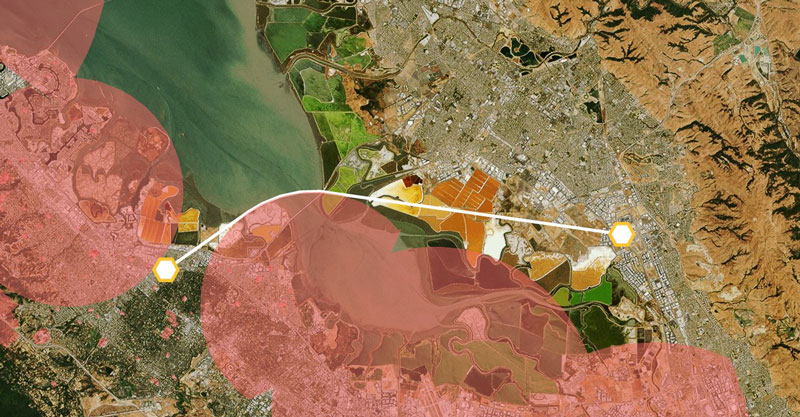 I often speak about deliverbots — the potential for ground-based delivery robots. There is also excitement about drone (UAV/quadcopter) based delivery. We've seen many proposed projects, including Amazon prime Air and much debate. Many years ago I was perhaps the first to propose that drones deliver a defibrillator anywhere and there are a few projects underway to do this.
Some of my students in the Singularity University Graduate Studies Program in 2011 really caught the bug, and their team project turned into Matternet — a company with a focus in drone delivery in the parts of the world without reliable road infrastructure. Example applications including moving lightweight items like medicines and test samples between remote clinics and eventually much more.
I'm pleased to say they just announced moving to a production phase called Matternet One.
When it comes to ground robots and autonomous flying vehicles, there are a number of different trade-offs:
Drones will be much faster, and have an easier time getting roughly to a location. It's a much easier problem to solve. No traffic, and travel mostly as the crow flies.
Deliverbots will be able to handle much heavier and larger cargo, consuming a lot less energy in most cases. Though drones able to move 40kg are already out there.
Regulations stand in the way of both vehicles, but current proposed FAA regulations would completely prohibit the drones, at least for now.
Landing a drone in a random place is very hard. Some drone plans avoid that by lowering the cargo on a tether and releasing the tether.
Driving to a doorway or even gate is not super easy, either.
Heavy drones falling on people or property is an issue that scares people, but they are also scared of robots on roads and sidewalks.
Drones probably cost more but can do more deliveries per hour.
Drones don't have good systems in place to avoid collisions with other drones. Deliverbots won't go that fast and so can stop quickly for obstacles seen with short range sensors.
Deliverbots have to not hit cars or pedestrians. Really not hit them.
Deliverbots might be subject to piracy (people stealing them) and drones may have people shoot at them.
Drones may be noisy (this is yet to be seen) particularly if they have heavier cargo.
Drones can go where their are no roads or paths. For ground robots, you need legs like the BigDog.
Winds and rain will cause problems for drones. Deliverbots will be more robust against these, but may have trouble on snow and ice.
In the long run, I think we'll see drones for urgent, light cargo, and deliverbots for the rest, along with real trucks for the few large and heavy things we need.
This post originally appeared on robocars.com.
tags:
c-Aerial
,
drone delivery
,
Matternet
---

Brad Templeton, Robocars.com
is an EFF board member, Singularity U faculty, a self-driving car consultant, and entrepreneur.

Brad Templeton, Robocars.com is an EFF board member, Singularity U faculty, a self-driving car consultant, and entrepreneur.