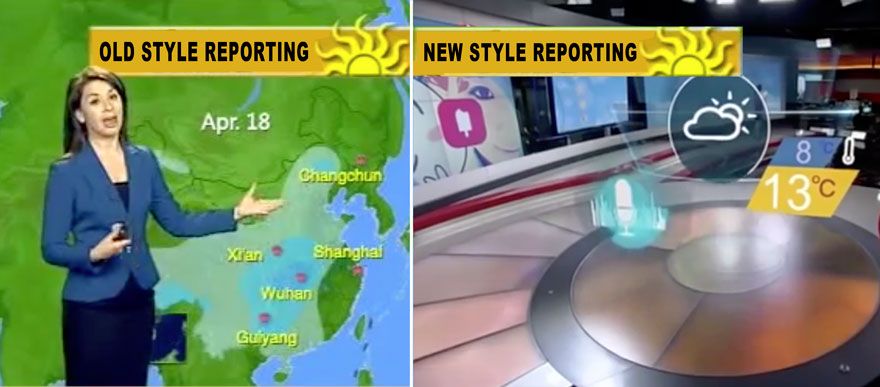 The use of Cortana, an AI personal assistant created by Microsoft initially for Windows phones, has been a big hit in Japan and China. The Mandarin language version, named Xiaoice, is being used daily by a TV station to report the morning weather.
Pronounced Shao-ice, meaning "little bing" in Mandarin, the youthful-sounding female voiced Xiaoice has been downloaded by over 20 million people and is being used as a chatbot throughout China on various platforms such as Weibo and 163.com, and now as a weather reporter for a Chinese TV station.
The NY Times said that "Microsoft has been able to give Xiaoice a more compelling personality and sense of intelligence by systematically mining the Chinese Internet for human conversations." Microsoft said that the average user of Xiaoice talks to her more than 60 times a month!
In doing the weather report, Microsoft says Xiaoice calls upon smart cloud technologies and big data to learn about and interpret weather readings and then deliver reports with her "unique artificial intelligent style of emotional comments." According to MS, the AI is more human-like than any other system of its kind, scoring 4.32 out of 5 in linguistic naturalness tests. For comparison, humans have an average score of 4.76.
MS's deep learning software enables Xiaoice to structuralize weather data and also interact with live scenes as weather news is visually broadcast (Xiaoice doesn't have a presence; no face or screen avatar; just a voice). Xiaoice also has an an emotional component that enables it to offer instant comments on weather data. The result is that Xiaoice has taken over the position of daily weather presenter on the morning Dragon TV "Morning News."
"Xiaoice is a critical artificial intelligence product for Microsoft and she has been first launched in China and Japan." Dr. Yongdong Wang said, "We feel thrilled to introduce Xiaoice into live TV and to jointly open a new chapter in the history of the scientific technology and television. We will pay more attention to practicality by developing artificial intelligence products available to everyone rather than just put forward mere sci-tech concepts. As Xiaoice is gradually penetrating into human life, engaging herself in more jobs and playing more social roles, Microsoft expects her to bring more bliss to human beings."
It's a misnomer to call Xiaoice a robot although many in the media call it that. In reality, Xioaice is an AI software product.
"A robot requires physicality as a way to affect physical changes on its environment," says GoogleX roboticist Travis Deyle. "An avatar or digital-only personality may possess artificial intelligence, but without a physical body it is not a robot. To put it another way: Robots often incorporate aspects of character development that are mainstays of digital avatars in much the same way that a robot incorporates machine learning, computer vision, mechanics, electronics, etc. But we don't call every machine learning algorithm, computer vision system, mechanical apparatus, and printed circuit board a robot… as then the term "robot" loses all meaning."
tags:
AI
,
Cortana
,
Microsoft
,
Xiaoice
---
Frank Tobe
is the owner and publisher of
The Robot Report
, and is also a
panel member
for Robohub's
Robotics by Invitation
series.
Frank Tobe is the owner and publisher of
The Robot Report
, and is also a
panel member
for Robohub's
Robotics by Invitation
series.