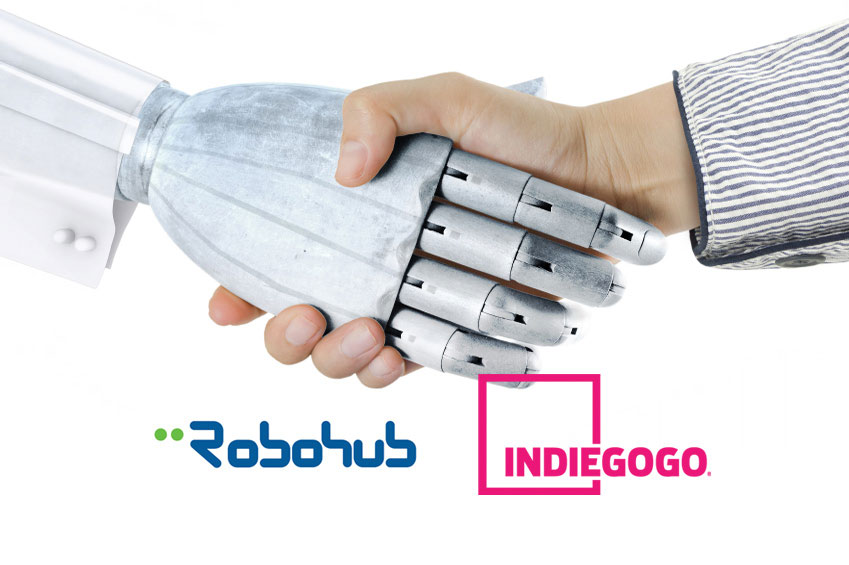 Are you planning to crowdfund your robot startup? Need help spreading the word?
At Robohub, we love robot startups and we have a history of helping out.
We know it can be tricky to gather the necessary klout and raise enough interest to reach your funding objectives. With our in-depth experience in science communication and our reader base of 50K monthly visitors who are passionate about robotics, Robohub is ideally positioned to mentor you on running a successful crowd funding campaign, and to help you promote it through our website, our newsletters and our social media channels.
So how can we help? Robohub has partnered with Indiegogo, one of the leaders in hardware crowdfunding, to launch a dedicated Robohub Partner Page for robotics.
We're pretty picky about who we feature on our partner page, and we'll be looking for high-quality startups with awesome products. And that's good, because joining our partnership gives you instant credibility and backing by robotics experts.
If you make the cut, we'll connect you to a dedicated robotics mentor at Indiegogo for a one-on-one meeting, we'll guide you through writing a blog post about your campaign for Robohub, and we'll feature your campaign on our front page. We'll also share the campaign with our 3K followers on Twitter and 600K followers on Google+.
In addition, startups that crowdfund through our partner page will receive a 10% discount on their campaign from Indiegogo.
Since we are a non-profit run primarily by volunteers and we'll be helping you with science communication and dissemination services, we're asking that campaigns donate half their cost savings back to Robohub. In the end, you'll get a 5% cut, and we will use the other 5% towards our operation costs. This comes down to giving us a $200 donation if your campaign raises $100,000 – not bad! And you'll pay $200 less in fees than if you ran your own independent Indiegogo campaign. Sounds like good karma all around!
Interested in joining our Indiegogo Partner Page? Send a description of your campaign to: crowdfunding@robohub.org.
Already launched your Indiegogo campaign? It's not too late to partner with us. Just send a link to your existing campaign to: crowdfunding@robohub.org.
If you liked this article, you may also be interested in:
See all the latest robotics news on Robohub, or sign up for our weekly newsletter.
tags:
Crowd Funding
,
Indiegogo
,
Robohub
,
startup
--- Robohub Editors